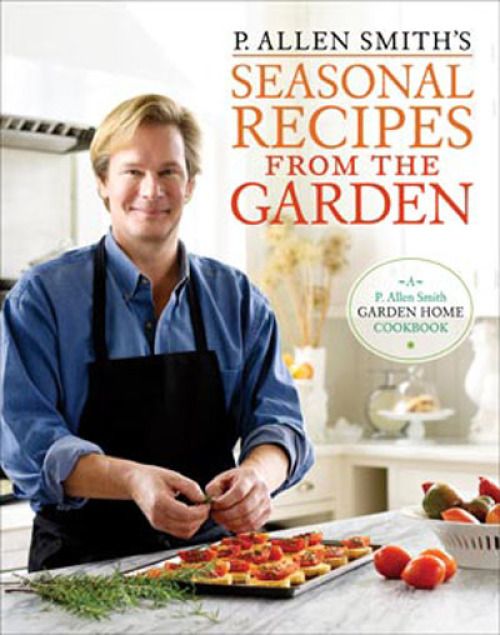 By late summer, we gardeners are beginning to see the fruit of our labors and are harvesting both fruits and vegetables from our summer gardens. We also have our favorite stand-by recipes that we use to prepare our home-grown veggies. If you're like me, I like to add to my culinary repertoire each year by finding a couple more culinary dishes that are worthy of our fresh produce. This year, I found all I was looking for in one garden cookbook.
From one of the garden world's author and TV's favorite gardening personality is "Seasonal Recipes for the Garden" (Clarkson Potter, 2010) a beautiful, hardbound book filled with gorgeous images next to recipes that bring out the best in fresh produce.
Fellow organic gardener, P. Allen Smith takes you on a mouth-watering, four- season journey through some of his favorite culinary dishes. Inside each section of spring, summer, fall, and winter, you'll find recipes for starters, soups and sandwiches, main dishes, vegetables and side, bread and such and, last — but in no way least — desserts.
There are 120 recipes between these colorful pages, and Smith has pulled out all the stops to ensure that you're serving unforgettable dishes along with easy-to-follow recipes. In fact, the recipes aren't just delicious, I'm living proof that they're also easy to prepare.
Many of you know that I tend to be the grower of the food as opposed the preparer of the food. Well, in case you think that I'm a one-trick-pony, I'll have you know that I impressed the hell out of my entire family by making Roasted Chicken with Dijon Vinaigrette for dinner last week. The chicken was cooked to perfection and was hands-down the most moist bird I've ever cooked. I looked like a kitchen rock star.
This week, I'm making Grilled Salmon Sandwiches with Lemon-Dill Mayo. I've never been a big fan of dill, but the picture of this sandwich next to the recipe has inspired me to give it a go! And Saturday morning I'm making the breakfast of kings — Pineapple-Orange French Toast.
If you're interested in growing some of the fresh ingredients that are in Smith's recipes, but don't know where to start or maybe you're a seasoned gardener that enjoys gleaning a few extra gardening hints, there's a section called "How to Grow Ingredients for Your Recipes" in the resources section. This book is a must-have for your cookbook collection as it'll end up well used, I promise you.
For more on living the garden lifestyle and fresh food preparation, check out P. Allen Smith's Garden Home.
Seasonal Recipes From the Garden
Author: P. Allen Smith

Hardcover: 256 pages
Published: Clarkson Potter (December, 2010)

ISBN:978-0-307-35108-1
*A copy of "Seasonal Recipes From the Garden" was sent to me for the purpose of review. That said, all of the views and comments in this article are all honest opinions and are all mine.