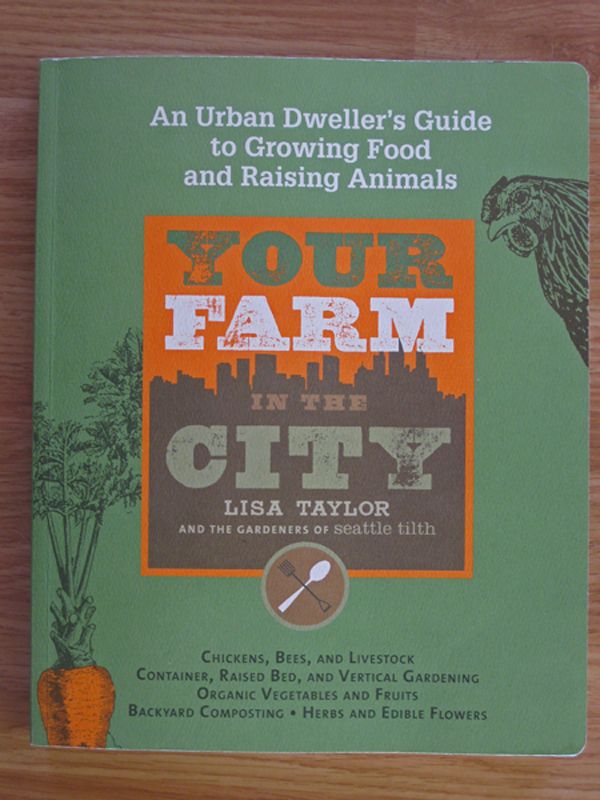 As both an avid reader and small-farming fanatic, I'm always on the look-out for excellent gardening books to share with anyone who'll listen. Your Farm in the City: An Urban Dweller's Guide to Growing Food and Raising Animals (Black Dog & Leventhal, 2011) by Lisa Taylor & Seattle Tilth is an excellent place to start for anyone interested in practicing modern homesteading techniques no matter where you live.
Let's start with the obvious which is the physical presence of the book which is, in this case, worth discussing. It's exactly why in the era of e-book madness, I'll continue to purchase my non-fiction reading material in real time. The round-cornered pages have this thick-soft-and-earthy feel to them and the artwork is satisfying in that old time way. My hat's off to the editors and publishing house.
As for the meat and potatoes that lie between the covers: The whole is made up of wonderful bite-sized informational chunks, which gives it an excellent readability factor (it's personally one of my favorite ways to both read and write). Although geared towards urban and suburban dwellers, it offers sound small farming practices no matter where you live.
It's an exciting as well as encouraging book that opens the door to many of the current organic trends that we're seeing in the world today. From growing veggies and fruits, to soil basics, to raising your own bees. It goes on to discuss how chickens, ducks, rabbits, and goats might fit into your urban farm plans, as well. While it doesn't go into incredible detail on each subject, Your Farm in the City has tons of tips and ideas sandwiched between its pages that will have your mind swimming with what could be possible in your own little corner of the world.
Did I mention the sample farmsteads in the back? It's a small thing, perhaps, but I adore thse mock-ups and thought they really added a little something. There's about eleven arrangement examples for various urban farm sizes according to square footage starting with containers on a patio. Your Farm in the City is the perfect introduction to anyone who's ever been interested in becoming a little more self-sufficient.
Your Farm in the City: An Urban Dweller's Guide to Growing Food and Raising Animals by Lisa Taylor & Seattle Tilth
Paperback: 336 pages
Publisher: Black Dog & Leventhal Publishers (February 23, 2011)
ISBN: 978-1579128623