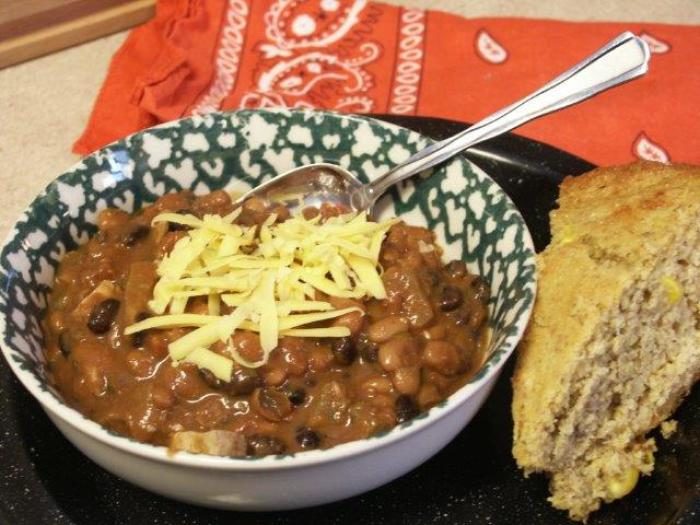 In my last blog, I spoke of Savory being Herb of the Year for 2015 and promised a warming winter recipe using it. Though a hard decision, I decided that there is nothing like a pot of beans cooked with savory (know as bohnenkraut, "the bean herb" in German)–having a pot of beans means supper for a few nights–and they can be used in many variations from main entree in a bowl, rolled in a burrito or stacked in a Sonoran-style enchilada.
So here is a simple recipe using dried pintos–and a variation on refritos (refried beans). They are wonderful in a bowl on their own or served over rice. I especially like them with cornbread accompanied by either tangy coleslaw, cabbage en escabeche or wilted greens. I like to crumble the cornbread over the beans and dunk it in the pot likker.
Pinto Beans from Scratch
This recipe can also be made with black beans. Pinto beans, like any dried beans, need to be soaked overnight in cold water, or quick-soaked in boiling water for an hour in a covered pan. Pour off the soaking liquid and add fresh water (this helps to reduce flatulence). A few inches of water above the beans is usually enough for simmered beans, and gives a little liquid for mashing the beans or using as stock. A good inch or so of water above the beans is enough for most pressure-cooked beans. The actual amount of water used depends on the size and freshness of the beans, so you might have to add more to long-simmered beans. The beans may then be simmered for 45 minutes to an hour and a half, or pressure-cooked for about 10 minutes after the steam gauge is up. Salt is added to the pintos after they are tender; if it is added while cooking it will make the beans tough. 
Makes about 2 quarts, serving 6 to 8
1 pound pinto beans, rinsed and picked over
Water
1 or 2 tablespoons olive oil
1 teaspoon salt
2 to 3 teaspoons fresh minced savory leaves or 1 1/2 teaspoons dried savory leaves, crumbled
1 small onion, chopped
About 3 cloves garlic, minced
Cover the beans with water and soak overnight or pour boiling water over them and soak for 1 hour. Drain the water from the beans and cover them with fresh water to 1/2-inch above beans. Add the oil, stir, and simmer in a pan or cook in a pressure cooker. (I find that adding oil to the cooking liquid gives the beans a creamier texture.
When the beans are cooked, still firm but tender, add the salt and savory. (If you like mushier beans-cook them longer until they start to fall apart-just be sure to add liquid and stir, so that the beans don't stick.) They can be served plain, or add the onion and garlic and cook covered over low heat for 15 minutes, stirring occasionally so that they do not stick.
Refried Beans
To make refried beans, follow the instructions above, but don't add the onions and garlic–wait and saute them as described below. Stir the cooked beans to mash them up a bit, or use a potato masher if desired. All of the beans can be mashed, or if you prefer some texture, just mash half of them.
About 2 to 3 tablespoons oil
1 small onion, chopped
1 or 2 jalapeno or serrano chiles, seeded and minced
4 or 5 cloves garlic, minced
About 2 teaspoons toasted and ground cumin seed
About 2 generous teaspoons fresh minced savory leaves or 1 generous teaspoon dried and crumbled savory
Options: 1 to 2 teaspoon chili powder, 1 chopped chipotle in adobo, 4 to 5 drops Angostura bitters, 1/4 cup fresh chopped cilantro leaves
Heat a large skillet over medium heat and add the oil. Stir in the onion and sauté for 3 or 4 minutes. Add the chiles and sauté 2 minutes more, then add the garlic, and sauté for another minute. Add the beans and stir in the cumin and savory. Cook until hot and reduce heat, stir occasionally. Cover and cook over low heat for 10 to 15 minutes. Add a little water if necessary to keep from sticking, or to thin down a bit. Taste for seasoning and adjust with options if desired. Can be prepared ahead and reheated.
This recipe is one of many bean recipes, which will be published in my article "Satureja & Phaseolus: Savory, the Bean Herb" in the soon-to-be released book Savory, Herb of the Year 2015, published by the International Herb Association.