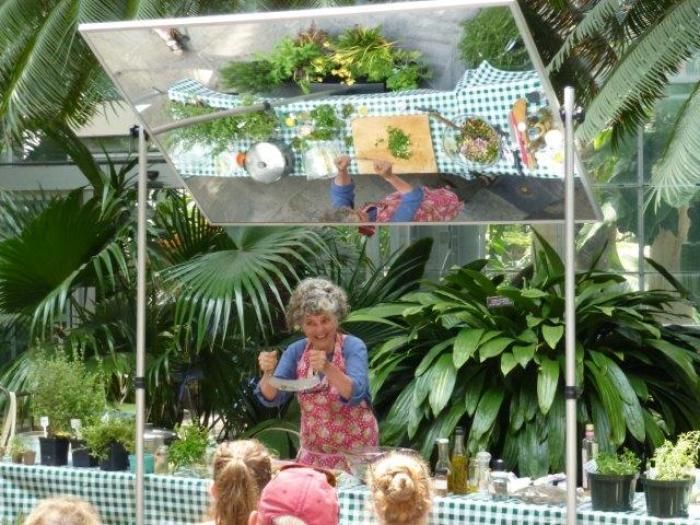 Our U.S. Botanic Garden, as well as U.S. National Arboretum, are treasure troves of plants from around the world, as well as great resources for events, programs and classes, and information about plants. The gardens change with the seasons as do the featured themes–they are great places to visit–so plan a trip to Washington, D.C. and see these national gardens! www.usbg.gov
Recently, there was a day-long event "Saving and Savoring: A Celebration of Rare and Endangered Plants and Herbs" at the U.S. Botanic Garden. The "savoring" highlighted Savory, Herb of the Year 2015 and the "saving" featured raising awareness and saving plants which are endangered and at-risk. I did a program on both subjects and there were Herb Society of America groups (www.herbsociety.org) doing make-and-take projects from creating your own Herbes de Provence blend to tasting herbal cakes and learning about Notable Native Herbs to grow in your own backyard, as well as carnivorous plants like the native Venus-flytrap. There were USBG volunteers bustling about and they had tables where you could choose your own herb seedling and your very own Venus-flytrap and transplant them in peat pots to take home. There were 11 different volunteer groups with educational exhibits on rare and endangered plants, as well as animals.
Thousands of visitors passed through the exhibits and participated in the hands-on projects and some got to sample the savory recipes which I prepared during my demo on Savory, Herb of the Year 2015. (/item/61172/savory-herb-of-the-year-2015)
The reason that the International Herb Association chooses an herb of the year is to educate people about different herbs–I was surprised when I asked for a show of hands of how many people cook with savory–there were less than 10! I passed both winter and summer savory plants to the audience so we could smell and taste the plants. Then I prepared Savory Three-Bean Salad (/item/11215/herbed-three-bean-salad-with-tangy-vinaigrette) and White Bean Salad (recipe to be posted soon) using fresh winter and summer savory, discussed how easy it is to cultivate them and talked about their virtues in the kitchen. If you don't cultivate or cook with the savories–you ought to try them–it is the very best herb with all kinds of beans and legumes from dried black, pinto, white and red beans to fresh green beans. (To buy the book Savory Herb of the Year 2015 go to www.iherb.org.)
My other program, I talked about some of the at-risk or to-watch herbs that grow in my own backyard or woods, or that I am cultivating on purpose, or use regularly in my everyday life. Some of these are American ginseng, goldenseal, bloodroot, echinacea, black cohosh, wild yam, arnica, butterfly weed, maidenhair fern, mayapple and more. I was surprised and delighted when I passed around specimens and folks in the audience said, "I recognize that plant" or "Oh I have that in my backyard." I belong to and support the United Plant Savers, which is an organization, which educates, supports, cultivates, and protects at-risk herbs and native plants. Their Web site is www.unitedplantsavers.org–click on their list of at-risk plants and the others on their to-watch list. There is information on each plant on their list and about what they are doing on the land at their headquarters in Ohio. We need to support organziations like this, which are doing such good work. As gardeners, growers, earthworkers and educators, it is our job to make other people aware of these plants, how they are used and what they do, to know that they are at-risk and why, as well as how they help our pollinators, not to mention Mother Earth.
The currently featured exhibit at the USBG is "Exposed: The Secret Life of Roots" and it is worthwhile to go check it out. Although I have been gardening for over 40 years–I had no idea that some plants produce roots that are sooo long–over 10-feet in length or more! Inside the conservatory, there are so many plant biomes to walk through from desert with cacti to rainforest, medicinals, and we must never miss walking through the absolutely breathtaking orchids! The outside gardens there are always incredible and inspiring and ever-changing with the seasons just like our own gardens. Let us visit these national treasures, protect our native plants, increase awareness and continue saving and savoring!