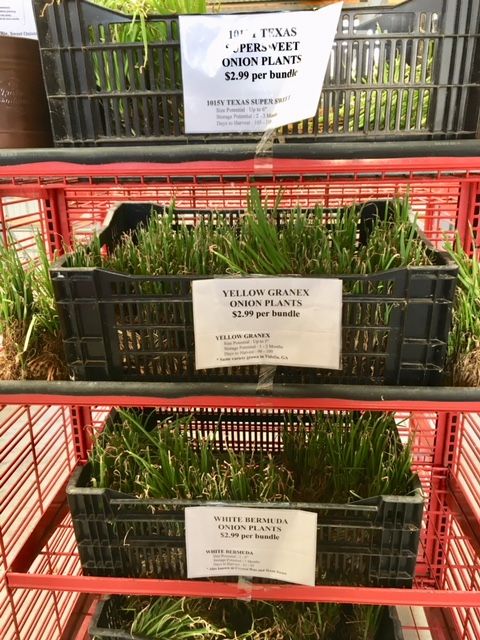 Across the country, gardeners are readying for spring. While some in southern climes might already have some early cold-weather crops planted and are enjoying the first harbingers in bloom, those in the north are awaiting the thaw and have ordered their seeds, starting some indoors for a jumpstart on extending the growing season.
Many folks practice planting potatoes on Saint Patrick's Day, and some plant peas and/or onions too. This is a tradition for many gardeners who live in warmer climes, although I've seen hardcore gardeners get out there even in frigid weather and work the cold earth to get their first crop of potatoes in on St. Paddy's Day. Onion plants and sets are now available at all the local farm coops and garden centers and they are also a favorite crop to get in on March 17. An early crop of peas is also sown on this day.
First crops to be seeded are onions and leeks, greens and lettuces, and the brassicas. Some prefer to buy onion plants and cole crops like broccoli, cabbage and collards. However, I like to sow seed for salad greens, mixes like mesclun and misticanza, kale, chard, mustard and hardy herbs like parsley, cilantro, dill, chervil, nasturtium, calendula and arugula directly into the garden. In my zone 7 garden this is usually done, as early as the ground can be worked in the latter half of March to mid April. This could be later this year due to the snow cover and frozen earth.
Once you get your tatties planted on St. Paddy's day (of course while wearing a bit of the green so you don't get pinched), hopefully you'll prepare some potatoes, be they mashed or made into colcannon or champ, or something green for your supper. Here's a few recipes below – one for mashies and variations thereof – and the other for a lovely green seasonal soup with potatoes and asparagus.
And be sure to click on the link below for a recipe for Buttermilk Biscuits with Chives or Green Onions!
Mashed Potatoes Irish Style
This is your basic mashed potato recipe that can go in many directions. On my visit to Ireland, I found that Irish mashies had lumps and were not totally smooth. The Irish have many affectionate names for the potato: shpuds, spuddies, murphies, praities (pray-tees), and tatties (tay-tees). Around our house we call them tooties and find them to be a favorite comfort food.
Asparagus and Potato Soup with Chives
Depending where you live in the country, the end of February, beginning of March through late May are when we find the best local asparagus and this pungent allium in our gardens and market. This light soup, given body with potatoes, brings them together. The pale jade color and refreshing taste make it an appropriate beginning to any spring meal.
/item/15039/asparagus-soup-with-chives
Be sure to check out the recipe for these delectable biscuits:
Buttermilk Biscuits with Scallions or Chives and Cheddar
There is nothing like homemade biscuits flavored with herbs and/or alliums – make these tasty biscuits flecked with some fresh snipped chives or green onions for St. Patty's Day!
/item/128808/buttermilk-biscuits-with-scallions-or-chives-and-cheddar
Slainte!