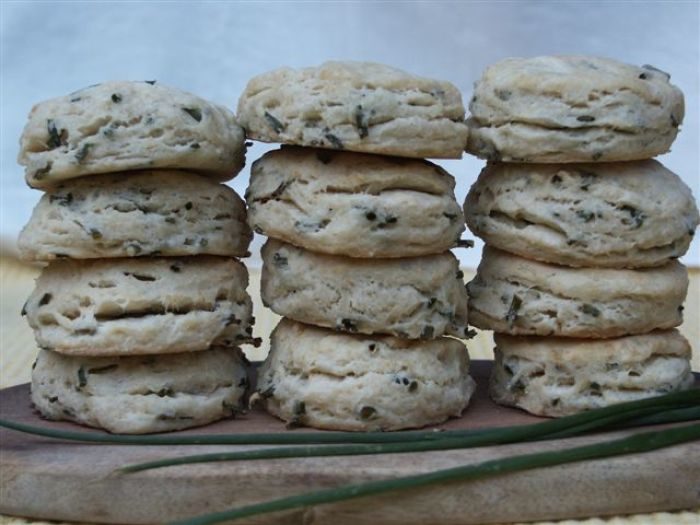 Buttermilk Biscuits with Scallions or Chives and Cheddar
There is nothing like homemade biscuits flavored with herbs and/or alliums-make these tasty biscuits flecked with some green alliums for St. Patty's Day!
Makes about 1 dozen biscuits
1 1/2 cups unbleached flour
1 cup whole-wheat flour
1/4 teaspoon salt
1/2 teaspoon baking soda
1/2 teaspoon baking powder
5 tablespoons unsalted butter
1 generous tablespoon fresh snipped chives or very thinly sliced scallions
1/2 cup finely grated sharp Cheddar cheese
1 cup nonfat or 1 1/2% fat buttermilk
These are a fast, quick-bread to make, and it is a good project for children. If you don't prefer whole-wheat flour, use all unbleached. In the spring, it is wonderful to use chopped green garlic in place of the chives or scallions.
Preheat oven to 400º F. Lightly oil a baking sheet.
In a non-reactive bowl, combine the flour, whole-wheat flour, salt, baking soda, and baking powder. Cut the butter into the flour mixture with a pastry cutter or 2 knives, until it is a coarse meal.
Stir the chives or scallions into the buttermilk, blending well. Pour the buttermilk into the dry ingredients along with the grated cheese and stir until just blended. Turn the dough out onto a lightly floured pastry marble or board. Gather the dough together and knead it, folding it into a round. Flatten and fold the dough over a few times to make flaky layered biscuits; do not over work the biscuit dough or it will result in a tough biscuit.
Roll the dough out gently with a floured rolling pin until it is about 3/4-inch thick. With a sharp knife or a pizza cutter, cut the dough into about 2 x 2-inch squares or 1 1/2 x 2 1/2-inch diamonds. Or use a cutter and make rounds if preferred. Place the biscuits on the baking sheet. Bake them in a preheated oven for about 18 to 20 minutes, until they are just beginning to turn golden brown. Serve hot.