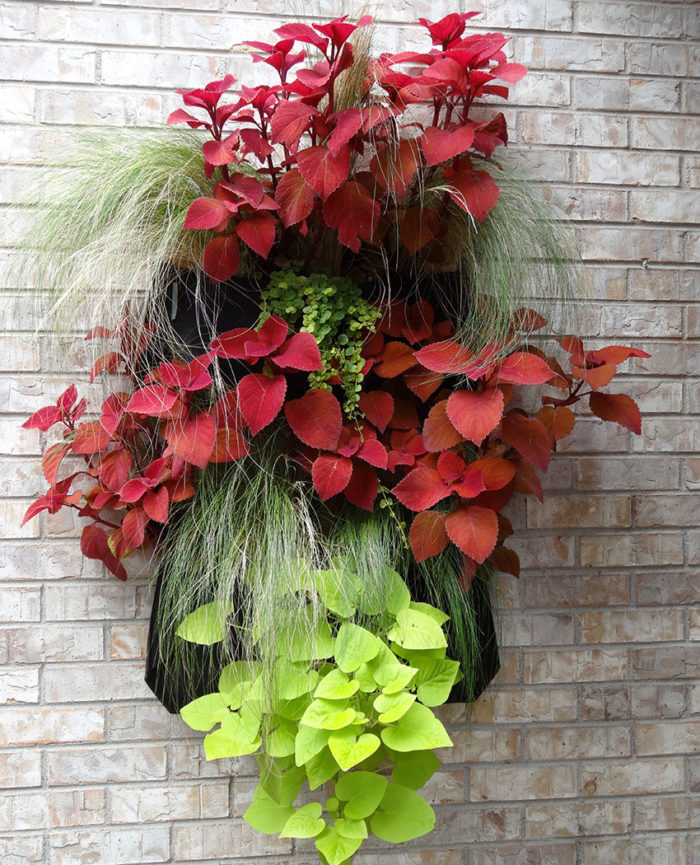 We live in a time when people are choosing to downsize their large homes and expansive yards into smaller, more manageable spaces. Whether due to aging, wanting to reduce their carbon footprint, or simply wanting less financial or household responsibility, more and more people find themselves having to adjust their gardening habits to smaller spaces. One trend that we're strong supporters of is vertical gardening. Going vertical is a great way to utilize wall space when ground space may be at a minimum. Although there is a bit of a learning curve, we'll explain some tips and tricks we've learned over the years that will help you create some amazing vertical gardens of your own.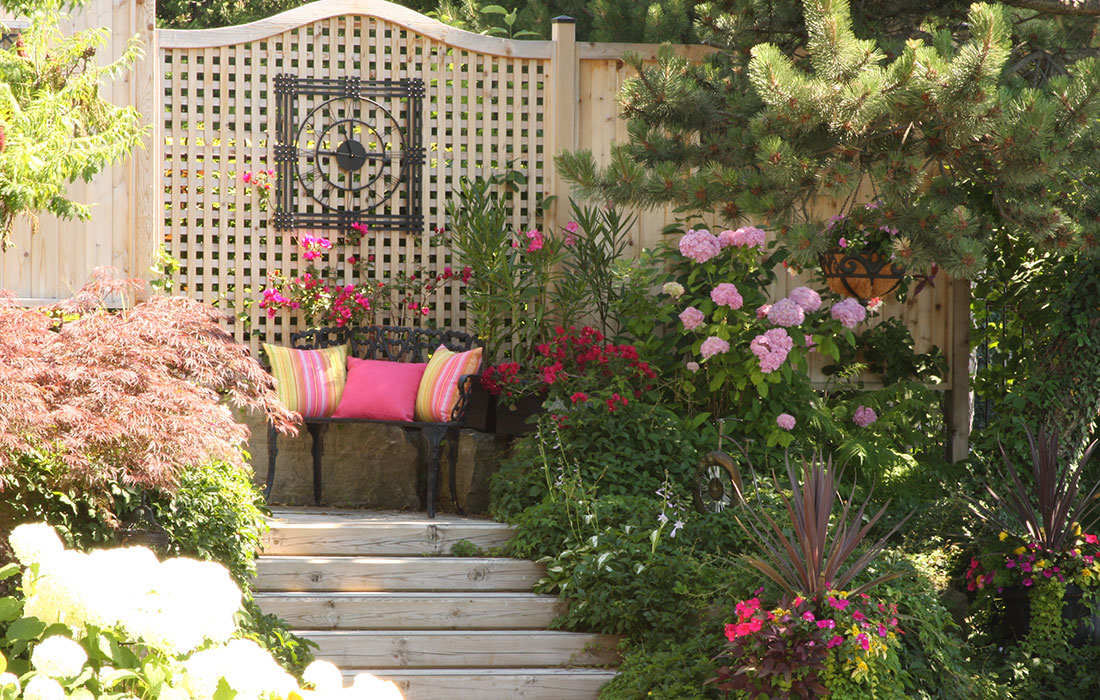 There are a slew of options for vertical gardening. One of the most timeless techniques is the lattice fence. The lattice structure allows vines to grow somewhere they typically couldn't otherwise. It also allows homeowners to create some privacy for their gardens or yards. Yes, you can still get your hands on a traditional wood lattice, but you can also garden vertically using beautiful woven metal panels, premade framed succulent displays, recycled vertical displays, and pocket planters. Our favorites are made from felted wool. They have grommets for hanging and are quite durable. These planters can be used indoors and out depending on your needs. They come in an assortment of sizes and can hold a lot of product because of the way they're constructed. We've hung pocket planters on everything from drywall to cement block. They can be found online or at your local nursery.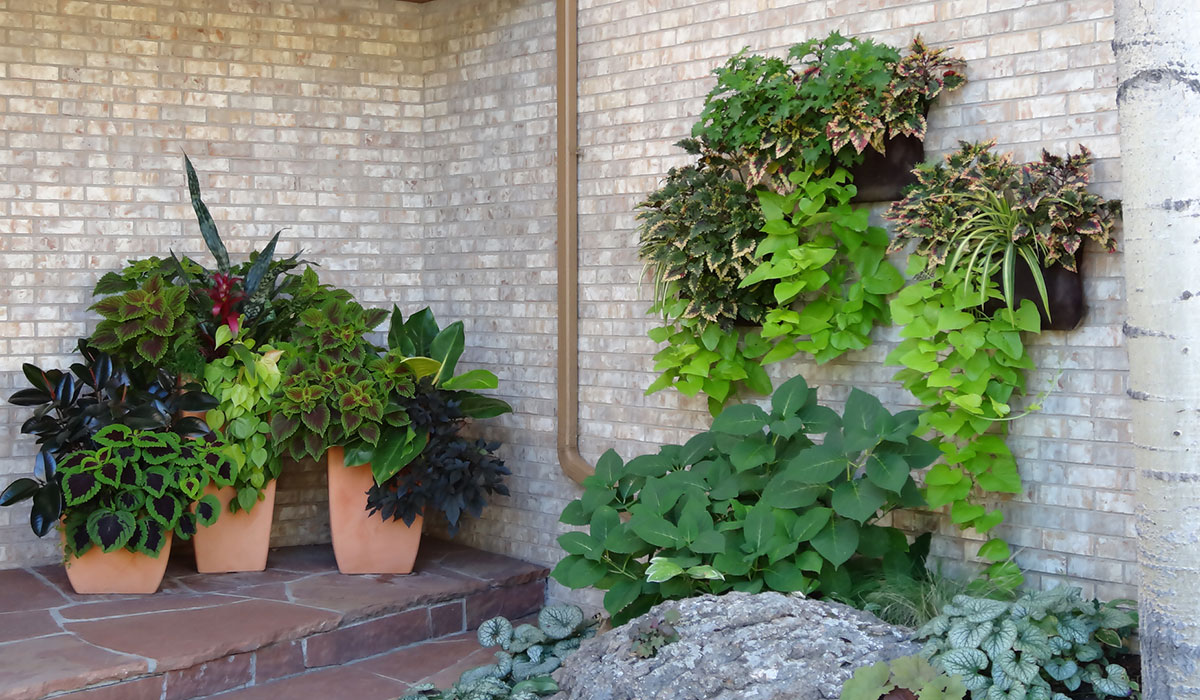 Vertical gardens can require a bit more watering because they tend to dry out faster. If at all possible, hook up some drip irrigation to your vertical gardens to ensure they're being tended to even when you're away. Be sure to pay close attention to your space, and determine which plants will best suit the sunlight and temperature requirements. Walls can be warmer than soil, so it may require a bit of trial and error before you find the perfect combinations. We absolutely love incorporating tropicals and foliage into our shadier vertical gardens. The pop of color and the dynamic textures instantly bring a boring wall to life. Bromeliads add the perfect splash of color against any wall. Neoregelia (Neoregelia spp. and cvs., Zones 11–12) and guzmania (Guzmania spp. and cvs., Zones 10–12) are a couple of our go-tos for that purpose.
'Flapjacks' paddle plant (Kalanchoe thyrsiflora 'Flapjacks', Zones 10–12), 'Angelina' sedum, and 'Sticks on Fire' pencil cactus (Euphorbia tirucalli 'Sticks on Fire', Zones 10–12) are all great low-moisture options for adding a splash of color to vertical displays, which often dry out easily. Photos: Kerry Ann Moore (left), Michelle Gervais (center, right).
When planting your vertical gardens, have some fun! Add some color and life to a space that otherwise wouldn't be exciting. Think about incorporating different succulents, such as pencil cactus (Euphorbia tirucalli, Zones 11–12), 'Angelina' sedum (Sedum repestre 'Angelina', Zones 5-9), and kalanchoes (Kalanchoe spp. and cvs., Zones 10–12) for beautiful shapes and color pops. Fishbone cactus (Selenicereus anthonyanus and cvs., Zones 10–12) has an amazing foliage shape and is a perfect plant for trailing from containers. Or go all foliage with multiple varieties of coleus (Plectranthus scutellarioides, Zones 10–12). Coleus come in just about every color and size, but a couple of our favorites include Wizard® Sunset and 'Fairway Rose'. The amount of sunlight you have will dictate which variety is perfect for your gardens.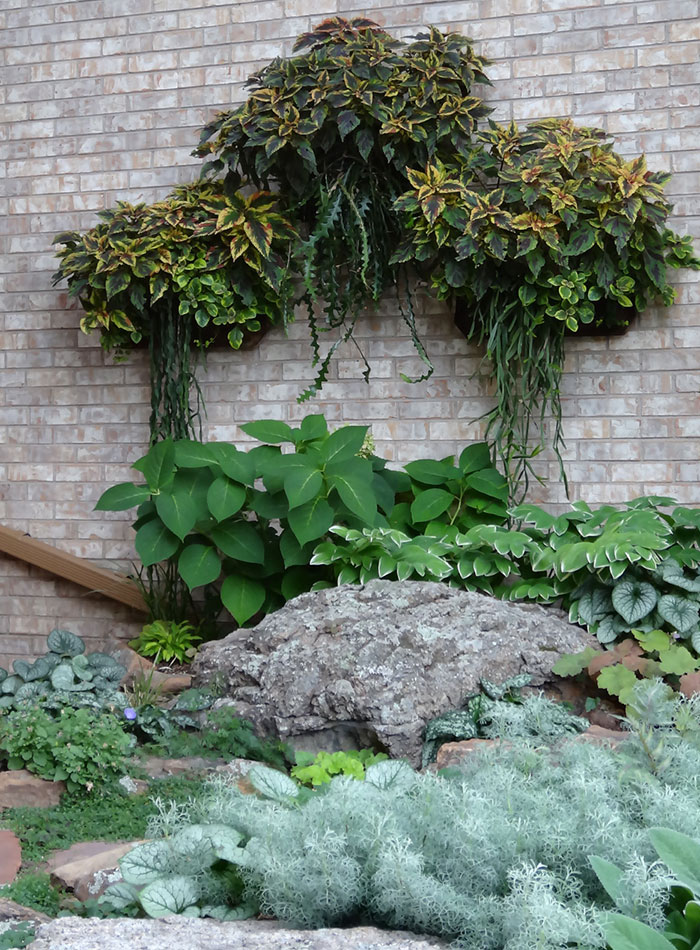 Vertical gardens can be as simple or as involved as you choose. If you have the space, consider a vertical herb garden as well. Whether you have a patio home with no yard or a downtown condo, there are countless ways to bring more plants into your world; sometimes we just need to look up!
—Sheila Schultz and Laurel Startzel are a mother-daughter duo who founded Denver Dirty Girls Container Gardening while living in Denver and have continued their business since moving to Tucson, Arizona.