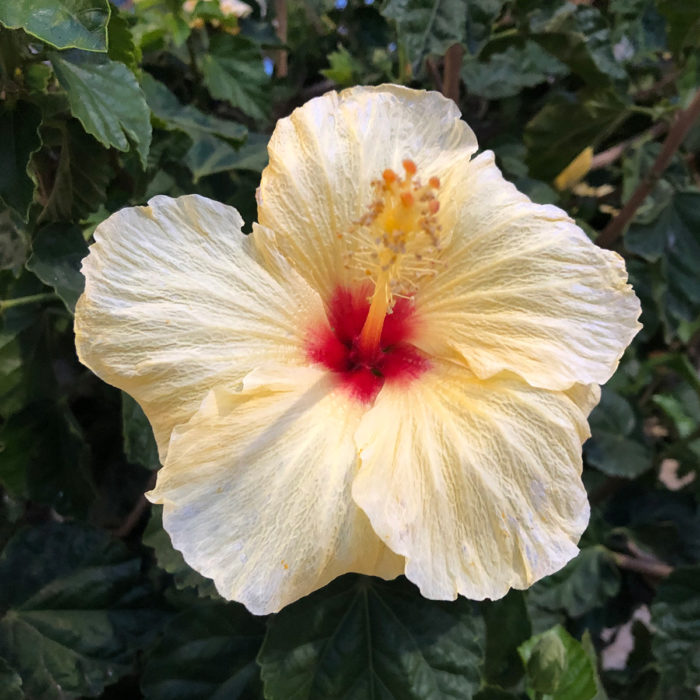 If I told you that hibiscus (Hibiscus spp. and cvs., Zones 4–11) is in the mallow family, Malvaceae, would you be surprised? Or that the root of North American native marsh mallow (Althaea officinalis, Zones 3–9) was used to make marshmallows before gelatin? Well, it's true. Many species of mallow flourish in the Southwest. Below are some classic favorites as well as some fun, flowering species that maybe you've never considered as candidates for your Southwest gardens before.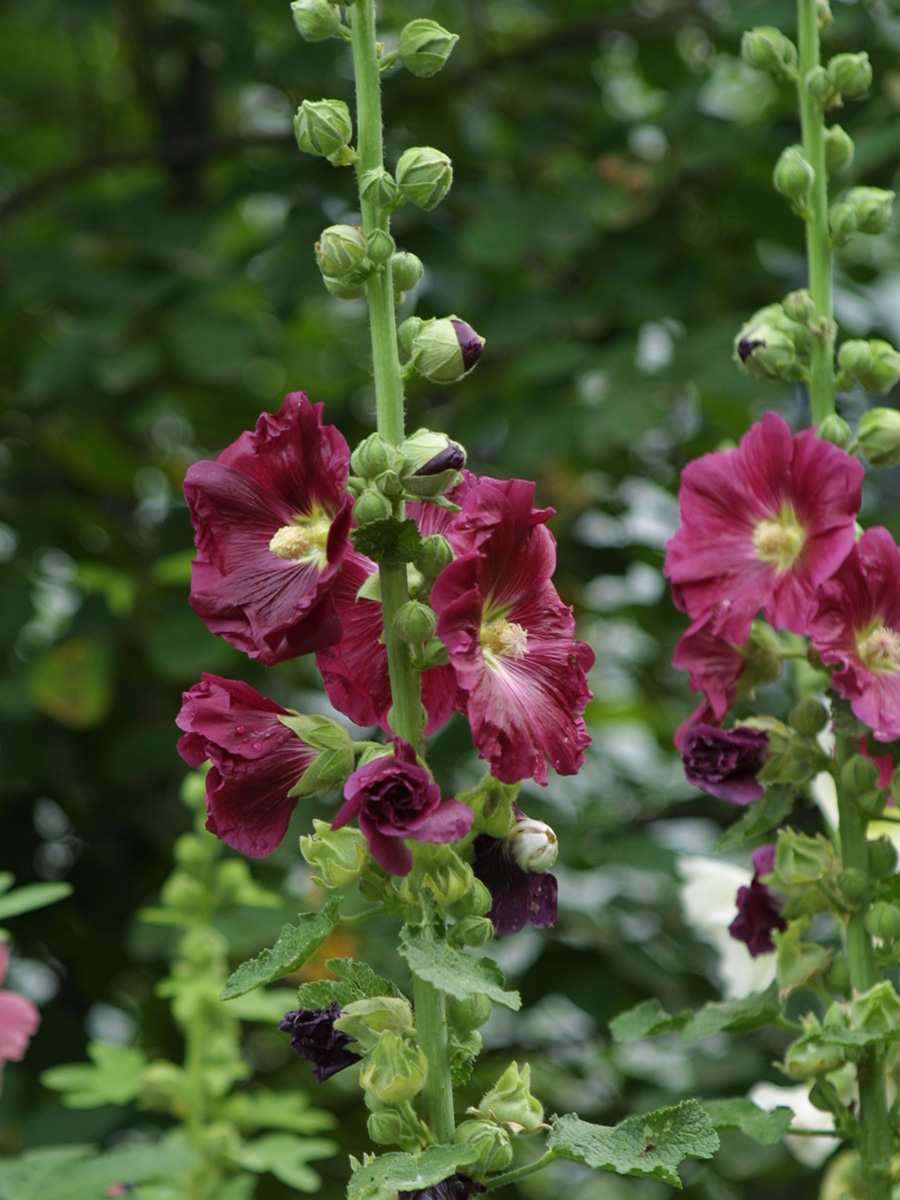 Hollyhocks
Alcea rosea, Zones 3–9
These garden classics prefer moist, rich soil and full sun. Hollyhocks can grow quite tall (6 to 8 feet) and have a tendency of toppling over due to the sheer weight of the blooms. We recommend planting yours against walls or staking them for support as they continue to grow and bloom. You'll find hollyhocks in a lot of traditional garden settings throughout history, but feel free to throw people off by combining your hollyhocks with a beautiful variegated American aloe (Agave americana 'Variegata', Zones 8–11). Mixing plant species and styles can cause the ultimate "wow" factor!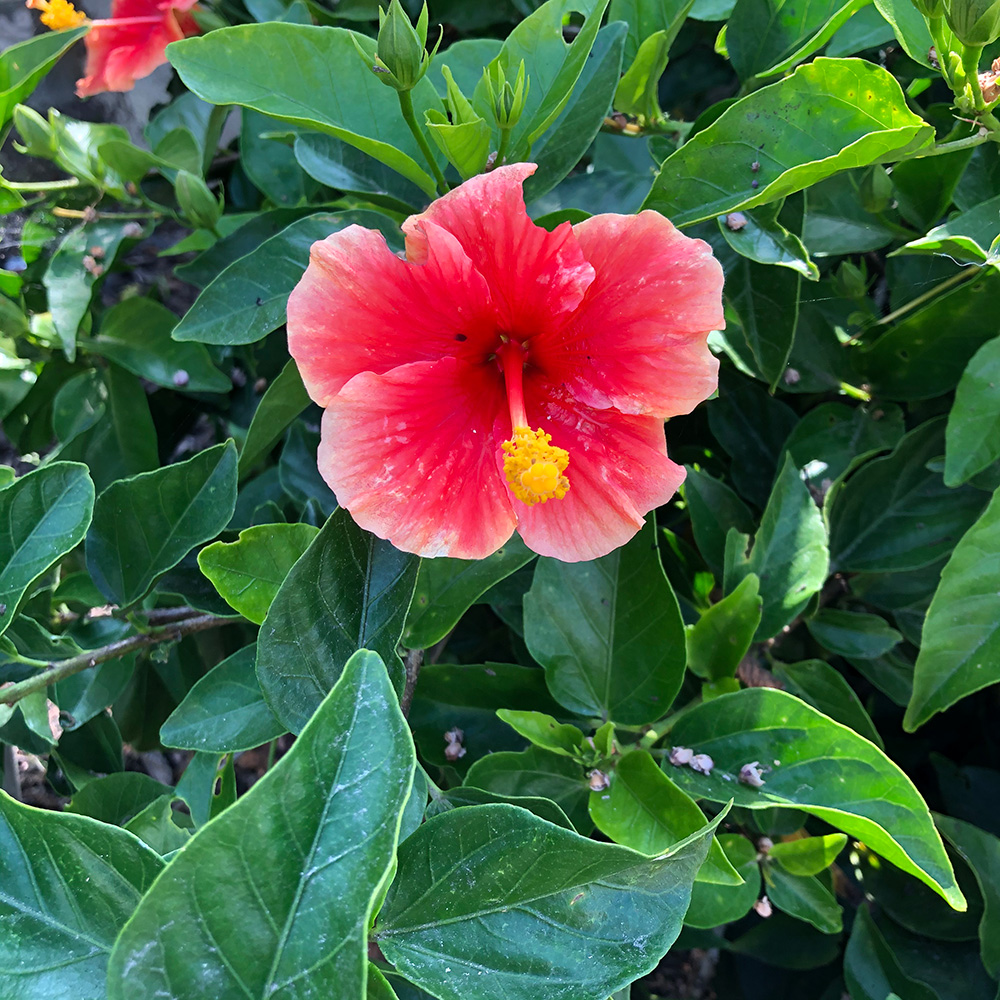 Tropical hibiscus
Hibiscus rosa-sinensis, Zones 9–11
Most recognize this show-stopper of a flower from its frequent depiction as a hair accessory on tropical islands. Tropical hibiscus is also used to make tea, which is a bit reminiscent of pomegranate in flavor. As you guessed, these tempting blooms are quite the attractors for pollinators. They perform well in gardens, container gardens, and hanging pots. In our region, they can grow large—8 to 10 feet tall and 4 to 6 feet wide. Tropical hibiscus thrive in full sun. The rule of thumb is that the more sun they get, the more blooms you'll see. So although they can survive in partial sun, you will tend to see fewer blooms. Also, be sure to keep your hibiscus well-watered. They prefer moist, well-drained soil. We recommend a drip system so you can set it and forget it.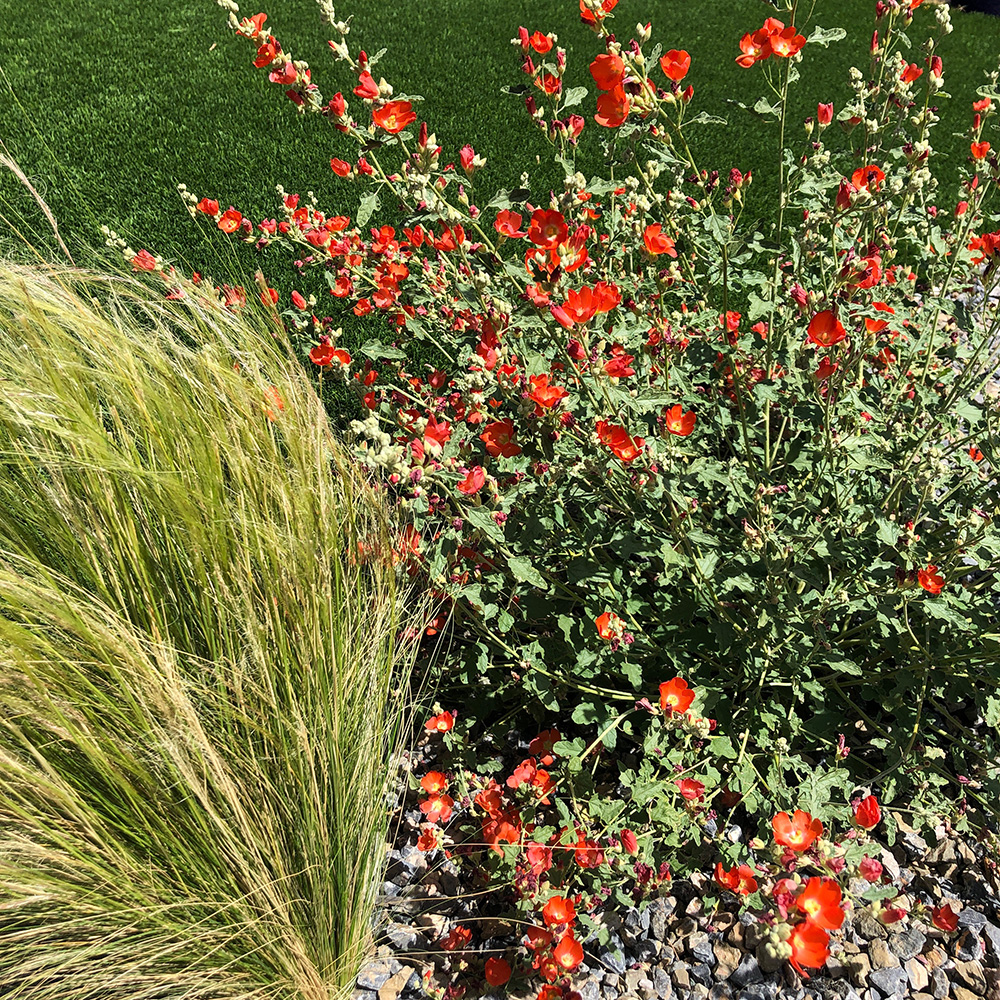 Globe mallow
Sphaeralcea ambigua, Zones 6–10
Globe mallow is one of our favorite native flowery friends here in the Southwest. It is truly indestructible. We let it spread its wings and then give it an aggressive haircut. A month later, foliage and blooms are back with a vengeance. Even when our dogs trample it, it's as perky as can be the next morning. Globe mallow is a true beauty that thrives in full sun, with delicate-looking foliage and vibrant blooms. These shrubs will quickly reach 3 feet tall and 3 feet wide and are cold hardy to Zone 6. They bloom in a variety of colors; you can find ones with red, white, pink, purple, or (our favorite) orange flowers. We prune our globe mallow twice a year. We initially tried to just prune it once a year, but our mallow grew so large it was completely out of hand. So now we cut it down to about 12 inches in height in both spring and fall. And before we know it, they're huge again! Globe mallow is also bee friendly, deer and rabbit resistant, and very low maintenance. Ignore it and it will love you forever!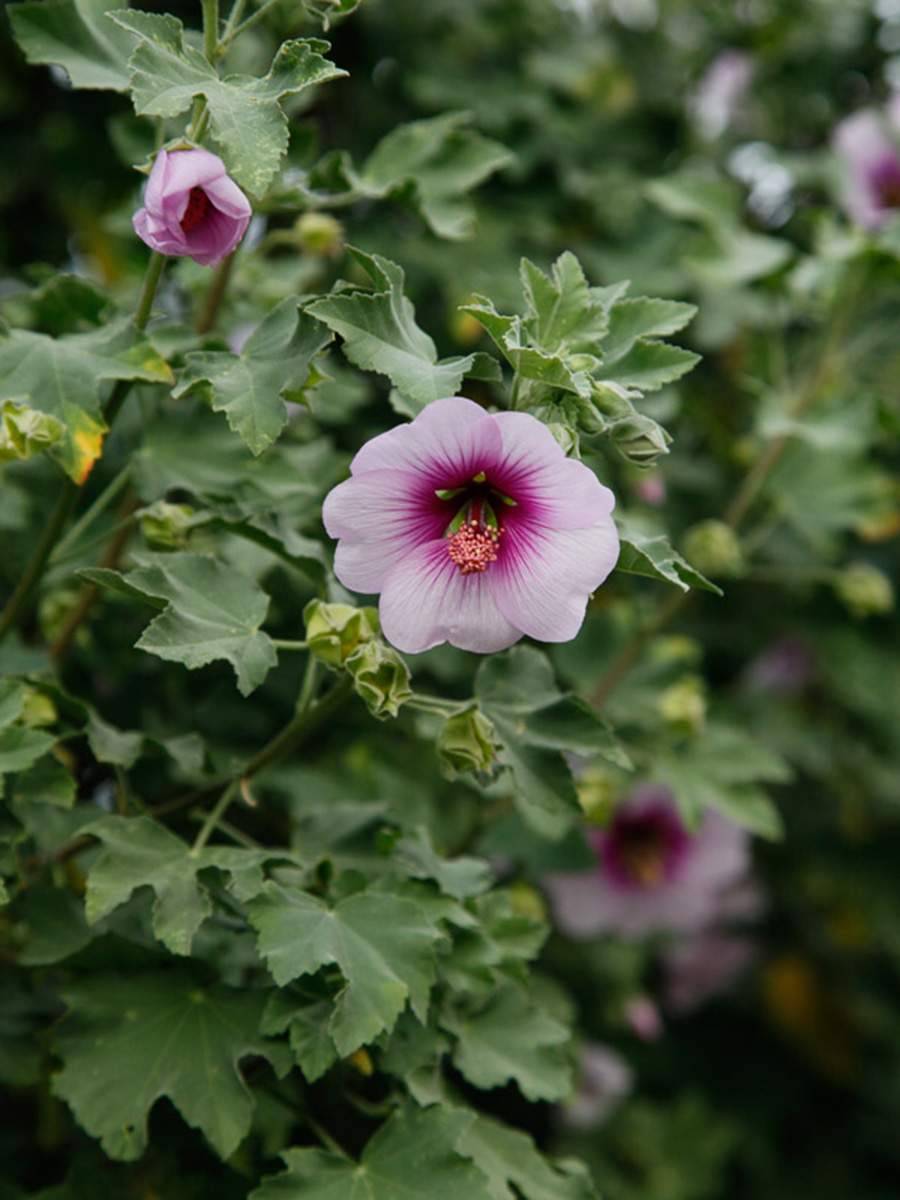 Tree mallow
Lavatera maritima, Zones 6–8
The last of our mallows is tree mallow. This showy, evergreen shrub produces gorgeous hibiscus-like, purple blooms throughout the summer months. This perennial is fast growing and loves the sunshine. It will grow 6 to 8 feet tall and 4 to 6 feet wide. If you're considering planting it in a container, be sure you're giving it additional water. Otherwise, once mature, this shrub is fairly drought tolerant.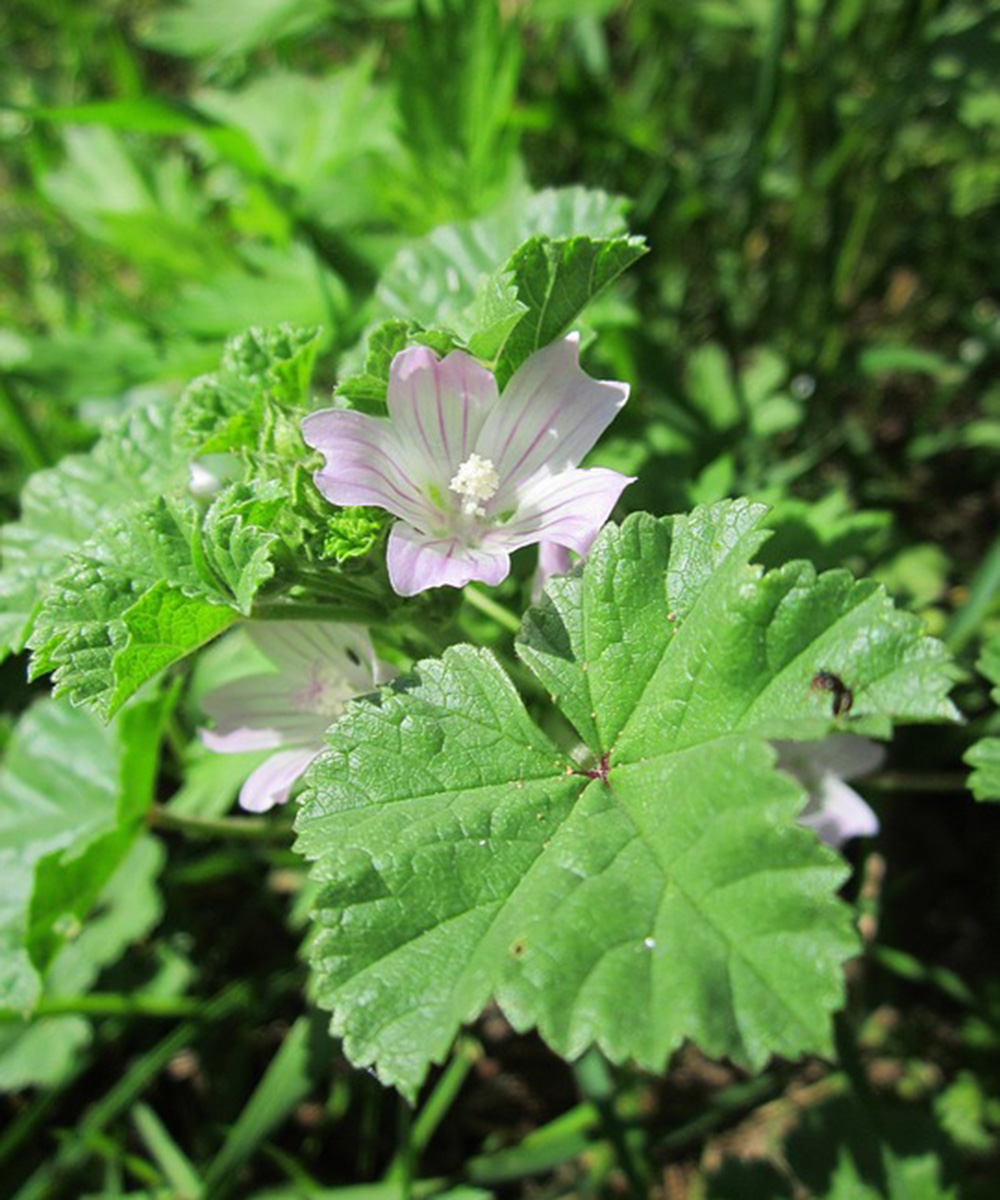 Weedy mallows to look out for
Certain mallows can also prove to be quite a nuisance to some gardeners. Common mallow (Malva neglecta) and little mallow, or cheeseweed (Malva parviflora), are both considered intrusive weeds. However, all parts of each are completely edible. The leaves on these plants resemble scented geranium (Pelargonium spp. and cvs., Zones 11–12) leaves. They tend to have five to seven lobes, and their flowers, although pretty, tend to be overpowered by the foliage. So before you start weeding these species out, give them a shot for their edible qualities. Maybe you'll find a benefit to their growth.
Malvaceae is varied, but one thing is for sure—they produce some beautiful blooms, no matter which plant you choose to incorporate into your gardens. While you're deciding, we'll be planting more globe mallows within our cactus gardens. If you're wondering when we will ever be finished with our gardens, well, the answer is probably never.
—Sheila Schultz and Laurel Startzel are a mother-daughter duo who founded Denver Dirty Girls Container Gardening while living in Denver and have continued their business since moving to Tucson, Arizona.