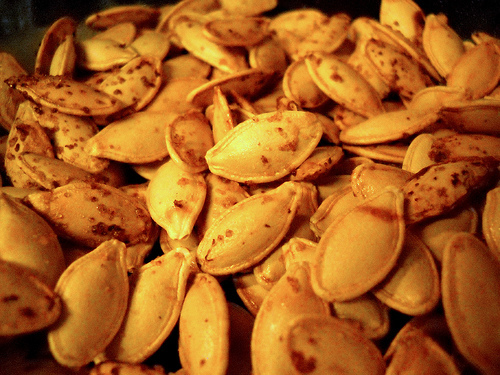 After you've carved your Jack O' Lanterns for Halloween, don't forget to sift through the pumpkin guts and save the seeds for roasting. Hidden behind the delicious flavor, this simple snack offers some fabulous nutrition. Pumpkin seeds are rich in magnesium, phosphorus, and manganese. They offer protein, iron, copper, and zinc – which plays a valuable role in prostate health.
Pumpkin seeds also have anti-inflammatory properties which have been linked to reducing inflammatory problems associated with arthritis. And the phytosterols in pumpkin seeds lower cholesterol. Snack without gulit!
How to Roast Pumpkin Seeds
Pre-heat oven to 325 degrees
1. Wash all of the pumpkin guts off the seeds while everything is still wet. Removing dry pumpkin guts from the seeds the next morning is not an easy task. Rinse them off in a colander until they're pulp-free.
2. I let them air-dry and toss them around every once in a while so they don't stick together. Now you can either oil a baking sheet or spray it with a non-stick cooking spray, then spread the seeds out making only one layer of seeds.
3. Some people will sprinkle salt on them now and some will wait until they're done roasting. Do whatever makes you happy. For a variety of seed flavors you can add a bit of vegetable oil to the baking sheet and add just a little toasted sesame oil (use the sesame oil sparingly). They can also be seasoned with pumpkin spices. Or try adding some freshly chopped garlic to a lightly oiled cookie sheet. Again, don't over do any of the seasonings, the idea is to enhance the flavor of the seeds; not mask it.
4. Let the seeds roast for about 15 minutes and then stir them up so all sides are toasted. It'll only be about another 10 minutes before they'll be ready. After the last 10 minutes, you'll want to test a couple to see if they're done by actually sampling them intermittently until they reach the perfect texture for you. *Be sure the seeds aren't too hot before you test them.
As terrific as pumpkin seeds are for snacking, they're also perfect for enjoying with other dishes such as green salads, cereal, and sautéed vegetables.