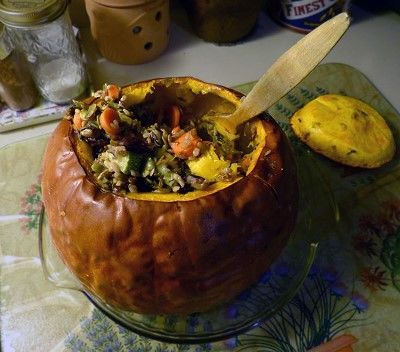 The Pilgrims had a love-hate relationship with the pumpkin. Without it they wouldn't have made it through the winter, but that doesn't mean they had to like the taste of it.
Early pumpkins were probably much different than the ones we find at the markets today. It's easy to imagine they were more stringy with a lot less flavor. I'm sure early cooks had to get creative to keep their clans from complaining, "Not pumpkin again!"
One old recipe for cooking pumpkin was the beginning of pumpkin pie. The cook would cut a hole in the top, scoop out the pumpkin seeds and fill the inside with a pudding or custard-like mixture of cream, eggs and spices. The filled pumpkin baked in the hot coals of the kitchen fire until the pudding was cooked.
I might experiment with a recipe like that one day, but until then I prefer to stuff my pumpkin with rice, assorted vegetables (like squash, onions and carrots from the garden), beans, nuts and seeds.
When baked together, the flavors of the stuffing blend with the pumpkin to make a delicious Thanksgiving side dish or a tasty vegetarian entrée.
Stuffed Pumpkin Ingredients
1 small-to-medium sugar or baking pumpkin
Worcestershire sauce
Salt and pepper
2-3/4 cups quick cooking wild rice blend
2 (or more) cups cubed squash
3–5 sliced scallions
3–4 sliced carrots
1-1/2 cups kidney beans, rinsed and drained
1/2 cup pine nuts (or shelled pumpkin seeds)
1/3 cup shelled sunflower seeds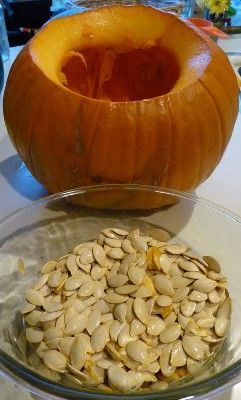 Instructions
Prepare wild rice blend according to package instructions.
While rice is simmering, cut a medium-sized circle in the top of the pumpkin (save the lid).
Scoop out the seeds and pulp; clean thoroughly. Save seeds to roast.
Season inside of pumpkin with Worcestershire sauce.
Let rice cool slightly; mix together with the remaining ingredients.
Add salt and pepper to taste.
Stuff pumpkin with the rice mixture; cover tightly with the pumpkin lid.
Set pumpkin on a baking sheet in a preheated 400-degree oven.
Bake for about 1 hour or until the pumpkin is soft and lightly charred.
Remove lid and scoop out stuffing together with the baked pumpkin for each serving. Serves 6 to 8, depending on the size of the pumpkin.