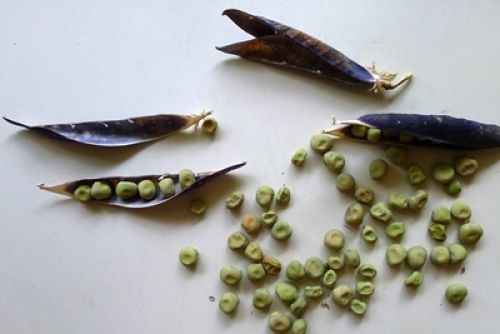 Where else can you get a seven-fold return on your investment?
That's the ROI from the packet of Purple Podded Pea seeds the Hudson Valley Seed Library sent to me earlier this year. Each pea pod contained about seven seeds. 
I was able to return 40 seeds to the library, while keeping a nice supply to use in a special soup this winter.
My seed-saving began in April when I received a free membership to the seed library. The membership kit included about 20 seeds and instructions for planting, growing, harvesting and returning seeds to the library.
In July I wrote an update on the planting's progress, just as the pea pods were beginning to mature.
This month I began gathering the dried pods from the vines as they started to split open. I wanted to make sure I didn't lose a single dry pea.
These soup peas are an heirloom Dutch grey pea that's meant to be harvested when completely dry. The peas are stored until it's time to soak them in water and cook them into pea soup. Because dried peas store easily, they are another way for gardeners to preserve their summer harvest.
The Hudson Valley Seed Library selected this variety for saving because many heirloom soup pea varieties have already disappeared from the landscape.
These peas aren't only fun to grow, but they provide an interesting history lesson, too.
According to the library, this pea variety was one that made it to New York from Holland in the 1800s.
"They were an ideal food for long Dutch ship voyages. In fact, one of the featured dishes discovered in old ship menus from the Holland-America passenger line was called the Captain's Dinner, made with Purple Podded Peas (also known as kapucijners or blauwschokkers)," according to the seed library's information on the peas. "That means that some of the 400,000 European emigrants in the late 1800s traveling from Rotterdam to New York were sustained by these peas."
It's a good feeling to know that the seeds I grew this summer will be planted in other vegetable gardens next year. And the year after that.