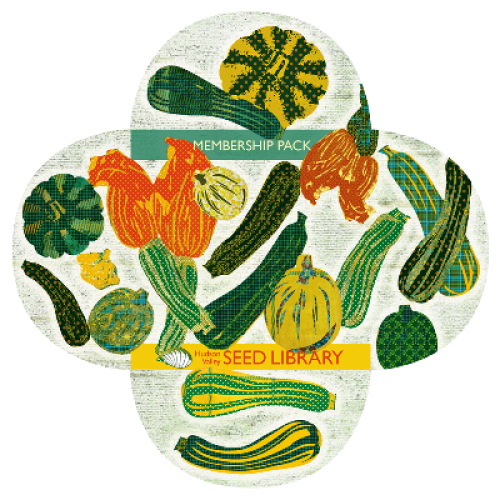 About two summers ago, I grew Purple Podded peas as a member of Hudson Valley Seed Library's Community Seed Program. I enjoyed the process of growing specialty pea seeds in my vegetable garden and then returning some to the library at the end of the season. Those seeds were planted the next year as part of the library's seed donation program.
This year Hudson Valley is offering a new approach to the Community Seed program. Library members will get to grow 'Breed Your Own (BYO) Zucchini' and try their hands at backyard plant breeding. 
Hudson Valley Seed Library will provide the seeds and all the how-to's for beginning plant breeders. In monthly installments, gardeners will learn how to identify desirable plant traits and how to make selections. Instructions for cross breeding and saving seeds are part of the process, too. 
I've never purposely bred vegetable plants, so this is going to be a hands-on experiment in my own outdoor learning lab.
Each packet of 'BYO Zucchini' seeds contains a random assortment of heirloom and open-pollinated zucchini varieties. With the help of the Seed Library, I'll learn how to select the plants I want to grow in the future or create an entirely new zucchini combination.
While this is a new approach for the Community Seed program, plant breeding is an age-old process. Without the work of early plant breeders and seed savers, gardeners wouldn't have the rich diversity of fruits and vegetables we grow in our gardens today.
It's easy to sign up to become a Seed Library member. The membership fee of $10 (plus shipping) includes the limited edition Membership Kit Art Pack of 'BYO Zucchini' seeds and a 10 percent discount on all online purchases until December 31, 2015. 
Membership also helps support the Hudson Valley seed farm where everything is still done by hand. The folks at the Seed Library say "membership allows us to continue our work increasing the diversity and availability of open-pollinated seeds and teaching seed saving skills to gardeners and farmers."