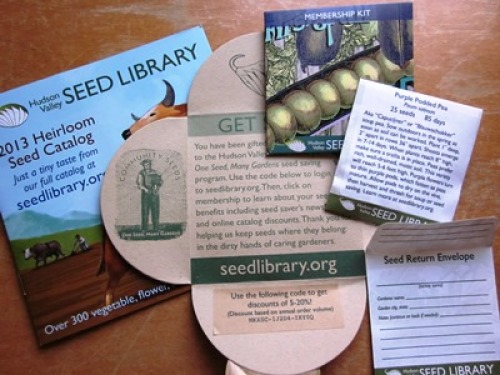 This quote attributed to Cicero neatly sums up the vision of the Hudson Valley Seed Library: "If you have a garden and a library you have everything you need." 
The Seed Library began in 2004 and continues to grow each year. The library's mission is to "save, develop, and celebrate heirloom and open-pollinated seeds." Gardeners can become Seed Library members, purchase seeds at the beginning of the season and return seeds to the library at season's end. 
Members will benefit from a new approach to seed saving this year called "Community Seeds: One Seed, Many Gardens." The seed library's program is now encouraging every member to grow the same vegetable variety in the same season. Previously, members could grow and return a number of different varieties.
The variety for 2013 is the Purple Podded pea.
A one-year's membership ($8) includes the pea seeds in a clever art pack, seed-saving envelope, seed-saving skills newsletter and online catalog discounts for purchasing additional heirloom and open-pollinated seed.
Seeds returned to the Seed Library will be redistributed as seed donations to schools and community groups for next gardening season.
I received a free gift membership from the Hudson Valley Seed Library for this year and I'm looking forward to being part of the large network of other gardeners growing the same Pisum sativum seeds this season. 
Purple Podded peas, also called "Capucijner" or "Blauwschokker" soup pea, are an interesting variety. The peas grow to about 5-6 feet tall and form purple pods that fatten as the peas mature. The pods need to dry on the vine before they can be harvested to use for soup or to package and return to the library.
Would you like to join the army of Hudson Valley seed savers? Order a membership kit for yourself and a gift membership for a friend (while supplies last).