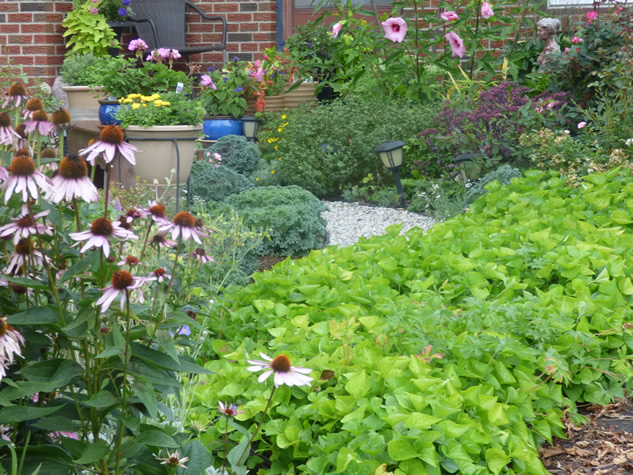 Maria Flemming (a.k.a. Quiltingmamma) from Ottawa Ontario has been busy! Thanks for sharing your snow-plow erosion strategy – great advice!
"Things have filled in with a variety of thymes, ground covers and native Field Pussytoes replacing most of the violets I had left as filler. I added an old bench (but never got the hang of beergaritas out front), moved the birdbath (which is still hard to see – I see) and worked on the 'washing away' mulch dilemma. The first winter had a new snow removal company in the area and they laid waste to the front 12-15 inches of garden and did a lot of damage in the neighbourhood. We had discussed what to put there to manage the mulch, but so glad I didn't use the recommended railroad ties. I had set in some 12 inch pavers and they were found in chunks all down the street come Spring thaw. A few are still there to raise up the garbage can, but a variety of ground sedums are filling in as erosion control quite nicely. The thyme grows back pretty well after any driveway snow removal damage, so mulch erosion there is now minimal. Thanks all GPODers for those past suggestions; I took a number of suggestions to heart. The yard continues to attract pollinators, but the birdies seem to prefer the back. Regardless, every morning when I open my drapes, I smile and am so glad I made the decision to resort to 'lawn-be-gone'."
Please keep sending in photos (and stories)! Whether you've never shared before or you've been featured multiple times, we want to see your garden! Email a few photos and the story behind your garden to [email protected].
Do you receive the GPOD by email yet? Sign up here!