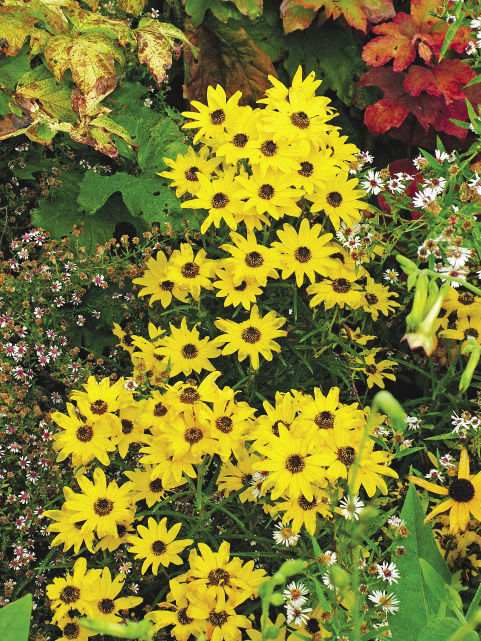 1. 'First Light' Swamp Sunflower
Name:

Helianthus angustifolius

'First Light'
USDA Hardiness Zones: 5 to 9
Size: 4 feet tall and 3 feet wide
Conditions: Full sun to partial shade; moist, well-drained soil
A trip to the United States National Arboretum years ago brought this "nativar" into my life. It was October, and the arboretum was in its full autumn glory. 'First Light' swamp sunflower was standing at center stage, commanding attention, while the supporting cast faded into the shadows. The cheerful, daisylike yellow flowers—appearing unusually late in the year—smothered the sturdy, compact plant. In my garden, it happily produces a month-long curtain call of color with virtually no maintenance. In fairness, its slender, fuzzy leaves are subtle, at best, although nice enough. This plant is unphased by heavy, wet soils.
2. 'Ozawa' Japanese Onion
Name:

Allium thunbergii

'Ozawa'
Zones: 4 to 9
Size: 10 to 12 inches tall and 8 to 10 inches wide
Conditions: Full sun to partial shade; well-drained soil
What's not to love about an easy-to-grow perennial that waits quietly until the last act to shine? 'Ozawa' Japanese onion possesses unusually fine-textured features for an allium and grassy green (not blue-gray) leaves, which stay trim and upright. In midfall, pretty pinkish purple globes show up, which last and last. As the flowers are ripening, the onion-scented leaves take on a lovely orange cast. Although delicate in appearance, 'Ozawa' Japanese onion works well in heat, drought, a wide range of soils, and winter nastiness.
3. 'Orion' Geranium
Name:

Geranium

'Orion'
Zones: 5 to 8
Size: 18 to 24 inches tall and up to 6 feet wide
Conditions: Full sun to partial shade; well-drained soil
Although I haven't grown every geranium out there, I have grown a lot, and 'Orion' stands out for having the largest flowers I've ever seen on a geranium. Bees and gardeners alike love the beautiful purple-blue flowers, which are close to 2 inches wide. Potentially reaching 6 feet across, the plant was given the name 'Orion' because it's always hunting (like the Greek demigod) for garden space. After lengthy spring and summer flowering, cut back the plant to 6 inches tall or completely to the crown. This encourages a reliable—if unexpected—fall rebloom. Chicago Botanic Garden perennial guru Richard Hawke gave 'Orion' four stars in his geranium trials, which is reason enough to plant it.
4. Full-Moon Maple
Name:

Acer japonicum

'Aconitifolium'
Zones: 5 to 7
Size: 15 feet tall and 20 feet wide
Conditions: Full sun to partial shade; moist, well-drained soil
Full-moon maple kicks off spring with clustered maroon flowers, which emerge before the foliage. Elegantly dissected, medium green leaves then appear, sporting orange-tinged tips as they unfurl, followed by winged maroon fruit. This tree really glows, however, in autumn with an ever-changing three-week curtain call of red, yellow, maroon, purple, orange, and gold-colored leaves. No other plant that I know of can match the length, breadth, and intensity of its fall display. All this beauty from one tree is almost too good to be true. Unlike Japanese maple (A. palmatum and cvs., Zones 5–7), full-moon maple never suffers leaf scorch in summer nor dies off from midwestern winter cold spells.
Tony Fulmer is chief horticulture officer at Chalet, a specialty nursery in Wilmette, Illinois.
Photos: #1, Nancy J. Ondra; #2, Jennifer Benner; #3, millettephotomedia.com; #4, Doreen Wynja; bottom right, courtesy of Tony Fulmer
Get our latest tips, how-to articles, and instructional videos sent to your inbox.