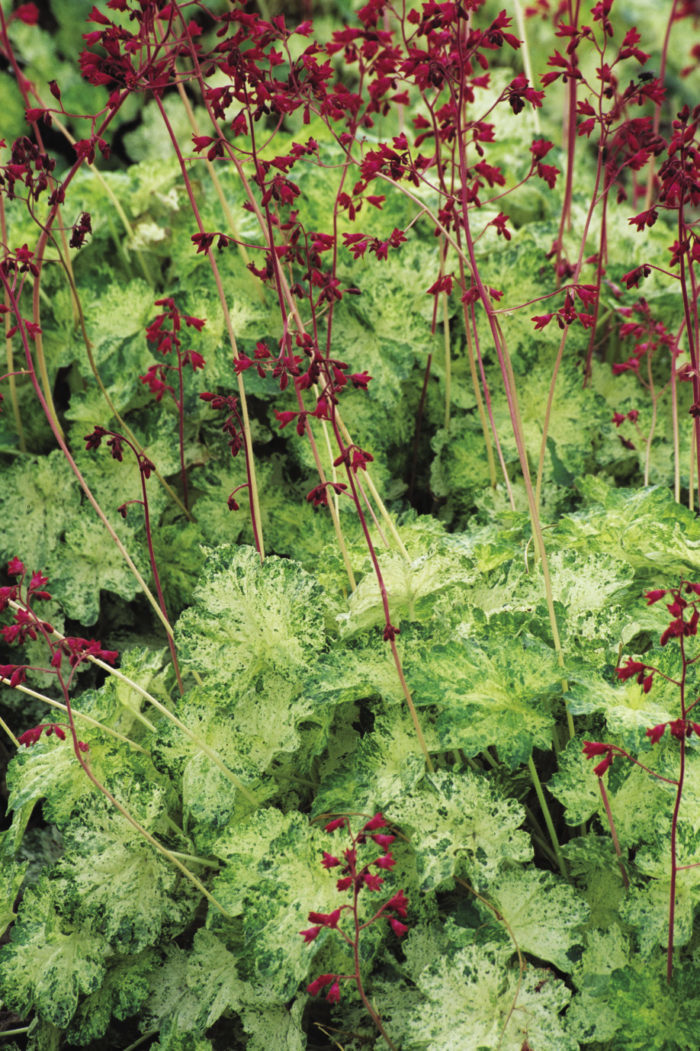 Midwest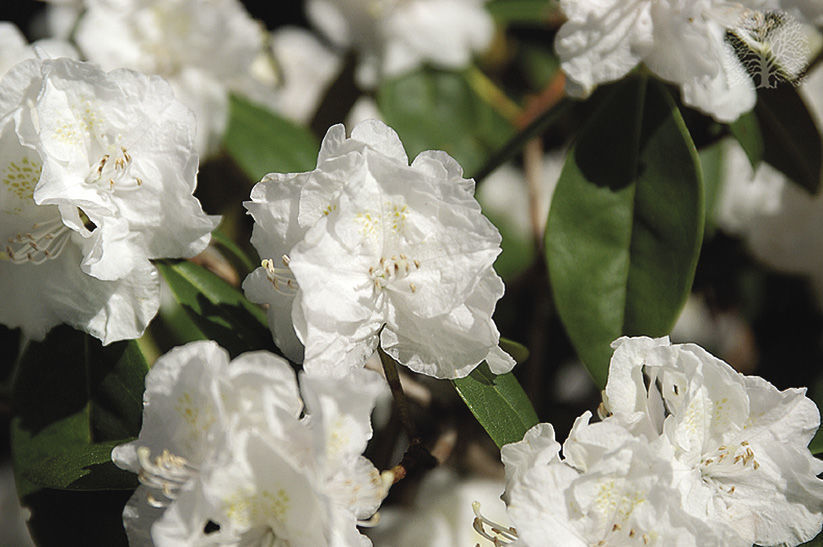 1. 'Molly Fordham' Rhododendron
Name:

Rhododendron

'Molly Fordham'
Zones: 5 to 7
Size: 4 feet tall and 3 to 4 feet wide
Conditions: Partial shade; well-drained, acidic soil
When the pink-tinged buds of 'Molly Fordham' rhododendron open to a ruffled white snowstorm of flowers that smother the plant, garden neighbors are relegated to a temporary midspring back seat. The sterile flowers of this shrub mean a long bloom season without deadheading. They also mean you'll get heavy blossoming every year. During the growing season, this rhodie sports small, leathery leaves that are a medium green. 'Molly Fordham' retains nearly all of its leaves throughout winter and stays dense and compact.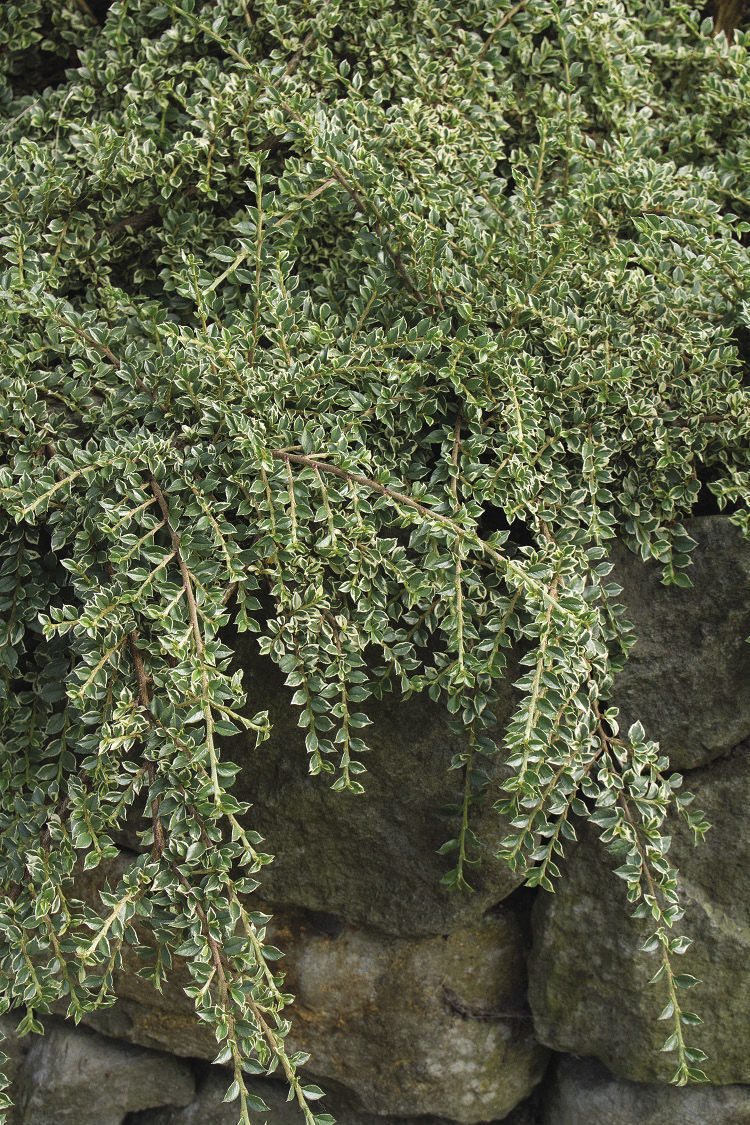 2. Variegated Rock Cotoneaster
Name:

Cotoneaster atropurpureus

'Variegatus'
Zones: 5 to 7
Size: 18 to 24 inches high and 4 to 5 feet wide
Conditions: Full sun to partial shade; well-drained soil
Variegated rock cotoneaster is subtle yet cool. This sometimes hard-to-find cascading cutie has fine-textured green leaves fully outlined in creamy white. Are the tiny spring flowers pinkish-white or whitish-pink? You decide, but by fall they become attractive red, applelike berries. In fall, the creamy leaves take on hints of rose before dropping to reveal the sculptural, zigzag-arched branching. This shrub boasts a slow to moderate growth rate and looks great naturally flowing down a slope. I've sited mine in front of a dark green yew (Taxus cv., Zones 5–7) hedge, which makes the variegation pop and glow.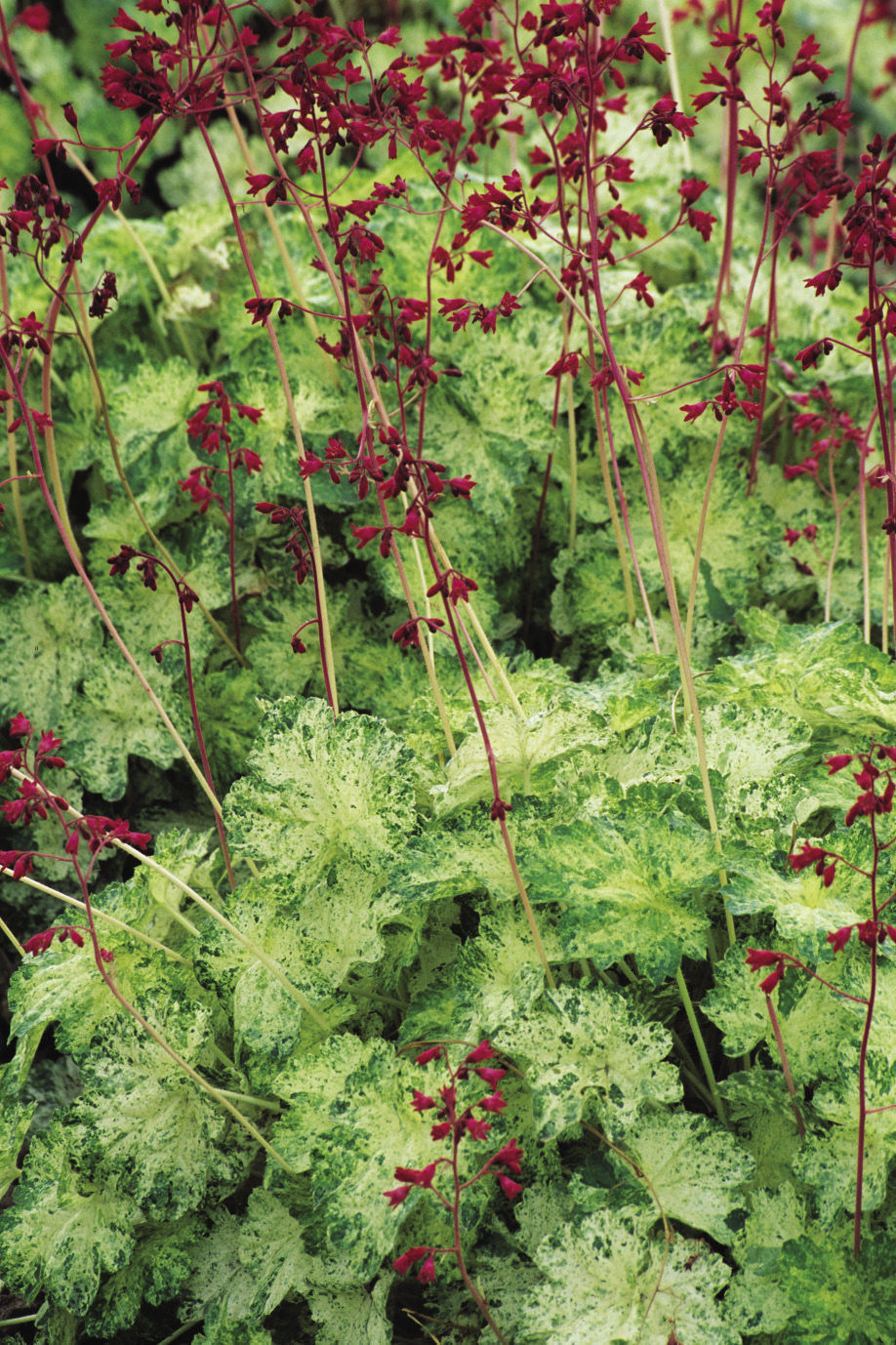 3. 'Snow Storm' Heuchera
Name:

Heuchera sanguinea

'Snow Storm'
Zones: 4 to 8
Size: 12 to 18 inches tall and wide
Conditions: Partial shade, well-drained soil
Gardeners, me included, tend to underestimate the visual impact of white (from flowers or foliage). Heucheras are known for their semievergreen, 8- to 10-inch-tall rosettes of brightly colored leaves. In the case of 'Snow Storm', those leaves are a ruffled green with creamy white centers and green dotting throughout. The plants produce tiny cherry-colored bells atop wiry stems in late spring to early summer. Additional shade during summer heat would be wise, especially if you garden in the South. Heucheras are prone to frost-heaving during freeze/thaw cycles, so winter mulching is a smart preventive practice.
4. 'Carousel' Little Bluestem
Name:

Schizachyrium scoparium

'Carousel'
Zones: 3 to 9
Size: 24 to 30 inches tall and wide
Conditions: Full sun to partial shade; well-drained soil
An improved cultivar of our native little bluestem, 'Carousel' was selected primarily for its compact habit. The growing season's powder blue stems really glow against black and purple-leaved perennial sidekicks. The seasonal color parade begins when the blue blades transition in fall to bronze then orange and finally red—holding this last astonishing color until late autumn. While the flower stems comprise much of the plant's height, the flowers are insignificant. However, the resulting early fall silver seed heads are worthwhile, reflecting light in a lovely way. This "nativar" is also deer resistant and humidity tolerant.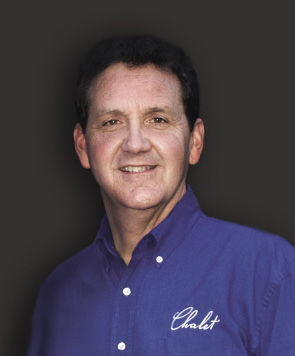 ---
Photos: courtesy of Cornell Botanic Gardens/Julie Magura; Doreen Wynja; JS Sira/gapphotos.com; courtesy of Chicagoland Grows, Inc.; courtesy of Chalet Nursery