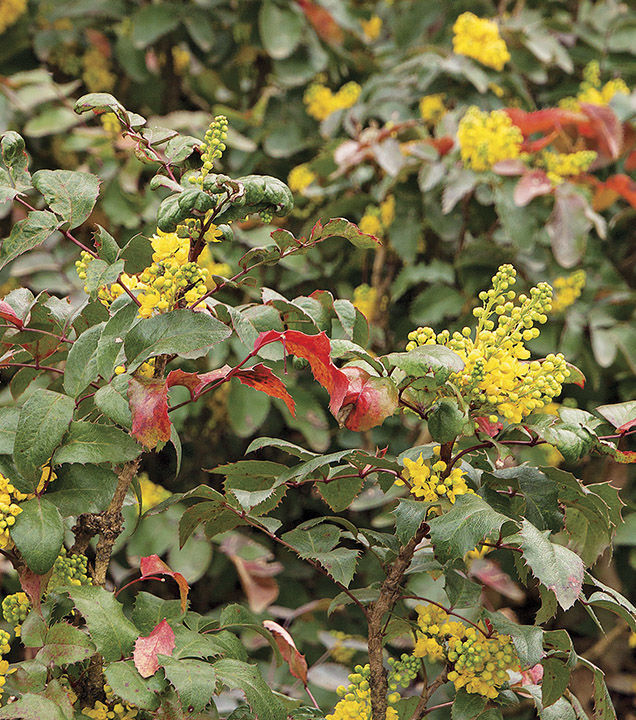 1.

Creeping Oregon Grape
Name:

Mahonia repens
Zones: 5-9
Size: 2 feet tall and 3 feet wide
Conditions:Full sun to full shade; well-drained soil
When it comes to natives, Oregon grape is ubiquitous. Though it may seem commonplace, creeping Oregon grape is anything but ordinary. Virtually maintenance-free and remarkably tough, it is a go-to solution for many impossible gardening situations: deer, drought, root competition, sun, shade–you name it. This evergreen shrub has more rounded and less intensely barbed leaflets than other Oregon grapes. Coppery new growth tops rich, velvety green foliage, with plum tones rounding out its winter appearance. Clear yellow flowers in late winter to early spring are a welcome food source for native pollinators, and birds relish the blue berries that follow in late summer.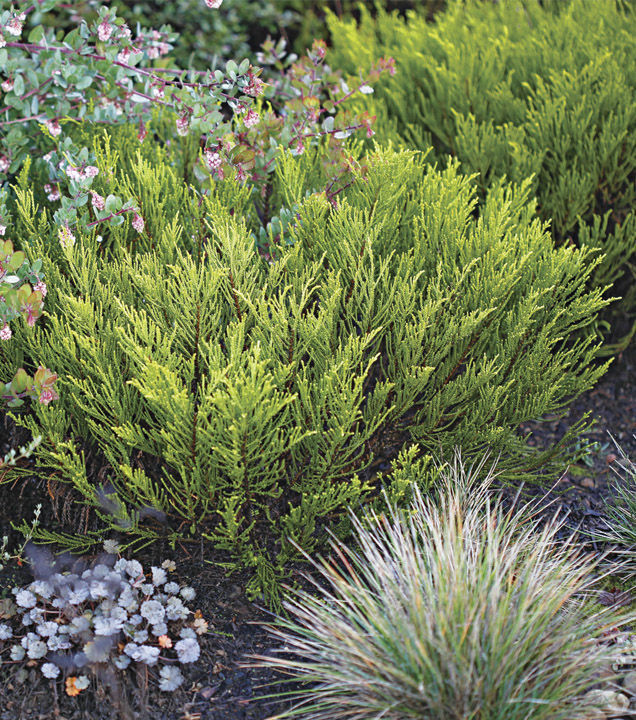 2.

'Karo Golden Esk' Hebe
Name:

Hebe

'Karo Golden Esk'
Zones: 7-10
Size: 2 feet tall and wide
Conditions: Full sun to partial shade; average, well-drained soil
With an odd mouthful of a name, this cutie of a hebe can take you by surprise. The color of its evergreen foliage is somewhere between olive and gold. Either way, 'Karo Golden Esk' creates a nice contrast with just about anything. This guy is a switch hitter, staying compact and dense in full sun with regular water, or loose and airy in dry partial shade. While good drainage is a requirement, pruning is a thing of the past. And with luck, small white flowers are a summertime bonus. Reliably hardy and deer-resistant varieties can be limited, but this hebe has proven itself.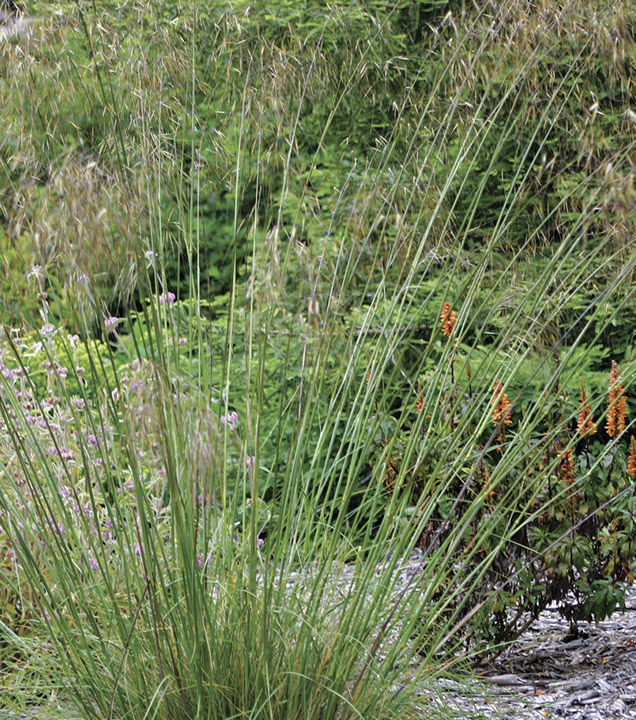 3.

Giant Feather Grass
Name:

Stipa gigantea
Zones: 6-10
Size: 2 to 3 feet high and wide
Conditions: Full sun; dry, well-drained soil
Move over, dwarf Pampas grass: Who needs a sharp, marginally hardy thug when they can plant the bold-yet-refined giant feather grass? Like royalty among xeric grasses, this western Mediterranean native thrives in heat and poor soils (given decent drainage). Naturally, deer and rabbits bow down without so much as a bite. The dangling, oat-like inflorescences positively glow with backlighting from early or late sun. The show starts in early summer, when towering blooms explode like sparklers at heights of 6 feet or more. If you can bear to cut them, the seed heads are stellar in dried arrangements. Or just enjoy them as they age from tawny mauve to a luminous straw yellow shimmering in the breeze.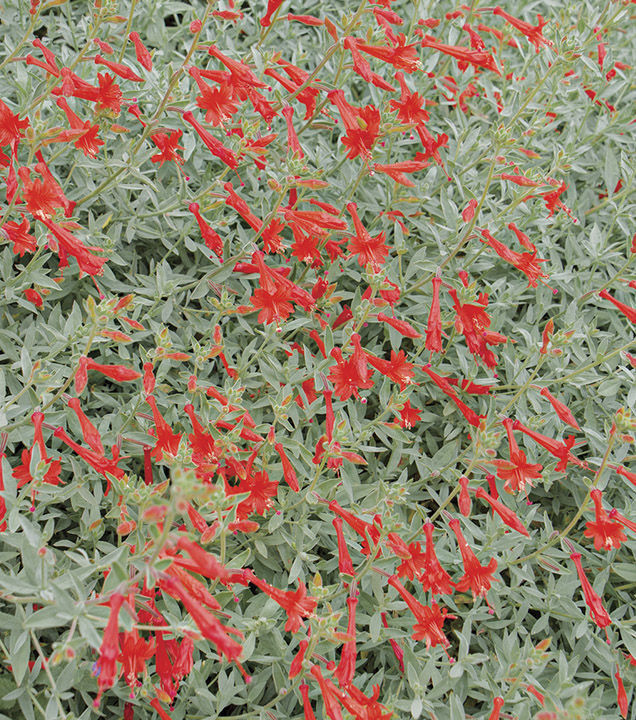 4.

'Silver Select' California Fuchsia
Name:

Epilobium canum

'Silver Select'
Zones: 6-10
Size: 2 to 3 feet tall and 3 feet wide
Conditions:Full sun; dry, well-drained soil
Flourishing in the toughest of conditions, California fuchsias laugh in the face of blasting sun and heat and revel in gritty, sharply draining soils with minimal water. Deer don't usually bother them, and they only need cutting back in spring once new growth starts to emerge. 'Silver Select' has blinding silver foliage and, from September to a killing frost, blooms in a saturated shade of coral red that rivals any fall color. These supersized trumpets are beacons to hummingbirds and pollinators alike, a welcome nectar source so late in the season. Give this colonizer room to run, though, because it spreads byrhizomes, especially if irrigated somewhat more regularly.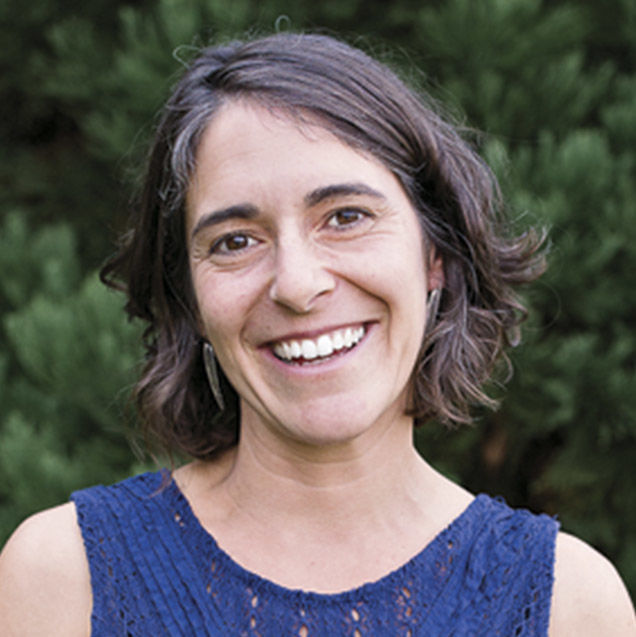 Bonni Criswell is a landscape designer and community educator in southern Oregon. Photos: courtesy Doreen Wynja for Monrovia; Joshua McCullough; Michelle Gervais; Doreen Wynja; courtesy Bonni Criswell