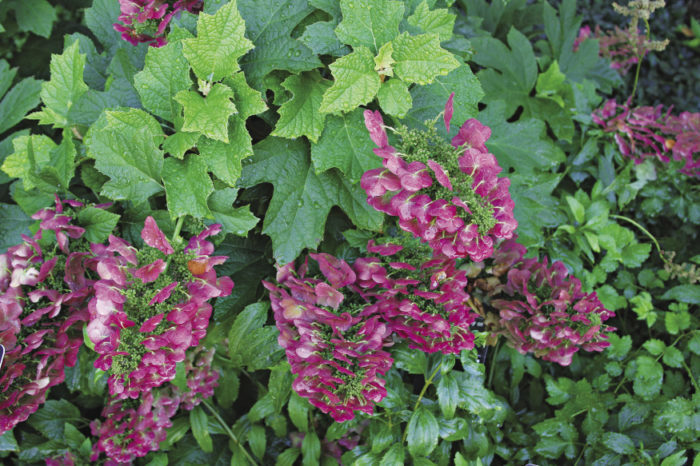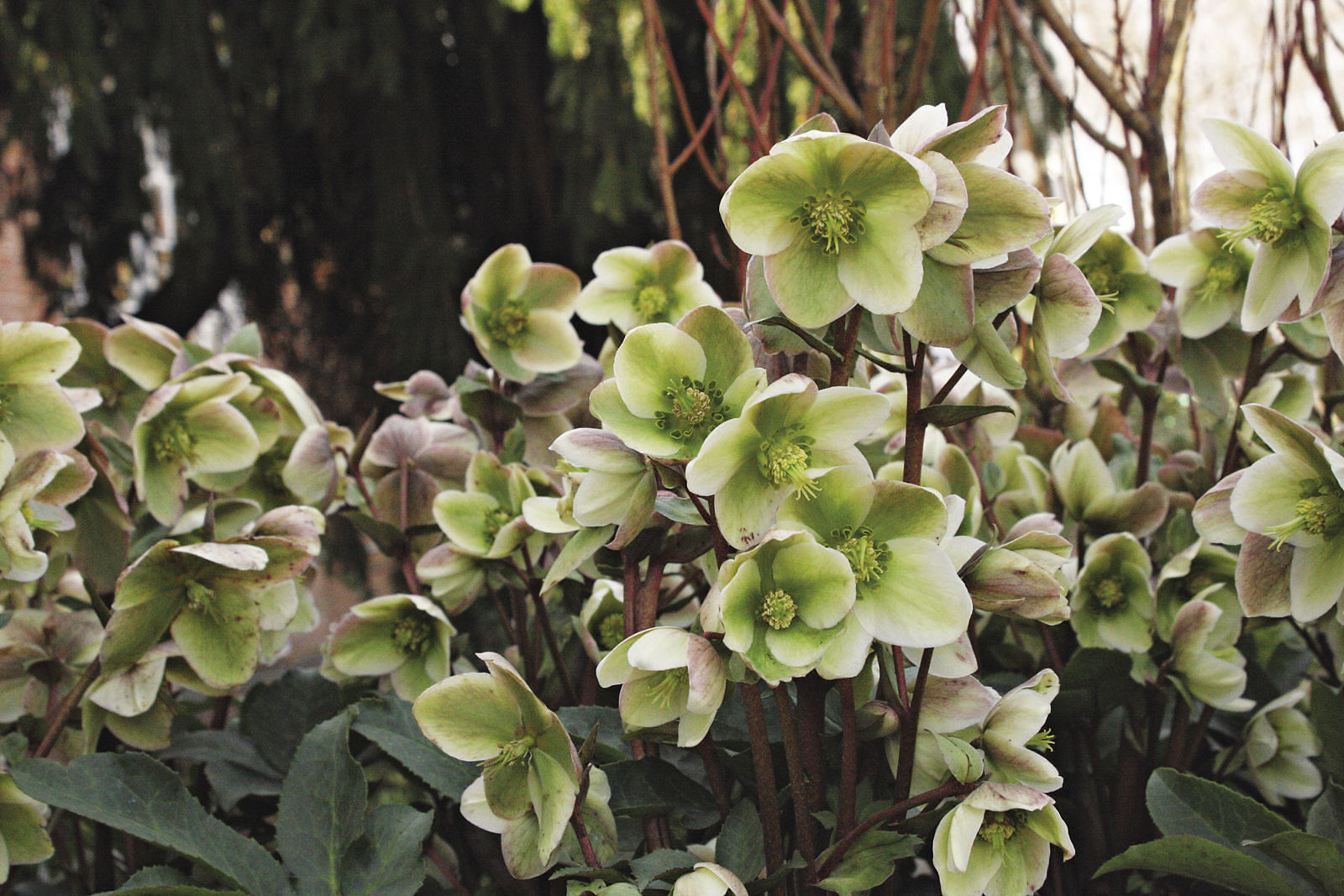 1.

Ivory Prince Hellebore
Name:

Helleborus 'Walhelivor'
Zones: 4–8
Size: 12 to 15 inches tall and wide
Conditions: Partial to full shade; moist, well-drained soil
Hellebores, a staple of early spring, are adaptable and long-lived. Once established, they perform even in that most difficult of garden conditions—dry shade; and their sturdy leaves are distasteful to deer, rabbits, and slugs. 'Ivory Prince' is an especially handsome character throughout the year. In midspring, the reddish-pink buds open into creamy greenish flowers blushed with pink, fading slowly to tan. The floral show lasts 6 to 8 weeks, but this hellebore is further distinguished by its attractive foliage. Its leathery leaves have a silver sheen and are held aloft on burgundy stems—even through the first few frosts.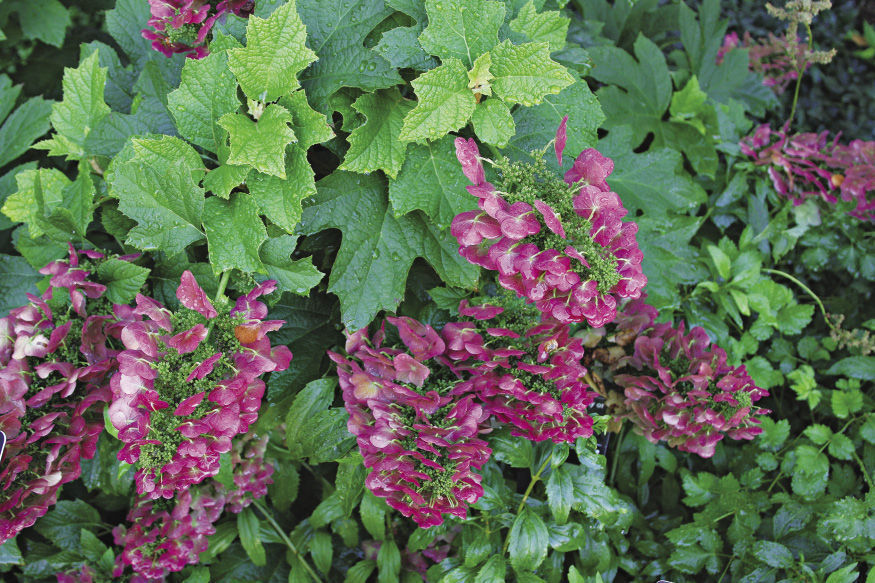 2.

'Ruby Slippers' Oakleaf Hydrangea
Name:

Hydrangea quercifolia 'Ruby Slippers'
Zones: 5–9
Size: 3 to 4 feet tall and 4 to 5 feet wide
Conditions: Full sun to partial shade; moist, well-drained soil
'Ruby Slippers' is a standout near our visitor center, thriving even with the dappled shade and competing roots of neighboring trees. The cinnamon-colored, exfoliating bark adds beauty in winter. So far, winter dieback has been negligible here in Zone 5, and, because oakleaf hydrangeas flower on old wood, the flower buds are retained and put on a spectacular summer show. In early summer, the large, glistening white flowers show nicely above the rugged, deep green foliage; they quickly age to deep pink, and then to a distinctive ruby. Burgundy fall foliage makes this plant a year-round highlight in a shady border or a woodland garden. Additionally, its compact stature allows for planting near windows without obscuring the views beyond.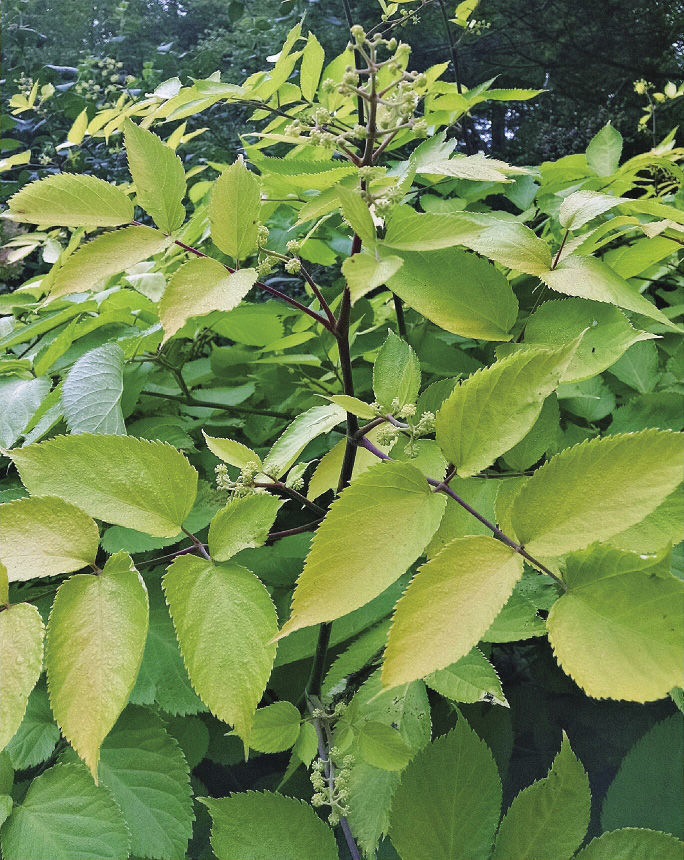 3.

'Sun King' Aralia
Name:

Aralia cordata 'Sun King'
Zones: 4–8
Size: 3 to 5 feet tall and wide
Conditions: Partial to full shade; moist, well-drained soil
'Sun King' aralia's impressive presence in shady areas is hard to ignore. It grows quite large and has bold, lime-green foliage, so it serves as a vibrant backdrop for other shade plants, especially those with burgundy or blue-toned foliage. It can also stand alone as a glowing focal point, holding up well through intermittent periods of dryness. Unlike American aralia (Aralia racemosa, Zones 3-9), 'Sun King' stays nicely in place and maintains its crisp foliage color throughout the season. Come late fall, the stems and foliage "melt down" to a surprisingly small volume, making clean-up of this imposing perennial a breeze.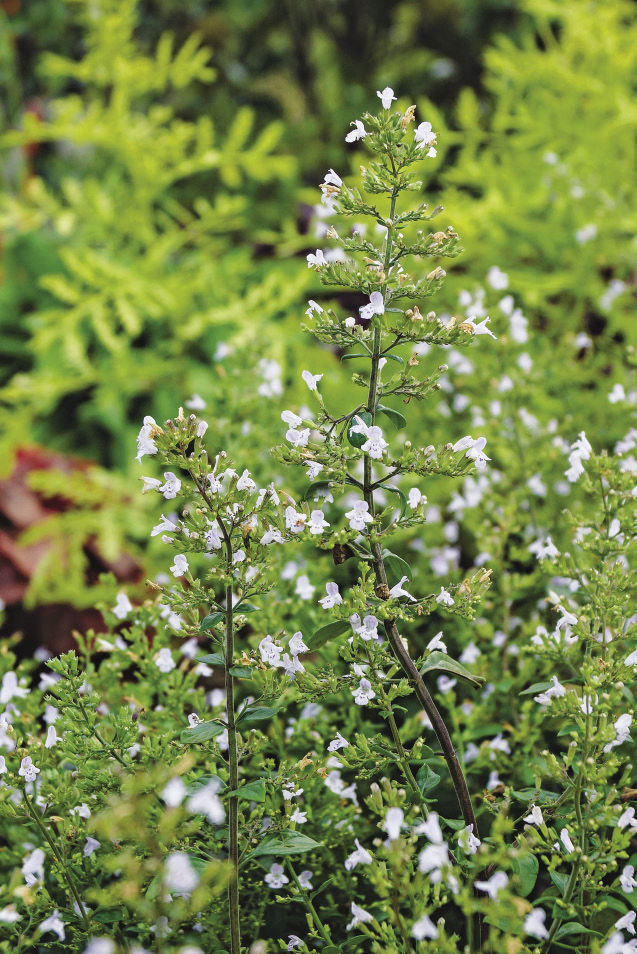 4.

Lesser Calamint
Name:

Calamintha nepeta

ssp.

nepeta
Zones: 5–7
Size: 18 to 24 inches tall and wide
Conditions: Full sun to partial shade; moist, well-drained soil
Underutilized in most gardens, lesser calamint is a subtle plant that still attracts attention. Plant it near paths and entries because the small, glossy green leaves emit a wonderfully clean, minty fragrance when brushed by passersby. The petite white flowers that cover the plant from late spring through fall attract clouds of happy pollinators and turn a lovely lavender shade with fall's cooler temperatures. Its form is tidy throughout the growing season, so please don't confuse lesser calamint with its unruly cousins in the genus Nepeta, the catmints. It thrives in hot and dry conditions, but it also looks great in intermittent shade.
---
Photos: Kerry Ann Moore; Michelle Gervais; Danielle Sherry; Nancy Ondra; courtesy of Erin Presley