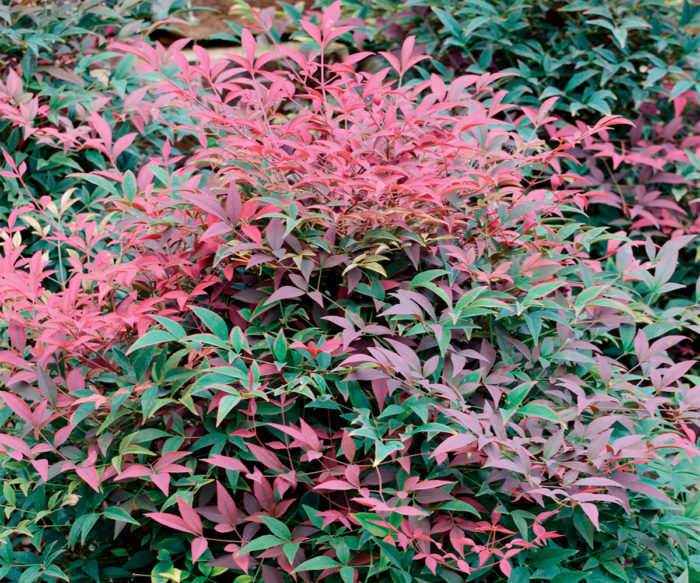 Everyone enjoys spring gardens, with the fresh foliage and colorful flowers that lift our spirits after a long, dull winter. And summer gardens are glorious, of course, with an abundance of bold blooms and rich colors that perfectly suit outdoor summer activities. By August, though, heat and dry spells take their toll on spring and summer perennials; gardens can look tired and tattered.
Time to retreat indoors? No way. Below are four plants that keep the interest going in August and into autumn.
---
1. Turk's Cap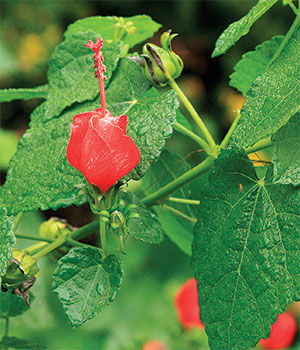 Name: Malvaviscus arboreus var. drummondii
Zones: 7–11
Size: 4 feet tall and wide
Conditions: Full sun to partial shade; moist, well-drained soil
Native range: Southeastern United States, Mexico, Central America, and South America
This perennial's bright red petals never fully open but form a loose whorl with protruding red stamens. It is said to resemble a Turkish turban, hence its common name. Turk's cap blooms from late summer through early fall, and the blossoms give way to small, dark red fruit. It has upright to somewhat spreading stems, and leaves that are shallowly lobed and slightly fuzzy on the underside. In its southern range it is evergreen, shrubby, and larger. In full sun, the leaves become rougher, smaller, darker, and puckered. It is heat and drought tolerant and adapts to many diverse habitats. This Southern Plains native is a magnet for hummingbirds and butterflies too.
2. Pink Muhly Grass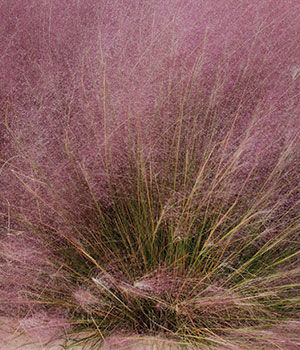 Name: Muhlenbergia capillaris
Zones: 6–10
Size: 2 to 3 feet tall and wide
Conditions: Full sun to light shade; well-drained soil
Native range: West-central United States
Pink muhly is a native ornamental grass with thin, dark green leaves that form an attractive mounding habit. In fall, it creates a showy display of feathery deep pink inflorescences that fl oat above the foliage. It is spectacular when massed and backlit by the sun. It adapts to a range of soils and is heat and drought tolerant with low to medium water needs. Pink muhly grass can be prone to root rot or crown rot in poorly drained sites and in constant high humidity, but deer and other pests largely leave it alone. It is also highly disease resistant.
3. Mexican Mint Marigold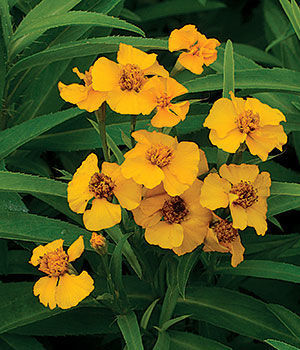 Name: Tagetes lucida
Zones: 8–11
Size: 30 inches tall and 24 inches wide
Conditions: Full sun to partial shade; well-drained soil
Native range: Mexico and Central America
This plant is a neat, upright perennial with narrow, toothed, dark green leaves and small, bright golden-yellow marigold-like flowers starting in midfall. Mexican mint marigold is a fragrant, low-maintenance herb with superb heat and drought tolerance. It grows in many different soil types, but good drainage is essential. Also known as Mexican tarragon, it can be substituted in cooking for French tarragon, which dislikes our hot, humid climate. Harvest the anise-flavored leaves throughout the growing season. It is resistant to deer, pests, and disease but attracts a plethora of bees and butterflies.
4. Flirt™ Heavenly Bamboo
Name: Nandina domestica* 'Murasaki'
Zones: 6–10
Size: 1 to 2 feet tall and wide
Conditions: Full sun to partial shade; well-drained soil
Native range: China and Japan
Flirt™ heavenly bamboo is an easy-care, compact evergreen shrub. It holds its deep red color through the summer, unlike other heavenly bamboo. The red new growth accentuates the mature bluish-green leaves in spring to fall. It is ideal in borders, containers, or as a taller ground cover on slopes. Deer and other pests tend to leave it alone. Due to its low to medium water needs, Flirt™ is ideal for water-wise gardens. If pruning becomes necessary, remove the whole stem at ground level.
---
Maribeth Flowers is the owner and principal designer of Flowers' Gardens & Landscapes in Wylie, Texas.
Photos: Bill Johnson (1); Lynn Felici-Gallant (2); millettephotomedia.com (3, 4)