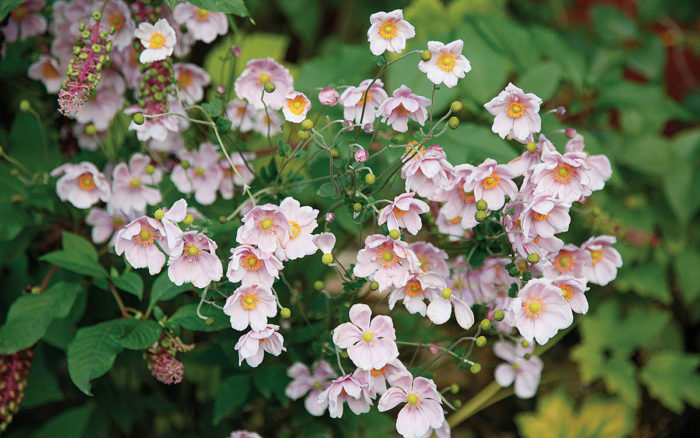 Everyone enjoys spring gardens, with the fresh foliage and colorful flowers that lift our spirits after a long, dull winter. And summer gardens are glorious, of course, with an abundance of bold blooms and rich colors that perfectly suit outdoor summer activities. By August, though, heat and dry spells take their toll on spring and summer perennials; gardens can look tired and tattered.
Time to retreat indoors? No way. Below are four plants that keep the interest going in August and into autumn.
---
1. 'September Charm' Japanese Anemone

Name: Anemone × hybrida 'September Charm'
Zones: 4–8
Size: 2 to 4 feet tall and 2 to 3 feet wide
Conditions: Full sun to partial shade; evenly moist, well-drained soil
Native Range: Japanese hybrid
When all the other perennials have finished blooming, there is always 'September Charm' to pick up where they have left off. While the abundant silvery-pink flowers are the main attraction come fall, its fantastic dark green trifoliate foliage that lasts throughout the season into autumn adds to its star quality. Although it is slow to establish, it spreads each year to form a noninvasive colony and easily transplants to other parts of the garden.
2. 'Fru Dagmar Hastrup' Rugosa Rose
Name: Rosa rugosa* 'Fru Dagmar Hastrup'
Zones: 2–7
Size: 3 to 6 feet tall and wide
Conditions: Full sun; tolerates a wide range of soils but thrives in well-drained sandy soil
Native Range: China, Korea, and Japan This rose's heavy hip display and reliable yellow-orange fall color will turn heads in the autumnal garden, and it scores bonus points for extra cold-hardiness, salt and drought tolerance, and disease resistance. Pollinators and gardeners alike will get lost in the intoxicatingly fragrant, pink single blooms, which open in late spring and early summer. For optimum fruit display, resist the temptation to deadhead. Renew plants late in the dormant season by pruning back by a third to a half, removing the weakest and oldest canes as well as any crossing canes.
3. Blue Heaven Little Bluestem
Name: Schizachyrium scoparium 'MinnblueA'
Zones: 3–9
Size: 3 to 4 feet tall and 18 to 30 inches wide
Conditions: Full sun; adaptable to a wide range of soils, especially those that are well drained
Native Range: Eastern and central North America
This nonfloppy nativar from the University of Minnesota has bright fall color and tall, vigorous growth that set it ahead of the pack of other little bluestem varieties. Light bluish-gray foliage in spring becomes kissed with pink and burgundy by late summer, then is gilded with copper in fall through winter. The best characteristic is that it remains upright following heavy rains, wind, and even snow. It is drought tolerant once established and virtually pest free.
4. Compact European Cranberrybush
Name: Viburnum opulus 'Compactum'
Zones: 3–8
Size: 5 to 6 feet tall and wide
Conditions: Full sun to partial shade; evenly moist, well-drained soil
Native Range: Europe, Asia, and northern Africa This versatile viburnum has reliable fall foliage in a range of colors from red-orange to red-purple and an abundance of persistent clusters of fruit that resemble cranberries. It shows off in spring and summer too, with an abundance of beautiful pinwheel-like white flowers followed by fruit clusters that start out chartreuse, then turn yellow, orange, orange-red, and ultimately bright red by season's end. The showy fruits are edible, albeit quite bitter, and persist well into winter, when they become more palatable to birds.
---
Scott Endres is co-owner and co-founder of Tangletown Gardens and Wise Acre Eatery in Minneapolis. He gardens in the other Twin City, St. Paul.
Photos: Joshua McCullough ( 1); Marianne Majerus/Marianne Majerus Garden Images ( 2); Carol Collins ( 3); Bill Johnson ( 4); courtesy of Scott Endres