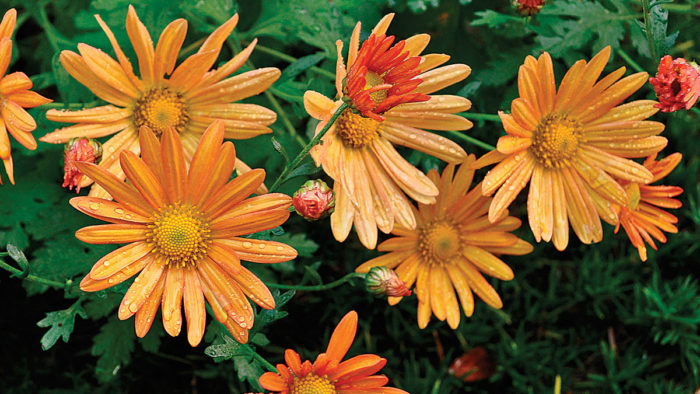 Everyone enjoys spring gardens, with the fresh foliage and colorful flowers that lift our spirits after a long, dull winter. And summer gardens are glorious, of course, with an abundance of bold blooms and rich colors that perfectly suit outdoor summer activities. By August, though, heat and dry spells take their toll on spring and summer perennials; gardens can look tired and tattered.
Time to retreat indoors? No way. Below are four plants that keep the interest going in August and into autumn.
---
1.

'Bolero' Garden Mum

Name: Chrysanthemum 'Bolero'
Zones: 5–9
Size: 2 feet tall and wide
Conditions: Full sun to partial shade; average, well-drained soil
Native Range: China, Japan, and Korea
If you're like me and cannot get enough of the lovely late-season and hugely popular 'Hillside Sheffield Pink' garden mum (Chrysanthemum 'Hillside Sheffield Pink', Zones 5–9), then it's time to try 'Bolero'. You can expect scores of pretty, glowing peachy-orange daisies on well-behaved mounding plants. The blooms are ideal for using in cut-flower arrangements and attract lots of pollinators late in the season when there's not much else around for them to eat. 'Bolero' garden mum combines well with other autumn favorites such as dwarf ornamental grasses and sedums. It's also easy to divide and share with friends every two or three seasons.
2. 'Samurai' Toad Lily
Name: Tricyrtis formosana 'Samurai'
Zones: 6-8
Size: 12 to 18 inches tall and 12 inches wide
Conditions: Partial to full shade; moist to wet, well-drained soil
Native Range: Taiwan
Most gardeners and a lot of plants can look tired and beat up from a long, hot, humid New England summer. Not toad lily. Truly unusual head turners for the shade garden, toad lilies are best when planted where you can get a good look at their intricate fall blooms. The purple speckled flowers look incredibly exotic, but the plants are definitely hardy. 'Samurai' stays more compact than other varieties, but it's really the creamy golden-edge foliage that makes it special. I find it particularly stunning when paired with 'Aureola' Japanese forest grass (Hakonechloa macra 'Aureola', Zones 4–9) and a favorite golden-edge hosta.
3. Blackberry Lily
Name: Iris domestica
Zones: 5–10
Size: 2 to 3 feet tall and wide
Conditions: Full sun; well-drained soil
Native Range: Himalayas to Russia
You may think of this plant as being a late summer show-stopper, which it is. But after the orange and red speckled blooms go by, unique seedpods appear and crack open to reveal shiny black berries in fall. This is a cool feature to consider when your garden needs more late season interest. If you've ever struggled to get Crocosmia to behave like a perennial, try this plant instead. Blackberry lily is much less fussy about enduring erratic New England winters and is also drought tolerant once established.
4. 'Gateway' Joe Pye Weed
Name: Eutrochium maculatum 'Gateway'
Zones: 4–8
Size: 4 to 5 feet tall and 2 feet wide
Conditions: Full sun to partial shade; moist to wet, well-drained soil
Native Range: North America
Anything that blooms late in summer and continues to look nice through the fall is a must for anyone's garden. This plant is great for the back of the border or for a wild setting, although it is more compact than the straight species. The soft mauve flower heads of 'Gateway' attract lots of interesting pollinators and butterflies, and they pair well with other tall late bloomers such as 'Herbstsonne' black-eyed Susan (Rudbeckia 'Herbstsonne', Zones 5–9). Divide the clumps every three or four seasons.
---
Jen McMahon is a horticulturist at Smith's Acres garden center in Niantic, Connecticut.
Photos: millettephotomedia.com (1); Bill Johnson (2); Michelle Gervais (3); Steve Aitken (4); courtesy of Kim Tyler