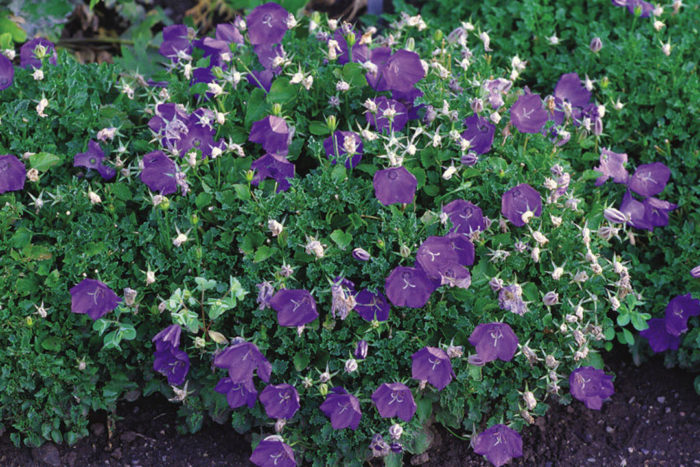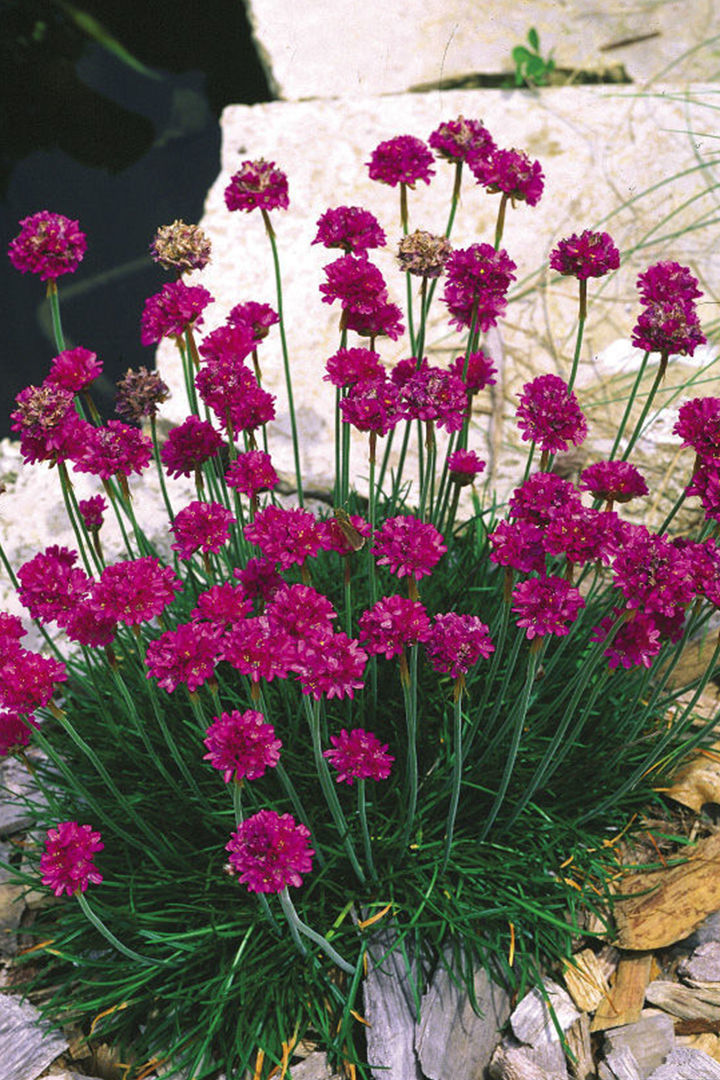 1. Sea thrift
Name: Armeria maritima and cvs.
USDA Hardiness Zones: 3 to 9
Size: 8 to12 inches tall and wide
Conditions: Full sun; well-drained soil
Sea thrift is a spring bloomer with white or pink flowers (like those of 'Blood­stone', pictured) emerging atop blue-green foliage. An ideal plant for xeriscape plantings, it will actually underperform in rich soil or with too much care. As the plant matures, the center dies out; rejuvenate by division every three to five years in either spring or fall.
2. Yarrow
Name: Achillea millefolium cvs.
Zones: 3 to 9
Size: 20 to 24 inches tall and wide
Conditions: Full sun; well-drained soil
Yarrow should not be confused with the weed of the same name. Many new cultivars provide a nearly summer-long show of flowers. It's a good plant for xeriscapes but will thrive with a little tender loving care (soil higher in organic matter and a little more moisture). Once established, this tough plant can literally have its flowers mowed off; if you fertilize and water, it will bloom again. As it starts to look a little woody after four to five years, dig and divide, spacing the clumps about 2 feet apart. While the fresh-cut flowers are long lasting in a vase, they can also be used in dried-flower arrangements.
3. Carpathian bellflower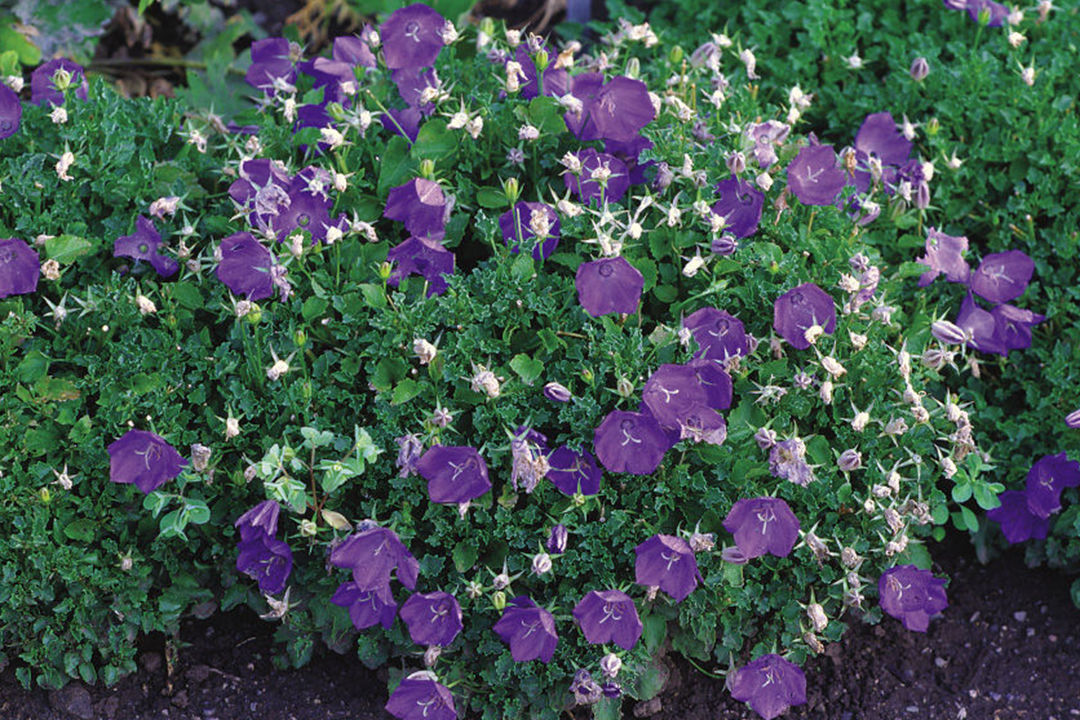 Name: Campanula carpatica and cvs.
Zones: 4 to 7
Size: 1 foot tall and wide
Conditions: Full sun to partial shade; moist, well-drained soil
The violet-blue flowers of Carpathian bellflower (like those of 'Blue Clips', pictured) put on a show from early spring to early summer; depending on the site, spotty flowering may occur even later in the summer weeks. The plant provides consistent blooms and requires little maintenance when generously mulched and placed in dappled shade. It can be used in rock gardens or in combination with other flowers. It also fits well in naturalized landscapes.
4. Narrow-leaf coneflower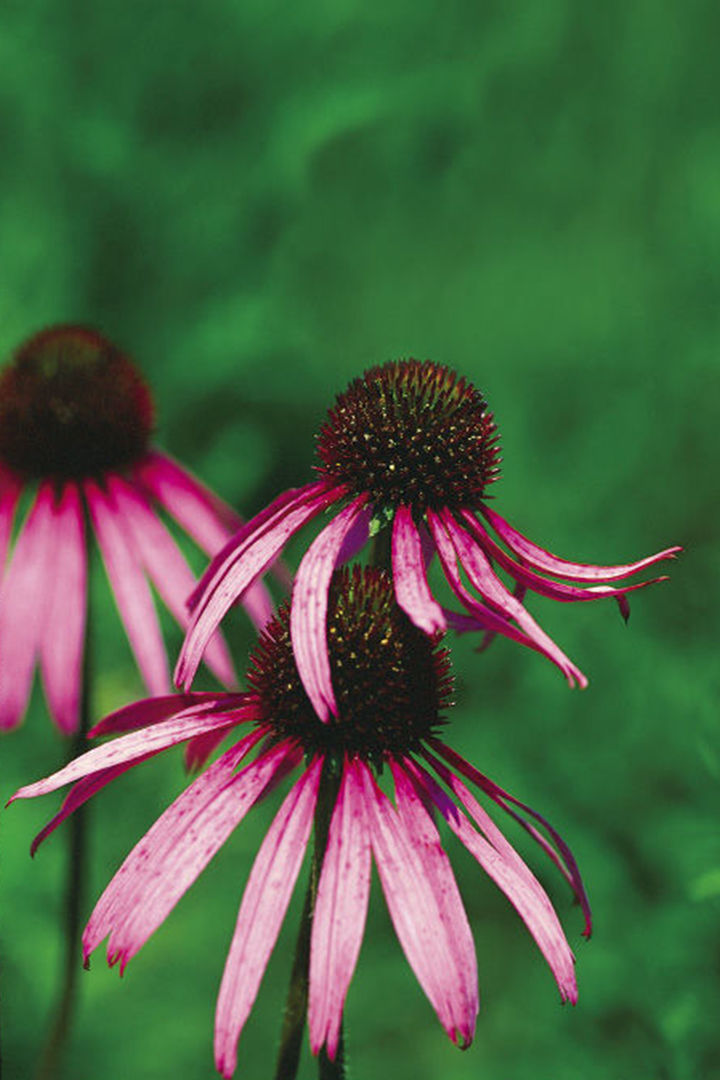 Name: Echinacea angustifolia
Zones: 4 to 9
Size: 3 feet tall (or more) and 18 inches wide
Conditions: Full sun; well-drained soil
This is my favorite flower. Narrow-leaf coneflower is easily grown, moves in the landscape through normal seed distribution without becoming invasive, and is one of the longest-lasting cut flowers available. It is at its showiest when allowed to intermingle naturally throughout the landscape. For xeriscape or prairie plantings, it is unparalleled for its showy performance and low maintenance. This is a plant that will look its best with a little benign neglect; if given too much attention, its stems will become weak and flop over.
---
Ron Smith is a professor and extension horticulture specialist at North Dakota State University in Fargo.
Photos, except where noted: David Cavagnaro, courtesy of Nicole Hagness, Jennifer Benner, Jerry Pavia