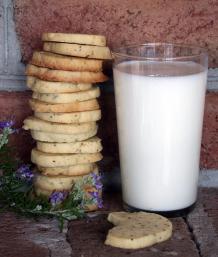 This versatile recipe can be made with practically any herb-lemon balm, lemon verbena, anise hyssop, rosemary, and more (leave out the mint extract if using other herbs). They can also be made in the food processor, and the dough can be rolled up and kept in the freezer for a month or so, and then sliced and baked as needed. Once baked, they store well in a tin for about a week, and in the freezer for up to a month.
These cookies first appeared in Gourmet Magazine in 1980 and then in Herbs in the Kitchen by Carolyn Dille and Susan Belsinger, Interweave Press, 1996; they are a tried and true herbal butter cookie.
Makes about 4 dozen cookies
12 tablespoons unsalted butter, softened
2/3 cup sugar
1 extra-large egg
1/2 teaspoon vanilla extract
1/2 teaspoon peppermint extract, optional
2 cups unbleached white flour, sifted
2 tablespoons minced peppermint, spearmint or orange mint leaves
Pinch of salt
Cream the butter and sugar. Beat in the egg and the extracts. Gradually mix in the flour, and stir in the minced peppermint and a pinch of salt. The dough will be soft. 
Divide the dough into 2 parts.  Using plastic wrap to shape the dough, roll each part into a cylinder about 1 1/4-inches in diameter.  Chill the rolls for an hour, or place in the freezer for 20 minutes.
Preheat the oven to 350º F.  Remove the plastic wrap and slice the dough into 1/4-inch rounds.  Place the cookies on ungreased baking sheets and bake for about 10 minutes, until the cookies are a light golden brown. Remove the cookies from the baking sheets while they are hot and cool on racks.