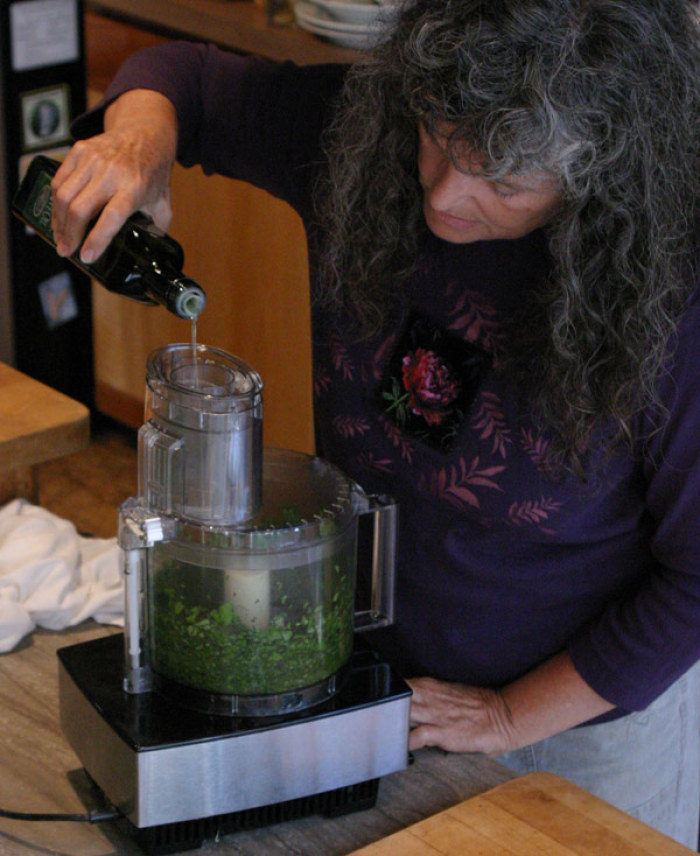 Ingredients
5 cloves garlic, peeled and sliced
¼ cup pine nuts
4 cups basil leaves
Salt
½ cup freshly grated Parmigiano cheese
About ¾ cup extra-virgin olive oil
Many of us use a food processor to make pesto, since it's quick and easy. But for centuries, Italians have made pesto using a mortar and pestle. Pesto prepared in this manner is by far the best, as it has a wonderful emulsion and is thick and creamy. The flavors are also more intense—the garlic is more pungent, the nuts are sweeter and more resinous, and the basil is rich in perfume.
Directions for both methods are given below. Traditionally, pesto is served with a flat-type noodle such as trenette, fettuccine, or linguine. This recipe is from Basil: An Herb Lover's Guide by Thomas DeBaggio and Susan Belsinger, Interweave Press, 1996. It makes about 1½ cups, enough to dress 1 pound of dry pasta or about 1½ pounds of fresh pasta.
—
Combine the garlic and the pine nuts in a large mortar, and crush them with the pestle into a smooth paste. Add the basil to the mortar a handful at a time, crushing the leaves against the sides with the pestle. The mixture will be like a coarse, thick paste until the oil is added. Add a few pinches of salt to the basil.
Stir in the cheese. Drizzle the olive oil in slowly, a bit at a time, as you work it in. The pesto should become very smooth, and there should not be any big pieces. Once most of the oil is added, taste for seasoning and adjust with a little more oil, cheese, or salt.
If you are using a food processor, combine the garlic, pine nuts, basil, few pinches salt, and a few tablespoons of the oil. Process until mixed. Add the cheese and most of the remaining oil, and process until smooth and homogenous.  Taste for seasoning, and add the rest of the oil and a little more cheese or salt, if desired.