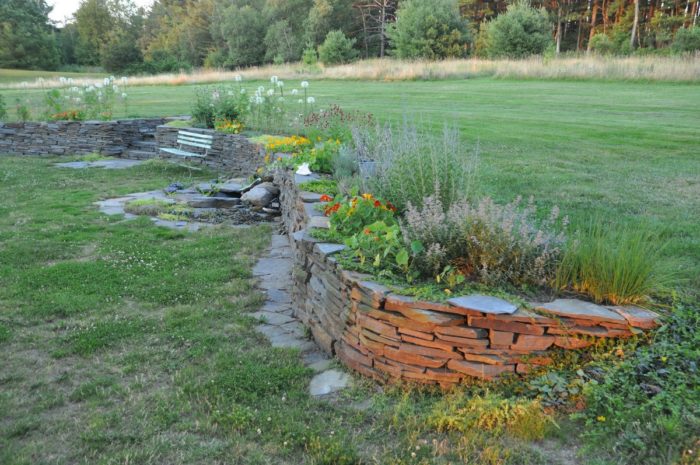 Today's photos are from Lola Stanton in Highland Lake, New York.
She says, "I had wanted a water feature for years and years, something my husband did not see any use for! The yard slopes down and our basement always got flooded, so last year my husband built the wall himself and added a drainage system behind it. It took him two summers and 40 tons of bluestone.
"This was my chance for the water feature. He left a space for it. I had bought the lion's head for $10 on a trip to Canada 12 years ago and I wanted to use it. There was a sale on the tub and even though it was too small, that's all we could afford at the time. I helped dig the hole and the little solar pump came next. I planted dwarf ageratum and perennial creepers and by midsummer last year it had all filled in. I cast the cement leaves for the waterfall. It was fun and easy.
Then the frogs moved in and it became a favorite spot for our three cats. Fortunately the frogs are faster than they are! Now my husband loves the fountain. After I started importing moss from my walks, he encouraged me to add more and more. The moss seems to love the spot since the sun does not hit it directly until after 12 noon. The sound of water is soothing and we tend to have our morning coffee on that bench next to it."
What an incredible, successful project, Lola! And what a wonderful husband! Thanks for sharing this with us.  ***Be sure to check out the second column of photos for what it looked like during construction–that is a LOT of dirt!***
Got a project you'd like to share with us? Email me! As always, I'll only respond if I plan to use your photos (I would LOVE to respond to everyone, but gosh, I just wish there was more time in a day!). And if I don't respond, it doesn't mean your garden isn't freaking AWESOME! I've just got this whole progression in my head…and sometimes I sit on things for a while….and oh, it's hard to explain…. [email protected]
Want us to feature YOUR garden in the Garden Photo of the Day? CLICK HERE!
Want to see every post ever published? CLICK HERE!