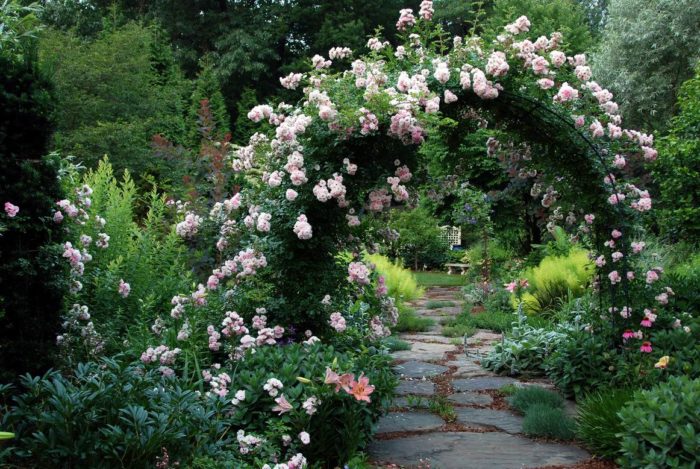 Today's photo is from Gail Gee in Fulton, Maryland. She says, "This area of my garden is planted in all cool colors– pinks, blues, and silvers. The bed  is heavily planted with May-blooming peonies and late June- and July-blooming daylilies and phloxes. The path in this border is approximately 80 feet long. I divided the bed into smaller planting bays, since I found myself walking thru the border too quickly. Since the garden is relatively young, I was lacking height in the area. I also wanted to add something that would bloom in June and would not require replacing the existing plantings.  Adding this simple arch with a 'Blushing Lucy' rose has accomplished everything that I wanted." Thanks, Gail, for sharing your garden with us!
To see more photos from this garden, click here.
Want to visit Gail's garden in person? You can!
Benefit for Brookside Gardens at Gail Gee's Garden
Saturday, May 21, 2011
9:00-11:00am Preview Party
Private guided tours, complimentary refreshments and signature plants for sale
$35 per person*
Event number 138799 (registration required)
12:00-4:00pm Open Garden
Self-guided tours, refreshments available for purchase
$5 per person*
Event number 138849 (registration encouraged)
Morning Preview Party guests will be treated to an exclusive, personal tour of the spectacular private garden of Gail Gee in Fulton, Maryland.  Begun in 2001, this three-acre paradise was created as her personal pleasure garden and features fabulous color combinations in the English Style.  Here extensive collections of rare peonies should be at peak bloom in time for our visit, and there will be selected varieties of hard-to-find cultivars and other signature plants available for purchase.  Gail's garden will be open for self-guided tours in the afternoon.
Register at http://www.ParkPASS.org
*All proceeds benefit Brookside Gardens

Welcome to the Fine Gardening GARDEN PHOTO OF THE DAY blog! Every weekday we post a new photo of a great garden, a spectacular plant, a stunning plant combination, or any number of other subjects. Think of it as your morning jolt of green.
Sign up to get new posts delivered to your inbox each morning so you'll always remember to take a look, or subscribe to our RSS feed. We look forward to sharing our garden travels with you.
READER PHOTOS: We love featuring your photos, too. If you think you have a photo that we should share on the Garden Photo of the day, email us. Send hi-res images if possible. We'll only respond if we plan to use your photo.