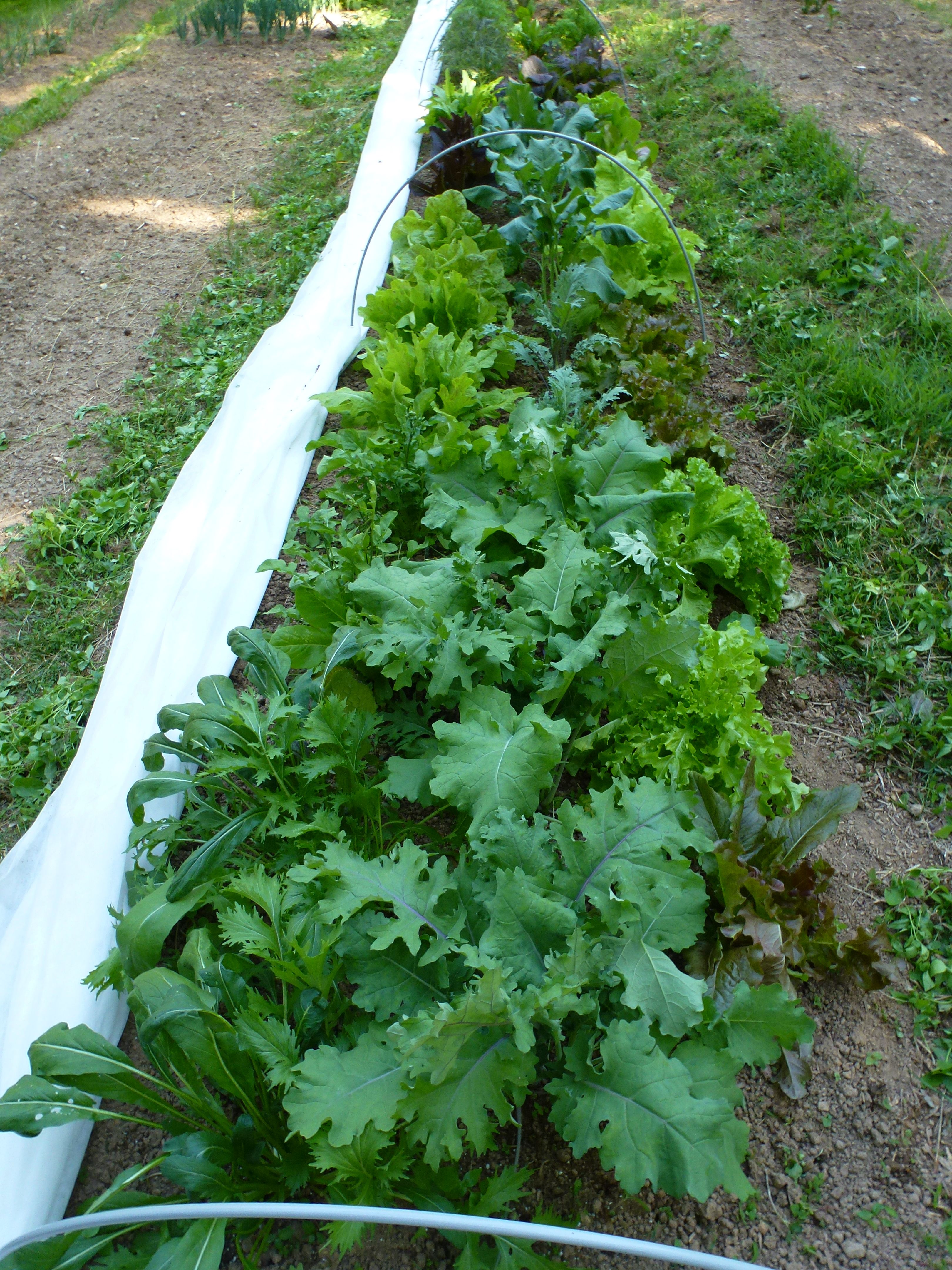 The weather is changing from spring to summer–nights are still cool here in Maryland–however days feel like summertime hot. Greens and radishes and garlic are loving it and we are experiencing salad days in a big way. I will sow another crop of greens, as well as radishes for one more harvest, however they don't like the heat of summer compared to perfect spring temps. Radishes and greens are such rewarding crops because their turnaround is so fast. Not only do they germinate quickly, they are ready to harvest for eating in just 30 days. The crops will be finished with in less than 60 days and the garden space can be used for another crop which prefers summer heat. Garlic, shallots and onions are greening up, putting out and looking good, especially now that they are mulched.
I can't express the importance of mulch in the garden. Wheat straw is the mulch of choice for the vegetable garden–because it is readily and locally available, not too expensive and breaks down fairly quickly. Plants should be transplanted and well watered before spreading mulch. If plants are small, then do not pile the mulch high around them–they need air circulation. You will have to come back after the plants grow taller and put more mulch around them.
Mulch really helps the fresh-turned garden earth from eroding with spring and summer rains. It helps to keep plants cleaner with less splash and grit. More importantly, it keeps down the weeds and retains moisture for the plants. I consider the compost pile to be black gold, whereas the stack of mulch bales is straw-colored gold–both are essential ingredients to the gardener.
Greens are happening here big time–eating salads everyday–and giving it away. The kales, mustards, chard, arugula and thicker-leaved greens last longer than the tender lettuces. The smaller leaves can be eaten in salads and the larger leaves can be simply wilted together in olive oil with garlic, salt and pepper. I enjoy wilted greens just as they are, although they can be added to a stirfry, omelet or scrambled eggs, or used in casseroles, soups, in enchiladas, with pasta and more.
I like radishes best, just eaten whole out of hand. They make a great crudite for dipping into salsa and sauces. I do slice them for salads and sandwiches and I make a killer radish kimchee; they can go into stirfries at the end of cooking. Harvest and enjoy them while they are small to medium in size–larger ones tend to get pithy and sometimes quite piquant, like horseradish.
I am pulling a few garlics to use as green garlic–a real treat to the cook. I mince the greens and use them in sauces and salsa, or barely sauteed or oven roasted to season spring veggies like asparagus, new potatoes, baby beets, peas. At this point in the growing season, the garlics are going to go from pencil thin to forming bulbs. It is very important to mulch them now and keep them free from weeds. Also it is a good time to foliar feed them with fish emulsion or kelp–this will give them a growth spurt. Do it again in a few weeks. Generally, my garlic is ready to harvest in mid-July.
If your climate is right for it, get out there and sow another round of salad and radishes. Otherwise get that bed ready for the next crop! We have four more great planting days ahead for above-ground plants, then we change to a root moon. Happy gardening and harvesting!