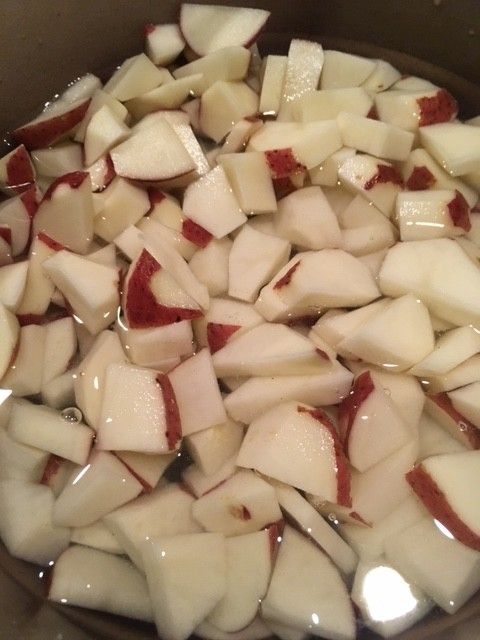 Most folks celebrate Independence Day with a cookout or picnic. When I think of quintessential summer foods to accompany this event–potato salad and coleslaw, summer ripe tomatoes and corn-on-the-cob immediately come to mind–they are American as apple pie. Here's a loose recipe for my sister, Doneth's potato salad, which is truly a family favorite. 
Our family get-togethers can be a bit demanding because we have family favorites that always need to be included. From Donny's potato salad and Lucie's deviled eggs to mom's spinach balls and Aunt Janet's baked horseradish carrots, these are recipes that we want again and again and never get bored. My Mema Ella always made her famous butter cookies that she pressed out with her cookie gun and her yellow pound cake with chocolate frosting and we had them at every family gathering. Although I watched Mema make these many times and wrote the recipe exactly the way she made it, they don't taste exactly the way she made them.
Each person puts their own spin on things. Donny's secret to a very tasty potato salad is that she uses a bottled Italian dressing that she pours over the hot potatoes once she drains them in the colander–they sog the dressing up readily–which gives them added flavor. I usually make my own vinaigrettes, so I mix up olive oil, vinegar (apple cider, white wine or rice wine), a few fresh (or dried) minced herbs, a clove or two of pressed garlic and generous amounts of sea salt and freshly ground pepper.
The family isn't all together on this Fourth of July, however according to the family texts flying about, three of us made my sister's potato salad. Hers always tastes the best, although the rest of us make a pretty close rendition. (I'm sure that she is rolling her eyes at me at the mention of pickle juice… ).
Hope that wherever you are and whomever you are with–you have a happy, safe and delicious Fourth of July celebration!