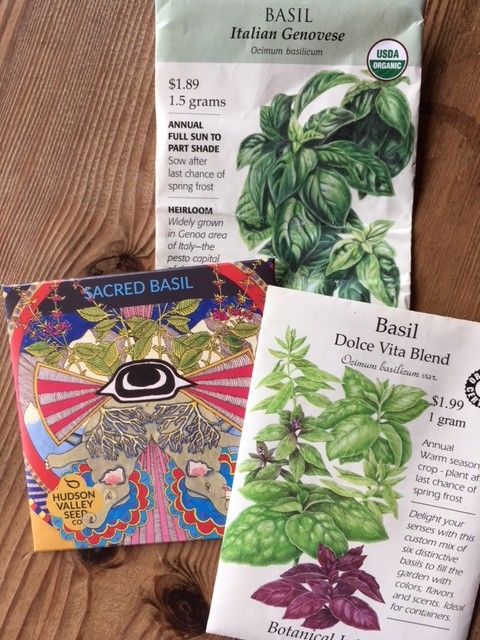 While you are considering which seeds to order for this coming season, here are a few favorites that I have been growing for many years. While I try new plant seeds each season–these are must haves–ones that I really don't want to be without.
I enjoy every summer-ripe tomato–can't say I have a particular favorite–although Brandywine is tried and true for me. And I pretty much like all baby greens whether it is lettuces, mustards, spinach, kale, arugula, frisee, tatsoi, Swiss chard or orach; just give me plenty of them so I can eat them everyday. Summer squash and cucumbers make me happy as long as they are small and not over-sized. I like beans of any kind and am always trying different heirloom varieties. I cultivate many chile peppers, a large variety of herbs and edible flowers.
The following are six types of seed, I sow every year, without fail.
1. 'Genovese Verde Migliorato' often sold as 'Genoa Green Basil' or 'Genovese' Ocimum basilicum
A summer essential. While there are an infinite number of sweet, green bush basils to choose from, this is the one I choose for pesto, to pair with tomatoes and mozzarella and to use in sauces, fresh or dried.
2. 'Mrs. Burns' Lemon Basil' Ocimum basilicum
Hands-down, this one is the best lemon-flavored basil for my palate and growing experience. I use it for vinaigrettes, lemon syrups, with all summer fruits, in confections and baked goods like lemon poppyseed muffins, and especially lemon basil ice cream.
3. 'Lemon Drop' hot pepper Capsicum baccatum 'Lemon Drop'
I am a confessed chilehead and grow probably 15 to 20 cultivars every summer. I love all of them for different reasons, however the 'Lemon Drop' is my personal fav… they are yellow, thin-walled chiles that are fruity, hot and sweet; a good heat though not incendiary. I use them for breakfast with eggs or in French toast or on oatmeal, for lunch on sandwiches, quesadillas or tacos and for supper, pretty much on anything.
4. Summer Savory Satureja hortensis
Folks just don't know how good this herb is or more of them would grow it. I plant a whole seed pack of it so I have plenty of it for fresh use and for drying and making the best summer savory vinegar to use all winter. It is wonderful with every type of bean from green beans to black, pinto or cannellini; it seems like something is missing if I don't have it in my beanpot.
5. Nasturtiums Tropaeolum majus
I just love "nasties"–they are my favorite edible flower. Louise Beebe Wilder described them as "nose-twisters" and that they are. Their foliage and flowers are pungent like watercress. Lovely in salads, in deviled eggs, egg salad and herbed cheese, or as fresh garnishes on any summer vegetable or pasta dish. Although all of the vibrant flower colors delight me from 'Peach Melba', 'Empress of India', to 'Cherry Rose' and 'Amazon Jewel', I really like the old-fashioned look of the variegated foliage of 'Alaska'. There is a fairly new cultivar 'Phoenix' that I grew last summer that has split flower petals that I find impishly appealing, which I will try again this summer.
6. Calendula Calendula officinalis
Another favorite edible bloom, which I use on salads, egg dishes, with herbed cheese, cornbread or tossed with grain salads. I grow these golden and orange blooms abundantly to use medicinally in oils and salves, it is very effective for skin problems from insect bites to chapped lips. I have probably grown at least 25 different cultivars over the years and haven't met a single one that I didn't like. 'Flashback' provides a variety of bright colors in orange, gold, rust with deep red on the backs of some petals. 'Erfurter Orangefarbigen' is cultivated commercially in Europe for its medicinal virtues.
Better order seed now so you can get sowing and growing! I guarantee you will be happy with all of these selections.