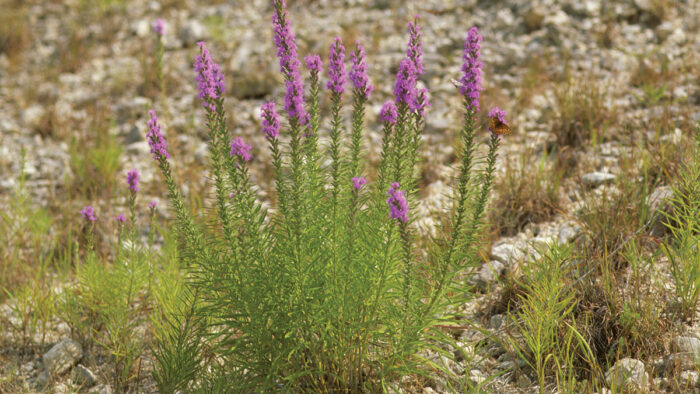 Whether you have the space to create an expansive, pollinator-friendly landscape or just enough room to pot up a couple plants that are pollinator favorites, we can all do our part in helping these beneficial bugs. A good place to start is seeking out the plants that support the pollinators native to our area. To aid in that search, we asked regional experts to share some of the best pollinator plants for their region. Below, you'll find four picks for the Southern Plains. To learn even more about gardening for pollinators, check out Gardening for Pollinators: Everything You Need to Know and Grow for a Gorgeous Pollinator Garden.
---
1. Foxglove penstemon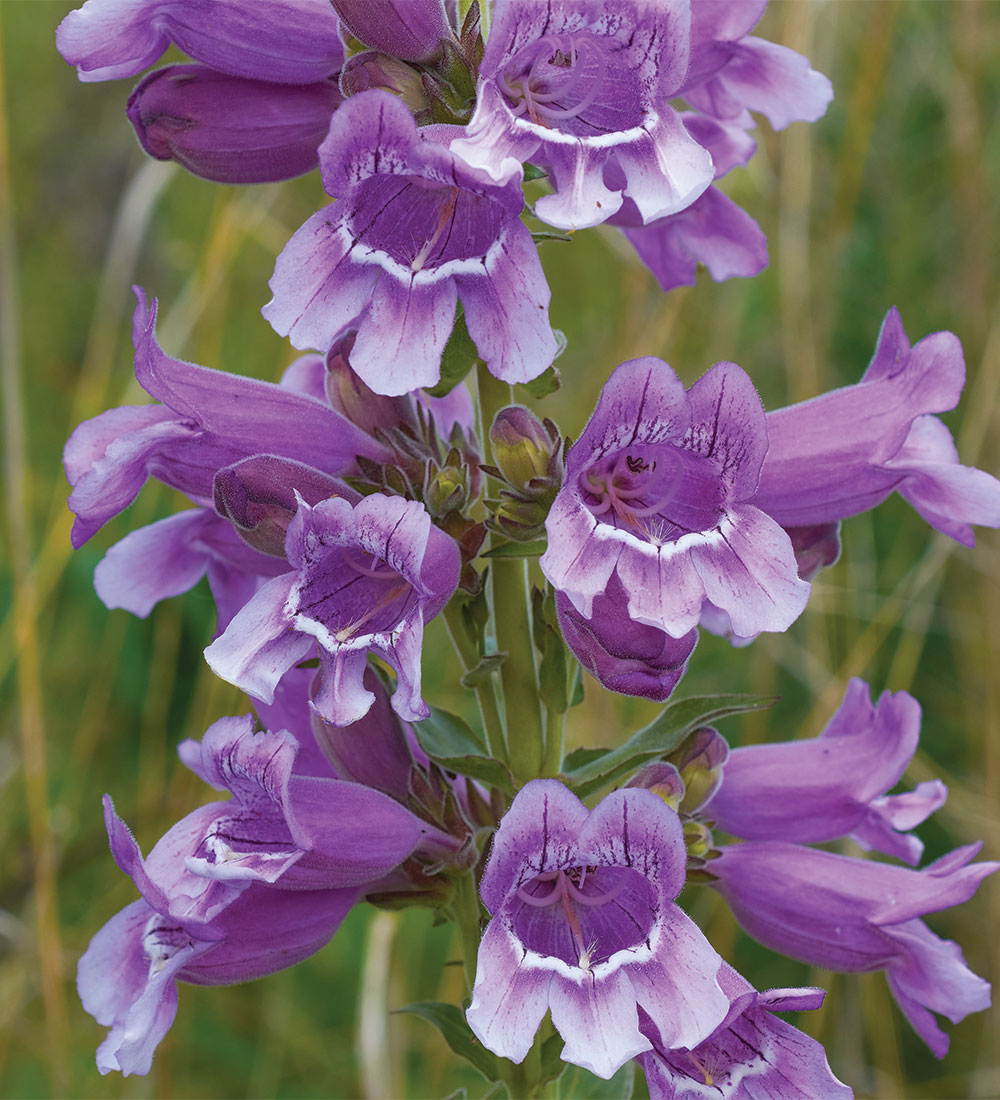 Name: Penstemon cobaea
Zones: 5–8
Size: 1 to 2 feet tall and wide
Conditions: Full sun to partial shade; dry to medium soil
Native range: Southern and central United States
Foxglove penstemon emulates spring excitement when it pops up. Showy, large, tubular flowers stand out in a variety of colors. The blooms range from white to pinks and purples. True to its name, the plant resembles the more widely recognized foxglove (Digitalis purpurea, Zones 4–8), but it brings the many benefits of a native plant. This perennial is the larval host for the dotted checkerspot butterfly and attracts a wide variety of moths. Many additional pollinators frequent the flowers, including other butterflies, native bees, bumblebees, and hummingbirds. The bell-shaped flowers sit next to each other up and down the flower stalk. After it has bloomed, the flower stalk can be cut back or left for seeds to ripen (and feed seed-eating birds).
Photo: millettephotomedia.com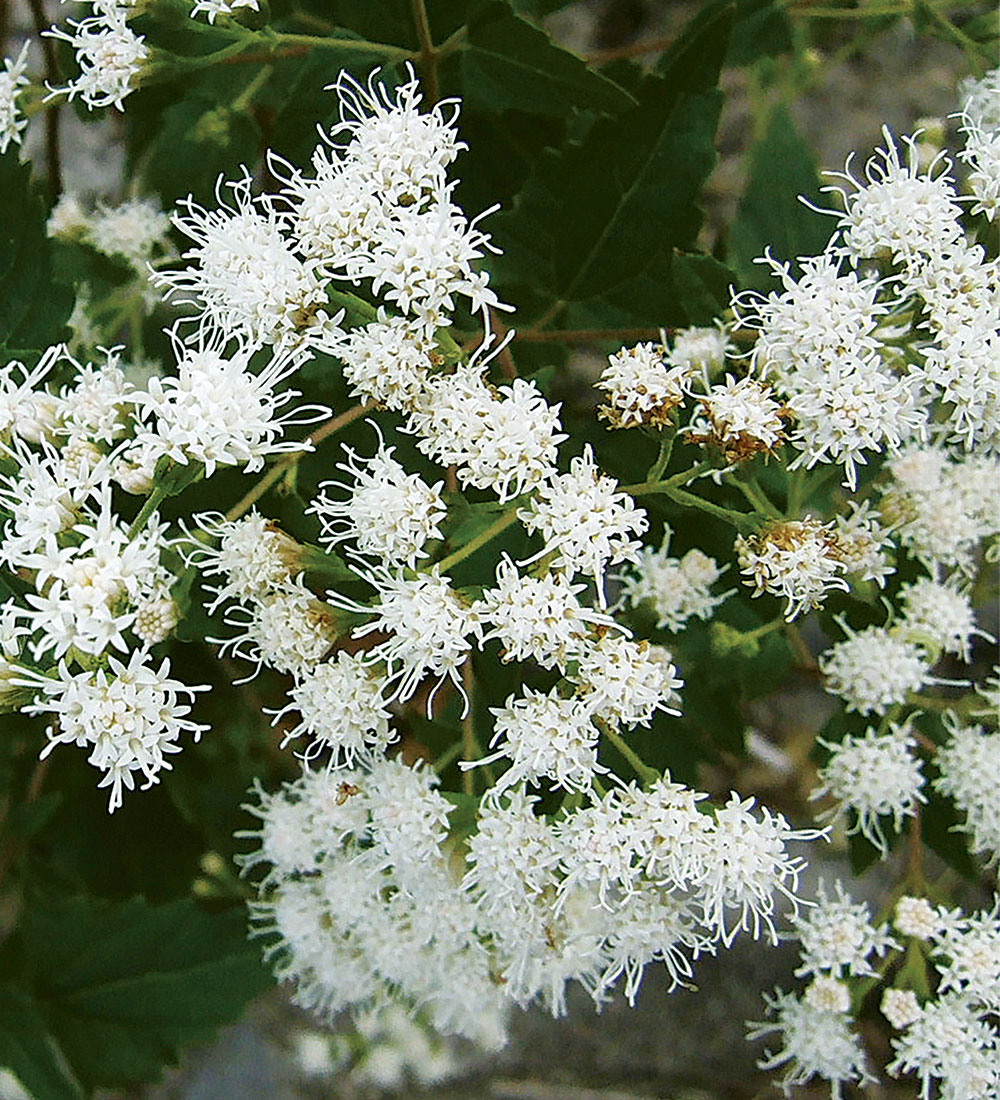 2. White mistflower
Name: Ageratina havanensis
Zones: 7–11
Size: 3 to 6 feet tall and wide
Conditions: Full sun to partial shade; well-drained soil
Native range: Edwards Plateau in Texas to northern Mexico; Cuba
In fall, white mistflower is carpeted in fuzzy, fragrant white blooms that pollinators flock to. It's a favorite of monarch butterflies, who stop by on their way to Mexico to get a drink of its nectar for their long flight. Many other butterflies—as well as hummingbirds, moths, and bees—enjoy the blossoms too. Not only does white mistflower provide ample nectar and pollen, but it also serves as the larval host plant for Rawson's metalmark butterfly. A hard prune in late winter will promote more blooms and a denser shrub shape. In spring, a secondary, optional light pruning will shape it further and control the height. White mistflower performs best in full sun. While it will take partial shade, that often results in a stretched plant with fewer flowers.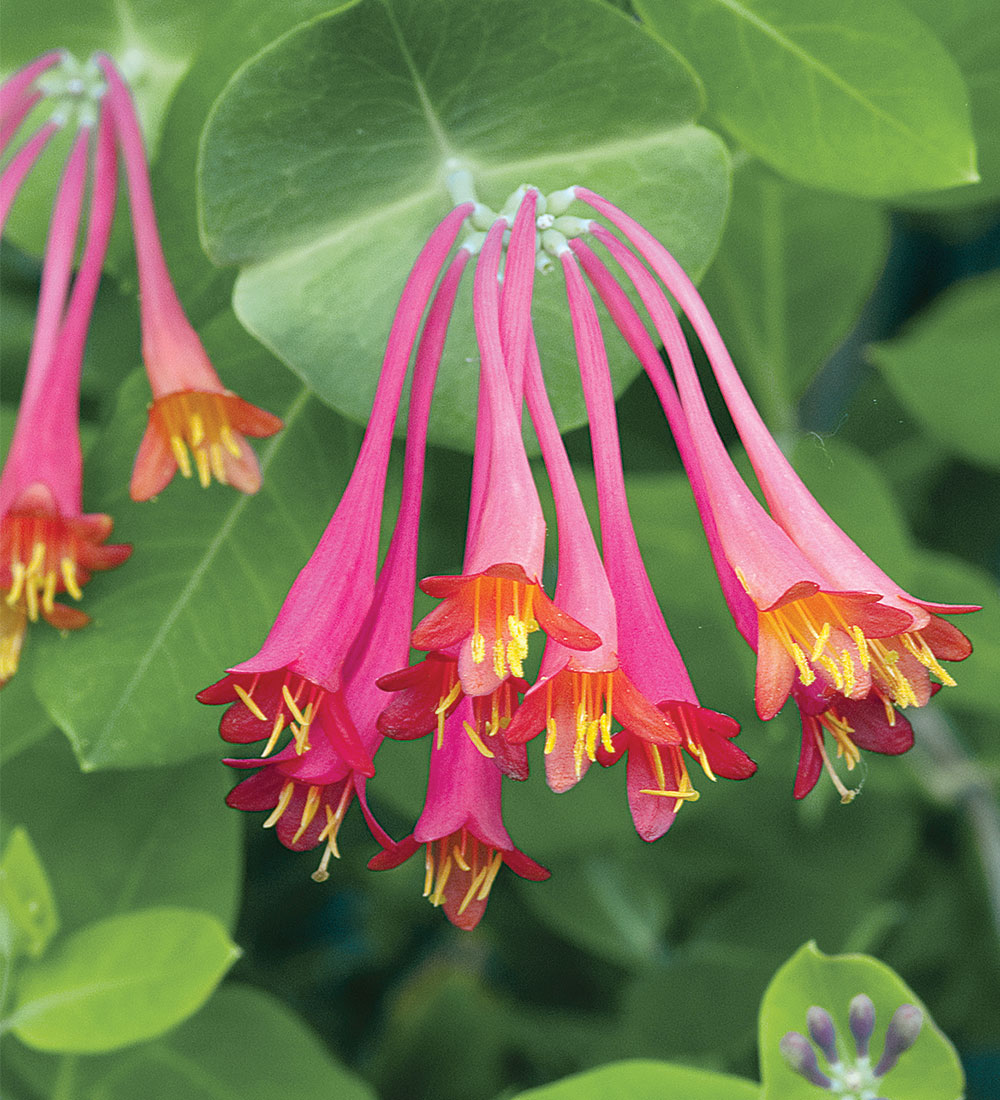 3. Coral honeysuckle vine
Name: Lonicera sempervirens
Zones: 4–9
Size: Vining 8 to 15 feet tall and 3 to 6 feet wide
Conditions: Full sun; well-drained soil
Native range: Southeastern United States
Coral honeysuckle is an attractive spring-blooming, climbing vine. The flowers are shaped like slender trumpets that are red in color with noticeable yellow stamens. The foliage is semi-evergreen, and right below the blossoms the leaves are fused around the stem. The initial burst of blooms occurs in midspring, and then the plant will continue flowering intermittently throughout summer. Good air circulation will help prevent downy mildew. This plant is the larval host for the spring azure butterfly and the snowberry clearwing moth. Native plants like this evolved alongside native pollinators, forming a specialized, essential relationship. With so much habitat loss, it is essential for gardeners to provide these larval host plants for the pollinators that need them.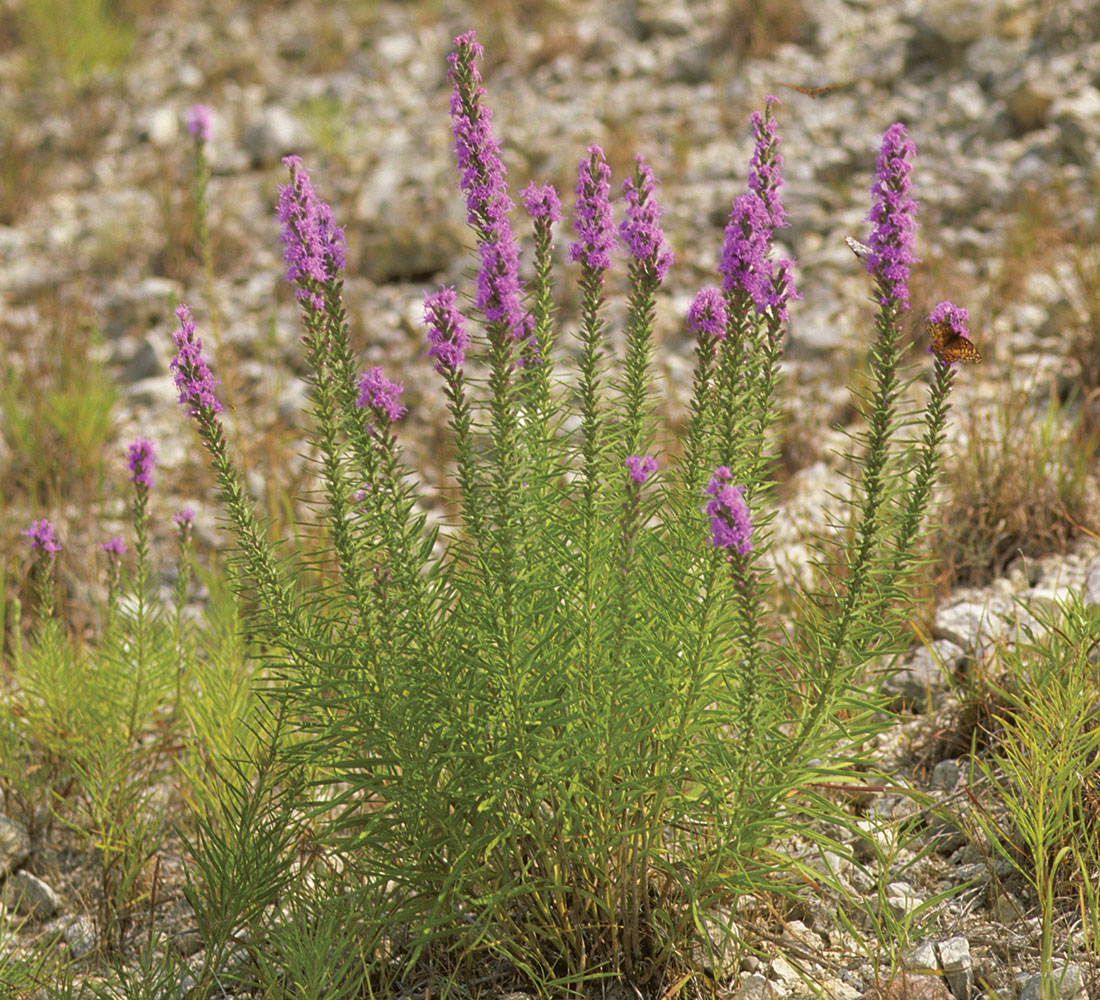 4. Texas liatris
Name: Liatris punctata var. mucronata
Zones: 6–9
Size: 1 to 3 feet tall and 1 to 2 feet wide
Conditions: Full sun; dry to medium soil
Native range: South-central United States
This liatris provides a soft texture in both its fuzzy blooms and its unique foliage. Throughout spring and summer, Texas liatris acts like a polite ground cover, then in late summer the bloom spikes begin to elongate before bursting into electric purple wands. These spectacular flowers attract and support a wide array of pollinators during the fall season. Liatris looks particularly showy when planted in mass, and the blooms keep well as cut flowers. It is a terrific nectar source for butterflies and bees, and the seeds are eaten by many bird species. This species self-seeds, which can be advantageous, as it is an excellent transplant candidate due to its bulblike storage structure called a corm. Be aware that overwatering can lead to corm rot with this plant.
---
Amy Galloway is a horticulturist at the Lady Bird Johnson Wildflower Center in Austin, Texas.