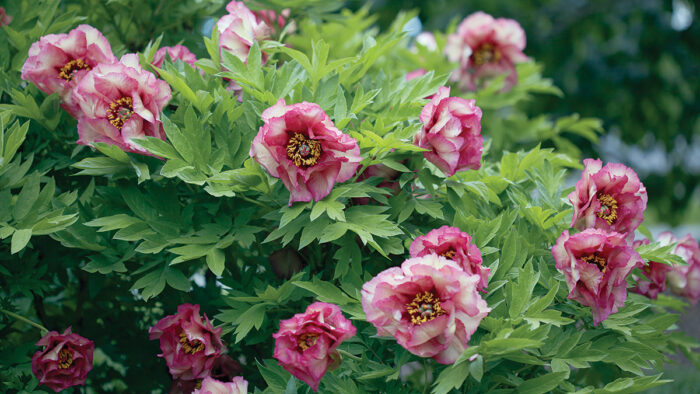 Fionuala Campion says in her article, Dazzling Deer-Resistant Perennials, "Though very graceful and delightful to behold in their native habitat, deer are a voracious force to reckon with in many Northern California gardens, particularly in summer and fall." But these majestic creatures are not just an issue for gardeners on the west coast. There are populations of deer in all 50 states, and all are munching on the many different plants we're growing across the country.
There are a vast array of deterrents that can offer various levels of success, but sometimes the best method to deter pests is growing plants they won't bother with. While results can always vary, these four expert-selected plants for the Mid-Atlantic are the closest you'll get to deer-proof.
---
1. Calico Penstemon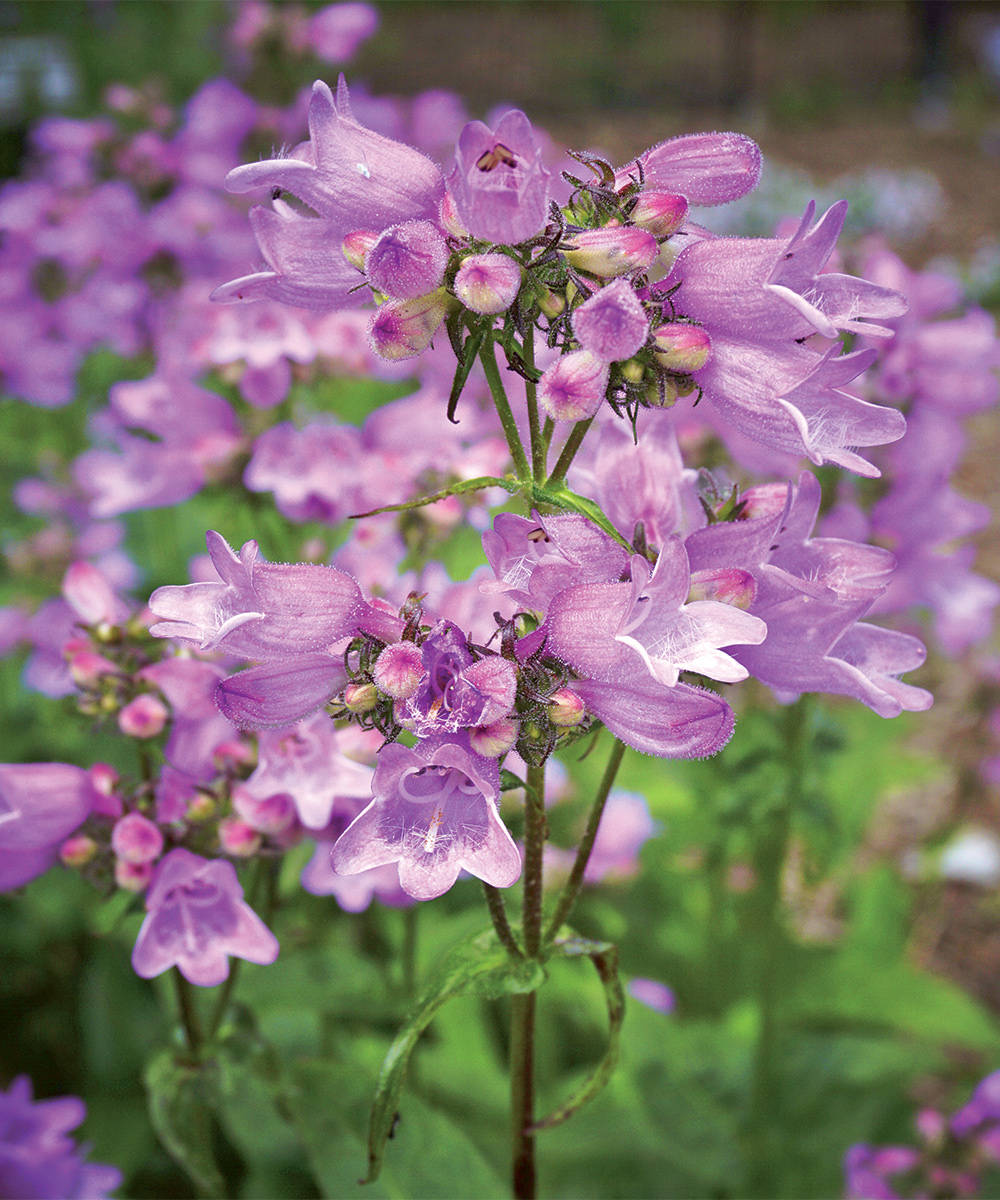 Zones: 5–8
Size: 2 to 3 feet tall and 1 to 2 feet wide
Conditions: Full sun to partial shade; moist to dry soil
Native range: Eastern United States
Surprise your garden guests with this lesser-known penstemon. With beautiful summer-blooming flowers standing atop sturdy stems, calico penstemon has reliable, vigorous growth. While it thrives in moist, fertile soil, it also does well in the lean, dry soil preferred by other penstemons. What makes this species unique are the rose-pink hues on the exterior of the purple flowers and the whitish interiors. This three-toned coloration adds depth to the display. Calico penstemon holds up well in the competition of a mixed border and reliably flowers in both partial shade and full sun. Pair it with pink alliums (Allium spp. and cvs., Zones 4–10) in late spring for a handsome start to summer.
2. 'Gauguin' Tree Peony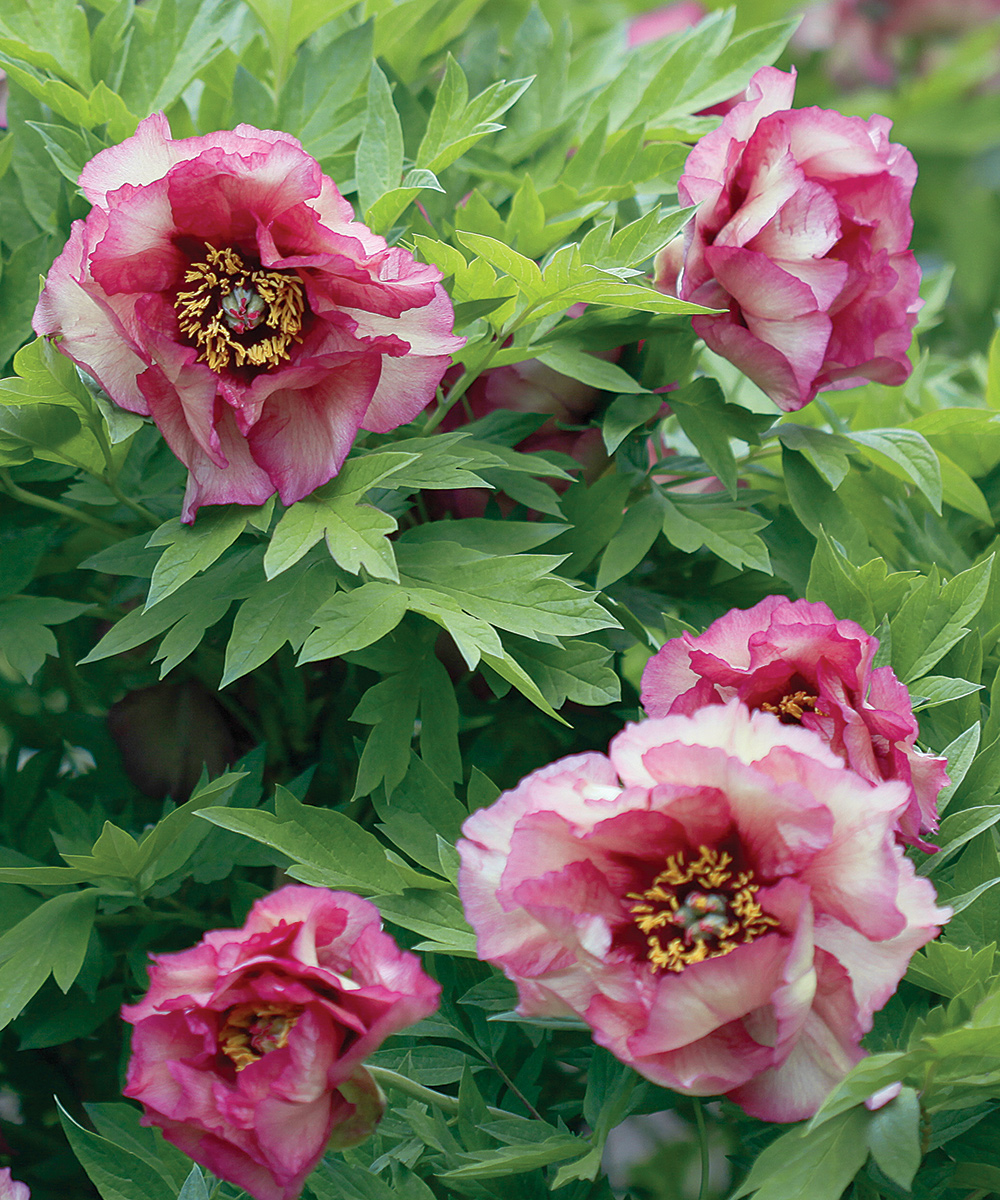 Name: Paeonia 'Gauguin'
Zones: 4–9
Size: 4 feet tall and wide
Conditions: Full sun to partial shade; rich, well-drained soil
Native range: Hybrid
Choosing a favorite tree peony is like choosing a favorite star in the sky. The flowers of 'Gauguin' are the ones I look forward to seeing the most every spring. The blooms' color is a rich antique-looking pink with hints of yellow fading from dark maroon centers. This creates a depth that is difficult to capture in a photo, but it stops you in your tracks in person. Tree peonies are stout shrubs held up by strong stems that radiate upward. They require little maintenance, but deadheading after flowering is beneficial. Selectively prune out older branches over time to make way for younger, more vigorous flowering branches. While this plant can be grown in full sun or partial shade, dappled afternoon shade helps the flowers last longer. On the other hand, more sun usually results in a greater number of flowers.
3. 'Caradonna' Salvia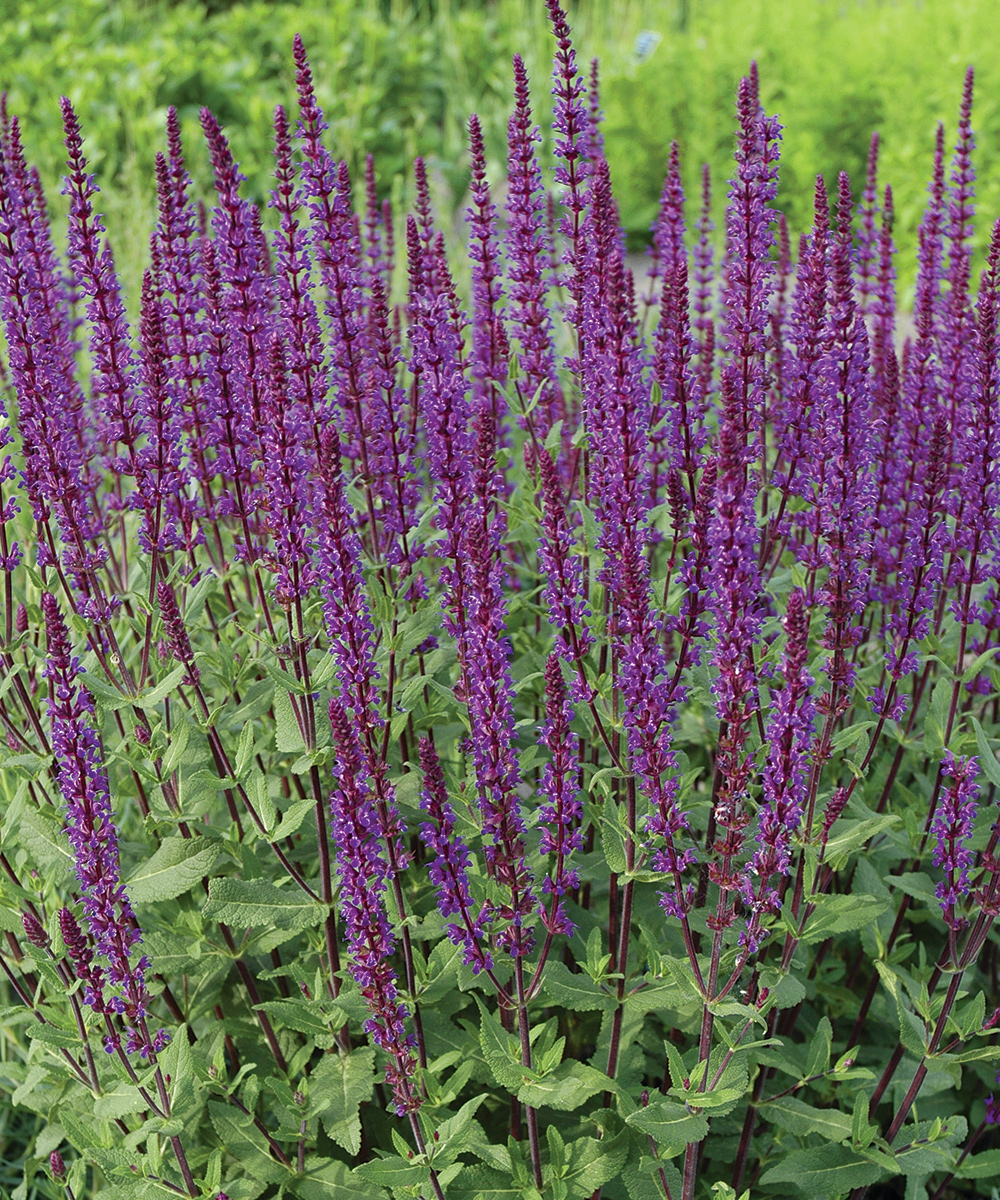 Name: Salvia nemorosa 'Caradonna'
Zones: 4–8
Size: 1 to 2 feet tall and wide
Conditions: Full sun; dry to average, well-drained soil
Native range: Central and western Asia; Europe
I first saw this plant on a rock ledge at the botanic garden where I work and was struck by how it stood out among a sea of colors and textures. 'Caradonna' salvia is one of the best salvias to grow for long-lasting blooms and an architectural presence. Its royal purple spires of flowers are stiffly erect and backed by deep indigo bracts that increase their impact. Even the stems have color, creating a very saturated overall appearance. This perennial is short and round in stature, and its leaves give it a softer appearance. Tolerant of dry, low-nutrient soil, 'Caradonna' is hardy and long-lived, and it requires little in terms of care. This is a great choice for a dynamic combination or on its own as a specimen plant.
4. White Bigroot Geranium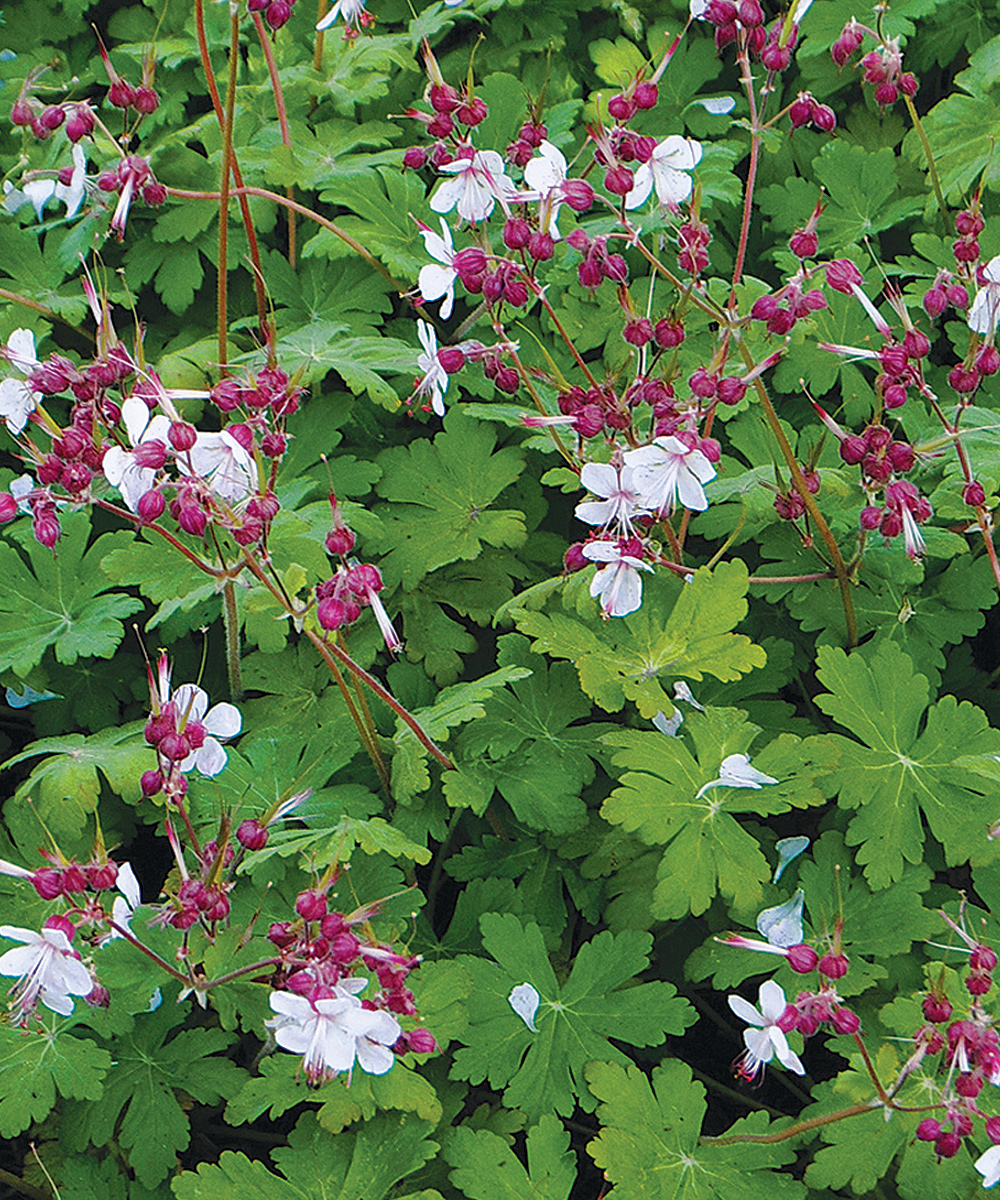 Name: Geranium macrorrhizum 'Album'
Zones: 4–8
Size: 1 to 1½ feet tall and 1½ to 2 feet wide
Conditions: Full sun to partial shade; medium to dry, well-drained soil
Native range: Southern Europe; Turkey
This hardy ground cover grows in a variety of sun and soil conditions and is prized for its dry-shade tolerance. In my experience, this white-flowered cultivar adds greater vibrancy to a shade garden than the fuchsia-colored flowers of the straight species. When it blooms from late spring through midsummer, its stamens remain pink, contrasting with the white petals. They are complemented by a deep pink calyx. This coloration grows darker as seeds develop, extending the ornamental interest past flowering. The foliage of this plant is soft to the touch like peach fuzz and has a pleasant aroma when rubbed or on warm days. Plant this geranium along a walkway to enjoy the fragrance, or on the edge of a garden bed as a first line of defense for less deer-resistant plants.
---
David Mattern is a horticulturist at Chanticleer, a public garden in Wayne, Pennsylvania.