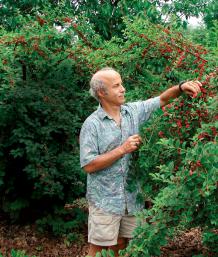 The proverb "You can't have your cake and eat it too" does not apply to gardening. Gardens are often segregated into sections for plants that look nice and plants that offer something to eat. Rarely does a plant cross the divide. But this practice often arises out of habit rather than necessity. A number of handsome trees, shrubs, and ground covers also bear luscious fruit. So contrary to that saying, you can have your cake (an ornamental plant) and eat it, too.
Not every pretty plant bearing good-tasting fruit is necessarily suitable for the home landscape. Many fruiting plants are prone to insect and disease problems, and no one wants to douse pesticides on bushes bordering a patio or on trees beneath which children play. So the ideal dual-purpose plant is resistant to pests. And any plant that wants to make the leap into the ornamental category needs to remain attractive even after its few weeks of flamboyance. Fortunately, a number of trees, shrubs, and ground-cover plants meet these criteria.
Shrubs with summer fruit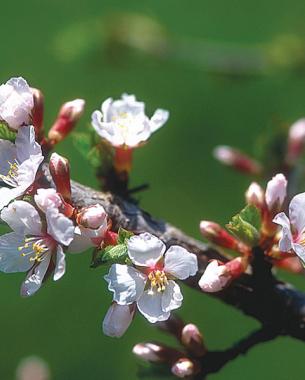 Forsythias and lilacs are spectacular in spring, but after they bloom, we forget about them. Nanking cherry and beach plum are equally spectacular in spring, and their succulent fruit grabs my attention in summer. Neither Nanking cherry nor beach plum demands anything more than well-drained soil, sun, and occasional pruning.
Nanking cherry is so tough that it will even grow under semiarid conditions and endure a snowless winter of -40°F followed by a scathing summer six months later. Generally, the bushes grow about 8 feet high and wide and bear grape-size fruit with a refreshing flavor somewhere between sweet and tart. The pinkish white flowers and subsequent fruit are borne in such profusion as to practically hide the stems.
Nanking cherry is tough and tasty
Name:  Prunus tomentosa and cvs.
USDA Hardiness Zones: 2 to 7
Habit: Shrub
Taste: Sweet and tart
Fruit: Appears in early summer; at least two plants required for best yield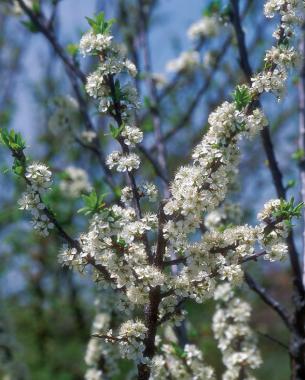 Beach plum is native up and down the Atlantic coast, where colonies of them explode each year into foaming masses of small, lily white blossoms. The bloom on my cultivated bushes is equally profuse. While one may count on these bursts of spring color, the fruit doesn't always appear. The reasons for this inconsistent production are not yet clear, but I'm happy to grow the plants for their spring show and occasional lack of fruit. New stems might also arise from creeping roots, producing a wide-spreading thicket up to 6 feet tall, which you may or may not want to contain with pruning. Beach plums come in a wide spectrum of flavors with some plants bearing fruit that need doctoring in the kitchen and others offering delicacies as delectable as a fresh plum.
Beach plum makes an attractive hedge
Name:  Prunus maritima
Zones: 3 to 8
Habit: Shrub
Taste: Sweet
Fruit: Appears in summer and fall; at least two plants required for best yield
Because both shrubs require cross-pollination to produce fruit, you will need to plant at least two of the same species. It may be best to plant even more because using Nanking cherry and beach plum as hedges creates a powerful spring show and makes for an easy summer harvest.
Pretty trees with can't-miss fruit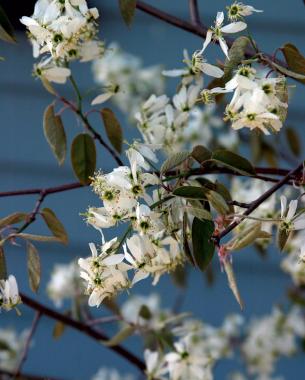 Many fruit trees are breathtakingly beautiful when in bloom in spring, but few fruit trees can hold their own in the landscape as year-round ornamentals without needing various sprays to bear their delectable bounty. Two attractive trees with delicious, care-free fruit are juneberry and Cornelian cherry.
Some species of juneberry are native to every state in the contiguous United States. Juneberry, as the name implies, ripens in many areas in June. The small fruit look just like blueberries, so compar­isons have been unavoidable. In fact, juneberries are juicy and sweet with their own distinctive flavor. Unlike blueberries, june­berries are cosmopolitan plants, being adaptable to a wide range of climates and not at all finicky about their soil. The trees even grow well in partial shade but fruit best in full sun. Expect a juneberry to grow anywhere from 10 to 25 feet tall, depending on the species and its location.
Juneberry is a common ornamental tree, but its tasty berries are often overlooked. In spring, the plant bursts into showy clouds of white or reddish blossoms just about the time the leaves unfurl. As fall approaches, the leaves light up in shades of purple, orange, and yellow. June­berry continues to earn its keep with a smooth gray bark that adds interest to the stark winter landscape.
Juneberry stands out in all seasons
Name:  Amelanchier spp. and cvs.
Zones: 3 to 9
Habit: Tree
Taste: Sweet
Fruit: Appears in summer; only one tree is required for fruit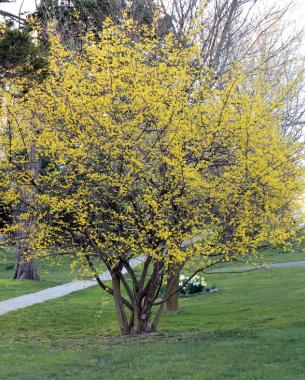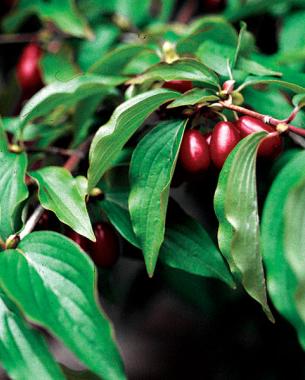 What I like best about Cornelian cherry is its early bloom. Here in Zone 5, it typically heralds the first day of spring. The yellow blossoms are small but borne in such profusion that the tree appears swathed in a yellow veil. The blossoms last for weeks and do not seem to be harmed by frosts. Those blossoms are followed by satiny green leaves that turn mahogany red in fall. In winter, the bark flakes off in eye-catching, muted shades of tan and gray. This species of dogwood typically reaches about 15 feet tall, and varieties have been selected with upright form, variegated leaves, or even different-colored fruit.
The fruit ripen from midsummer onward and are generally cherry size and fire-engine red with a single pit, just like real cherries. Though tart when just ripe, they mellow in flavor after a few days either on or off the tree. Some of the better-tasting varieties from eastern Europe are becoming available from nurseries here.
Cornelian cherry blooms early
Name: Cornus mas spp. and cvs.
Zones: 5 to 8
Habit: Tree
Taste: Tart
Fruit: Appears in summer to fall; only one tree is required for fruit
Juneberry and Cornelian cherry make attractive specimen trees and don't need a partner to produce fruit. Both trees have a stature that makes them excellent candidates for planting near a house to help connect the structure to its surroundings. Any tree with fruit, however, is a bad choice for planting near walkways or decks where unpicked fruit can drop and make a mess.
How not to share your fruit
Fruit can be as enticing to wildlife as they are to people. Various approaches can help us get our share. Netting or fencing is a surefire way to thwart the ravages of fruit-loving animals. Planting fruit that only birds and animals enjoy might divert their attention from those you have your stomach set on. Then again, they might just call their friends in for a bigger feast.  With some plants, however, you can please everyone: My Nanking cherry bushes bear in such profusion that neither I nor the local wildlife can make a visible dent in the crop.
Big taste from small plants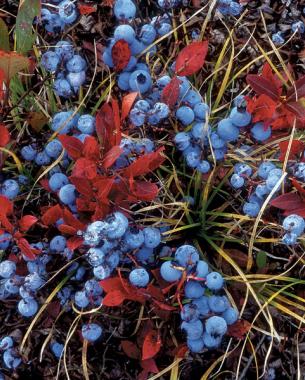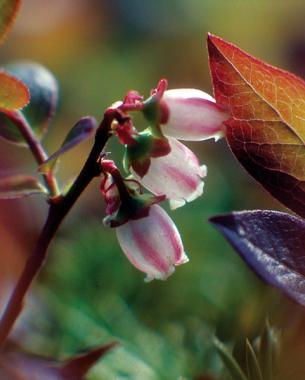 Though we often think of fruit coming from trees or shrubs, two attractive, ground-hugging plants bear mouthwatering fruit. In my garden, lowbush blueberry and lingonberry share a spot above a rock retaining wall. They also are congenial garden companions because both demand the same humus-rich soil with a very acidic pH range of 4 to 5. I create these soil conditions with peat moss in the planting holes, a permanent sawdust mulch, and occasional additions of sulfur.
Lowbush blueberry sports reddish stems in winter, clusters of urn-shaped white flowers in spring, and bluish green leaves that turn fiery crimson in autumn. The plants grow only about a foot tall and spread via underground stems to blanket the ground. The fruit are generally sweeter and smaller than the more common highbush blueberries.
Lowbush blueberry is a classic
Name:  Vaccinium angustifolium and cvs.
Zones: 2 to 8
Habit: Ground cover
Taste: Sweet
Fruit: Appears in summer; at least two plants of same variety required for best yield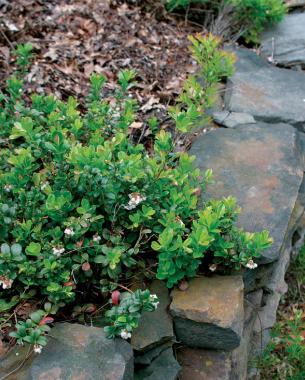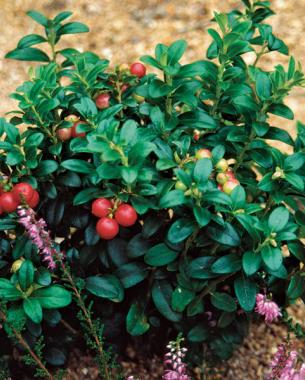 Lingonberry is even lower growing than lowbush blueberry and has glossy evergreen leaves the size of mouse ears. The small blossoms, similar to those of blueberry, are best appreciated up close, and appear in spring and in late summer. The pea-size red fruit are a show in themselves, ripening mostly in late summer and hanging on well into autumn. These Scandinavian favorites are often compared to the Thanksgiving cran­berry, another close relative. But lingonberries are far tastier, combining a hint of sweetness with such a rich, unique aroma that they are delicious eaten right off the plants, mixed with morning cereal, or cooked into jams and sauces.
Lingonberry has bushels of flavor
Name:  Vaccinium vitis-idaea var. vitis-idaea
Zones: 2 to 6
Habit: Ground cover
Taste: Sweet and rich
Fruit: Appears in summer and in early fall; at least two plants of same variety required for best yield
Lowbush blueberry and lingonberry prefer full sun but tolerate shade. Both plants are wonderful for edging beds and walkways, where their charms can be appreciated up close by passersby. They are also perfect for covering up the feet of acid-loving shrubs such as azaleas (Rhododendron spp. and cvs., Zones 4–11) and mountain laurels (Kalmia spp. and cvs., Zones 2–7).