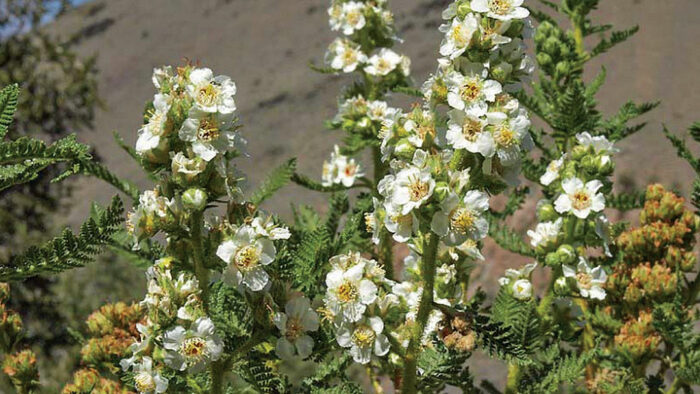 As William Cullina mentions in his article on plants for birds, the sad reality is songbirds are disappearing: "Habitat loss, pesticides, and the accompanying decline of insect populations have contributed to a loss of 25 to 30 percent of North American songbirds since 1970."
But gardeners can help, and it just requires buying new plants! By growing more plants that help support local bird populations, you can do your part. Find plants for birds in the Southwest below, and discover even more plants for birds in William's article, Native Plants for the Birds.
---
1. Four-Wing Saltbush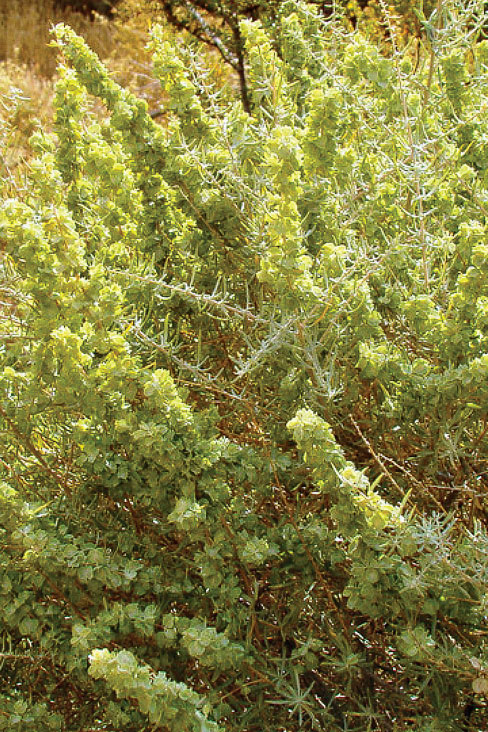 Name: Atriplex canescens
Zones: 6–10
Size: 3 to 6 feet tall and 2 to 4 feet wide
Conditions: Full sun; well-drained soil
Native range: Western North America
Four-wing saltbush is a spectacular wildlife shrub, and birds use it for almost impenetrable protection from airborne and land predators. The leaves are a slight grayish-green on stout stems that form a dense, rounded habit. Tiny light yellow flowers borne on the tips of branches in late summer produce clusters of four-winged light green seeds that are used by birds for food and nest fodder. This shrub takes drought tolerance to a whole new level; it's on par with cacti in terms of its need for water. If you are looking for textural diversity with screening potential, then this shrub is for you. 
2. Thornless Cockspur Hawthorne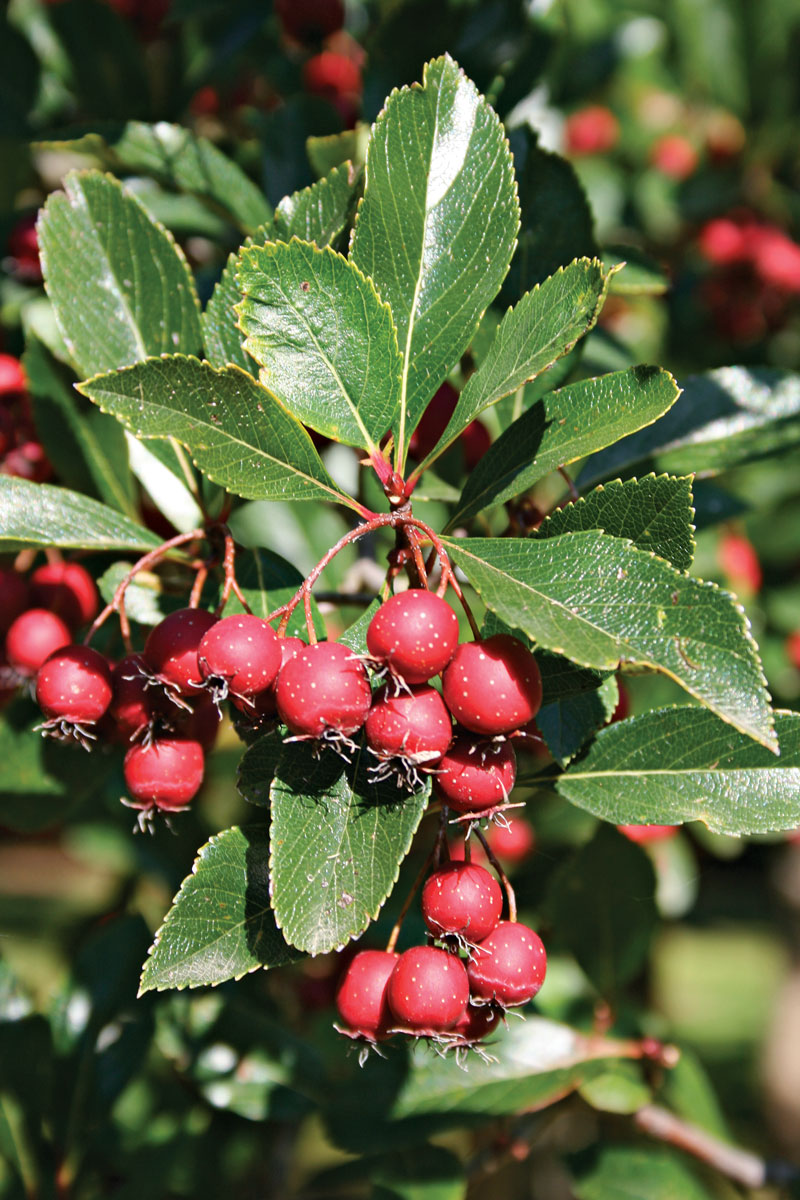 Name: Crataegus crus-galli var. inermis
Zones: 3–7
Size: 12 to 15 feet tall and 12 to 15 feet wide
Conditions: Full sun; medium to well-drained soil
Native range: Eastern North America
This small tree is a great addition to any garden. White flowers bloom in spring, followed by luscious, bright green leaves and dark red fruits that ripen in summer and persist into late fall. These small fruits are beloved by birds. Additionally, the tight-knit branch structure fosters a unique perch for songbirds all year long. Adding to this tree's multiseason interest is its foliage, which turns red and yellow in fall. Thornless cockspur hawthorne fosters bird life in compact spaces such as small patios or enclosed courtyards. I suggest planting it in tight groupings of three or five for maximum impact.
3. Winterfat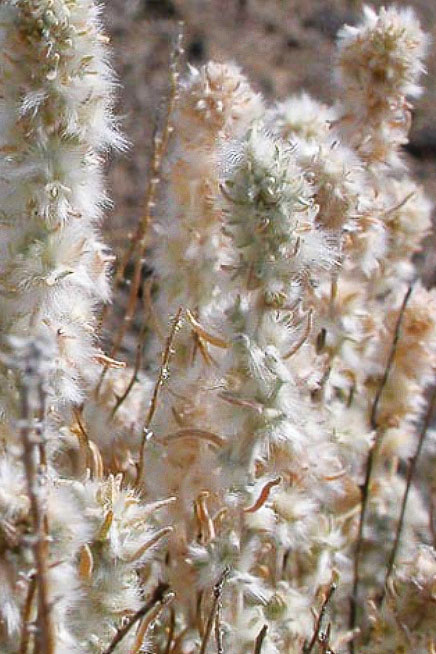 Name: Krascheninnikovia lanata
Zones: 3–8
Size: 2 to 3 feet tall and 1 to 2 feet wide
Conditions: Full sun; well-drained soil
Native range: Western North America
Winterfat is a spectacular textural shrub with dense, fluffy white seed clusters. The seeds are used for nesting material by birds as well as ground-dwelling wildlife. This shrub has white flower spikes that have a cottony look and bloom throughout summer, fall, and winter. Planted in groupings, it also supplies birds and wildlife with plenty of protection from predators. Winterfat is underutilized in the landscape but gives any garden multiseason interest, and it has low water and maintenance needs. It looks gorgeous in winter with a light frost or snow gracing its fuzzy flower spikes, and it will survive the worst drought after establishment.
4. Fernbush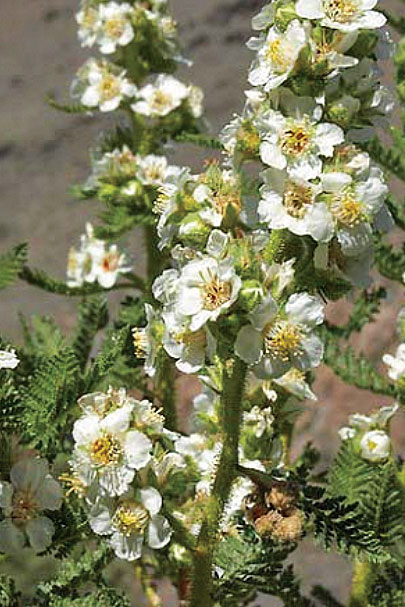 Name: Chamaebatiaria millefolium
Zones: 4–8
Size: 3 to 5 feet tall and 3 to 6 feet wide
Conditions: Full sun; well-drained soil
Native Range: Western United States
Also called desert sweet, fernbush creates a fantastic bird sanctuary when planted in groups of three to five. This evergreen is extremely hardy and can take the heat. Fernbush provides excellent textural diversity to garden beds. The seeds, which are produced after the flowers in mid to late spring, are pecked at by birds, and the leaves are used for nesting material by birds as well as ground-dwelling wildlife. Once established, this shrub will power through the driest of seasons. If you feel compelled to prune it, make sure not to cut it too far back, as it will look buzzed. Fernbush grows and spreads quickly, so just a few shrubs will fill out a small area in one growing season.
---
Mark Brotton is the owner and principal designer at Living Water Irrigation and Landscape in Santa Fe, New Mexico.