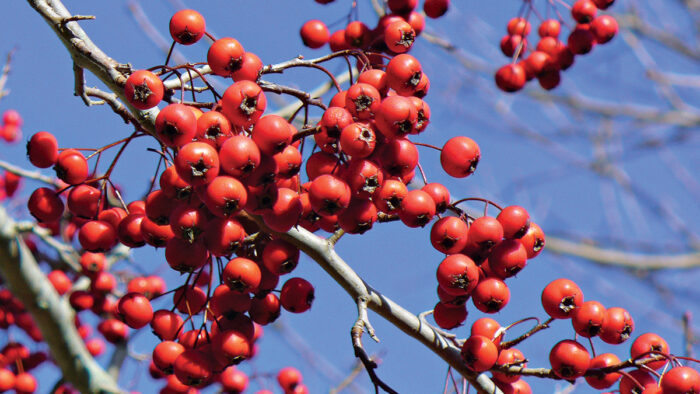 As William Cullina mentions in his article on plants for birds, the sad reality is songbirds are disappearing: "Habitat loss, pesticides, and the accompanying decline of insect populations have contributed to a loss of 25 to 30 percent of North American songbirds since 1970."
But gardeners can help, and it just requires buying new plants! By growing more plants that help support local bird populations, you can do your part. Find plants for birds in the Midwest below, and discover even more plants for birds in William's article, Native Plants for the Birds.
---
1. American Mountain Ash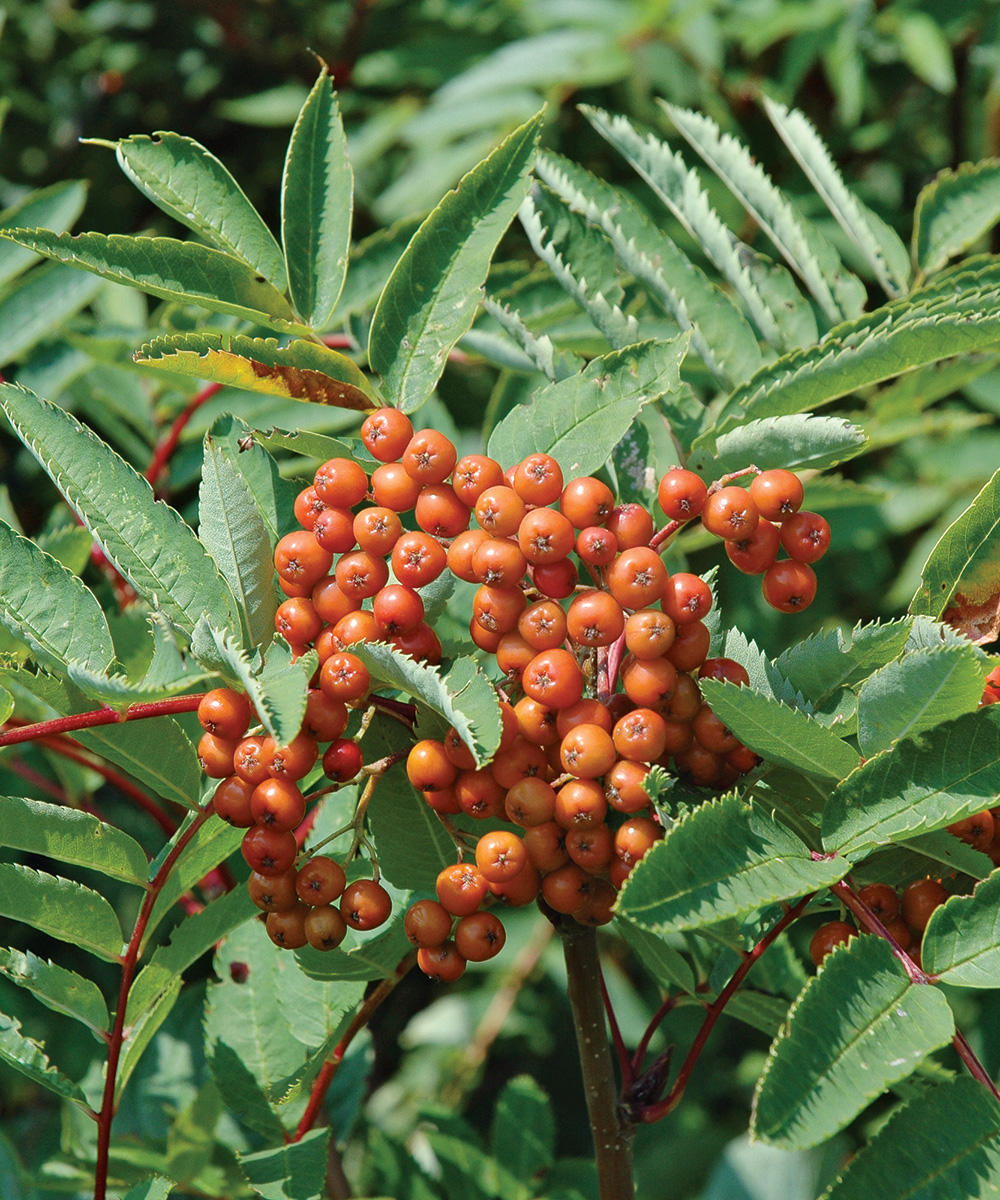 Name: Sorbus americana
Zones: 3–6
Size: 15 to 30 feet tall and 15 to 25 feet wide
Conditions: Full sun; moist, acidic, humus-rich, well-drained soil
Native range: Eastern North America
Disliking hot and humid summers, American mountain ash thrives in cooler climates, where it is a productive and popular wildlife magnet. White flower clusters in spring transition to orange-red pomes that ripen in late summer. Many small animals and birds such as robins, waxwings, jays, and thrushes will take advantage of this food source well into winter. This species dislikes dry soil and urban pollution, and struggling specimens may succumb to bacterial fireblight, cankers, mildew, and other ailments. Look for the selection Red Cascade™ (S. americana 'Dwarfcrown', Zones 3–6) for a narrow option that grows 18 feet tall and 8 feet wide.
2. Black Chokeberry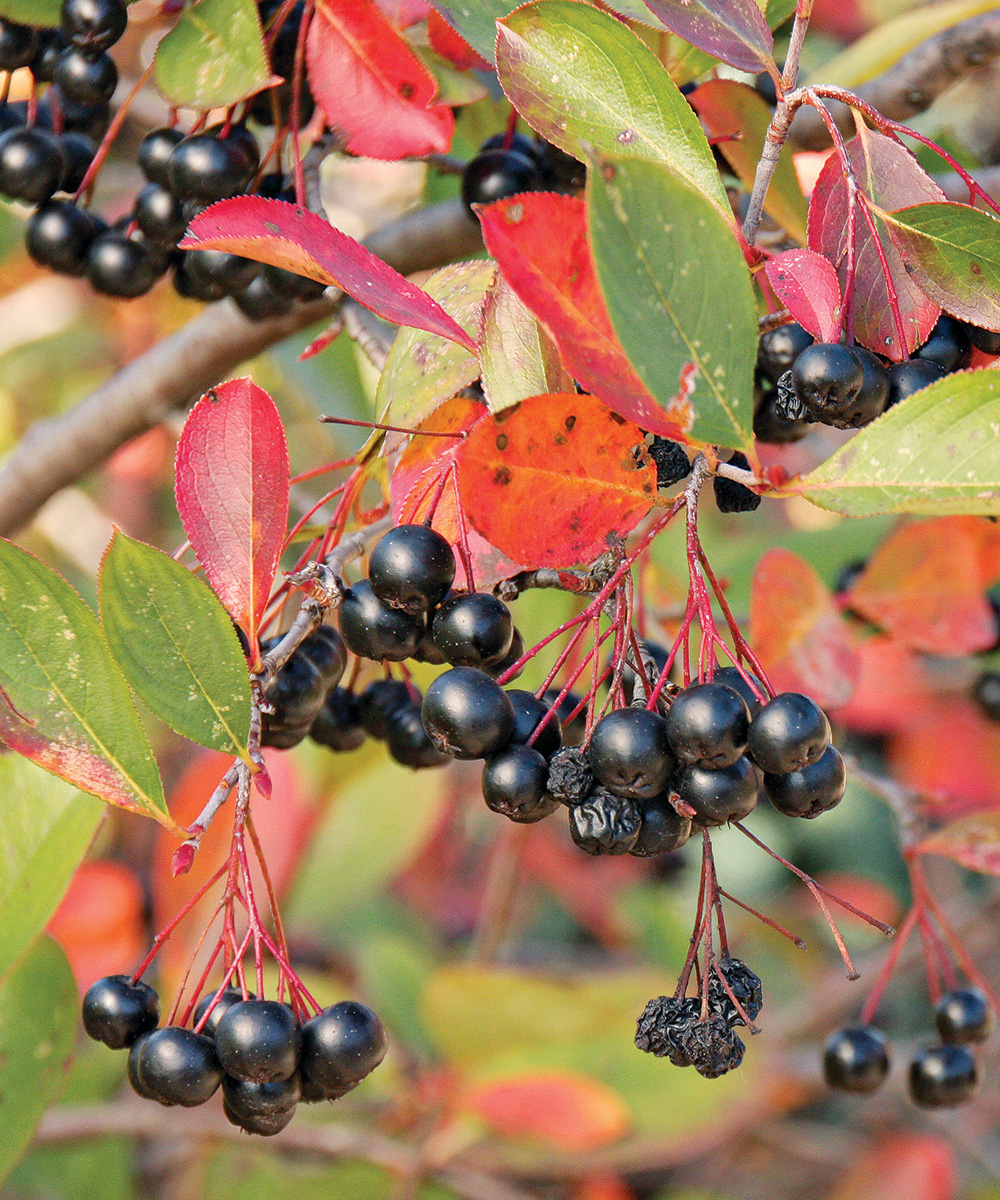 Name: Aronia melanocarpa
Zones: 3–8
Size: 4 to 6 feet tall and 6 feet wide
Conditions: Full sun to partial shade; rich, moist, well-drained soil
Native range: Eastern North America
Black chokeberry offers three seasons of interest, with white flower clusters in spring, heavy fruiting in late summer, and superior orange to red color in fall. The astringent black fruits are most prevalent on plants grown in full sun; the clusters last over the winter, and remaining berries are targeted by a wide range of birds including cardinals, wild turkeys, jays, and mockingbirds. This open and upright shrub creates root suckers and has a tendency to form a thicket in time. Although the suckers can be pruned, consider leaving them to create valuable wildlife shelter. There are now compact selections available with plenty of landscape potential.
3. Red Buckeye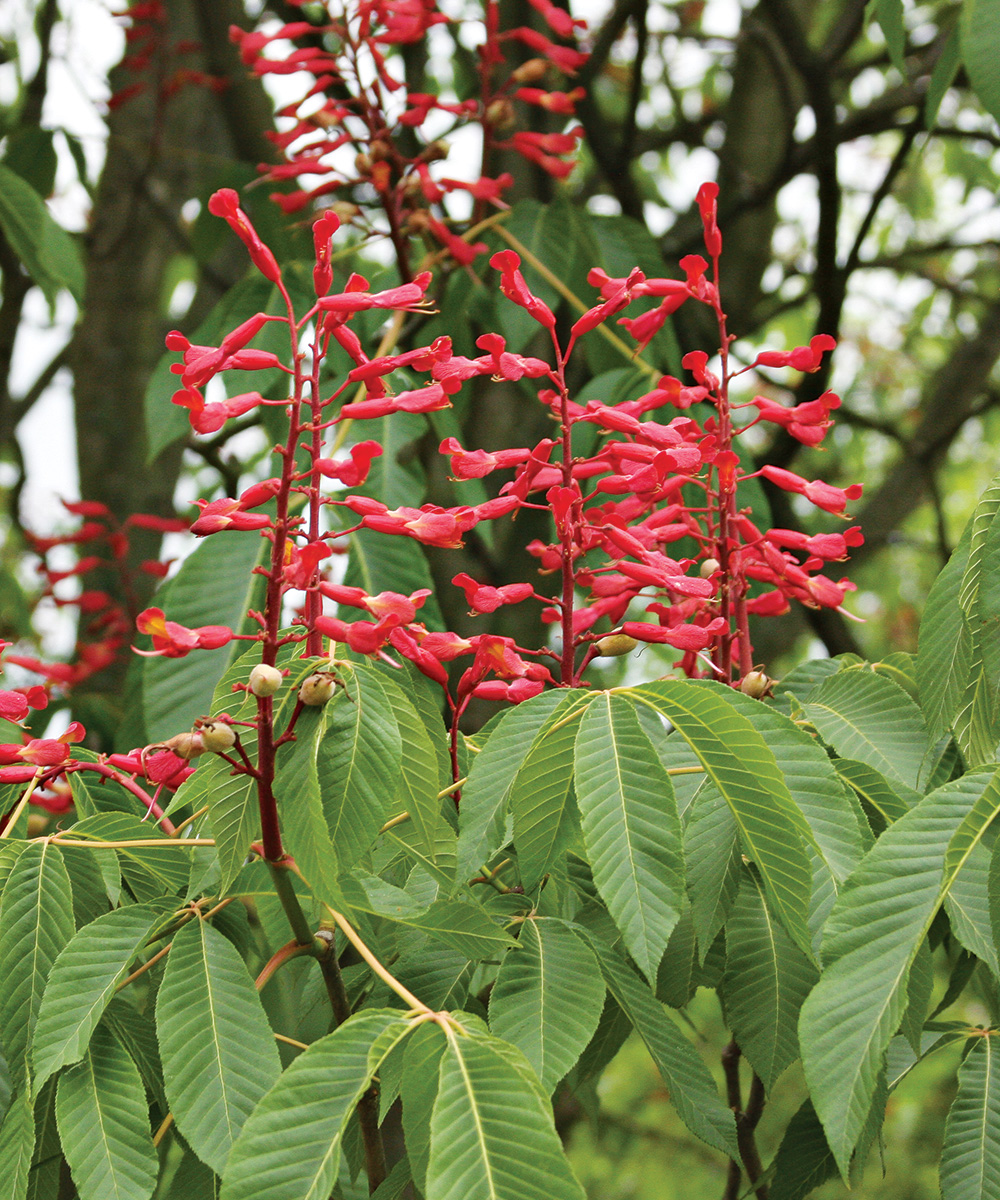 Name: Aesculus pavia
Zones: 4–8
Size: 12 to 15 feet tall and wide
Conditions: Full sun to partial shade; rich, moist, well-drained soil, tolerates clay
Native range: Southeastern and central United States
This is an excellent, spring-blooming specimen tree with a rounded crown and shiny, dark green foliage. The tubular flowers are red to red-orange and arranged on 6- to 10-inch-long panicles that will catch the attention of passing hummingbirds. The foliage tends to scorch in dry summers and drop early in September. Siting the plant in a location with afternoon shade can help maintain the integrity of the foliage longer, and it is vital in hot summer climates. Be aware that the seeds and young shoots of red buckeye are poisonous.
4. 'Winter King' Green Hawthorn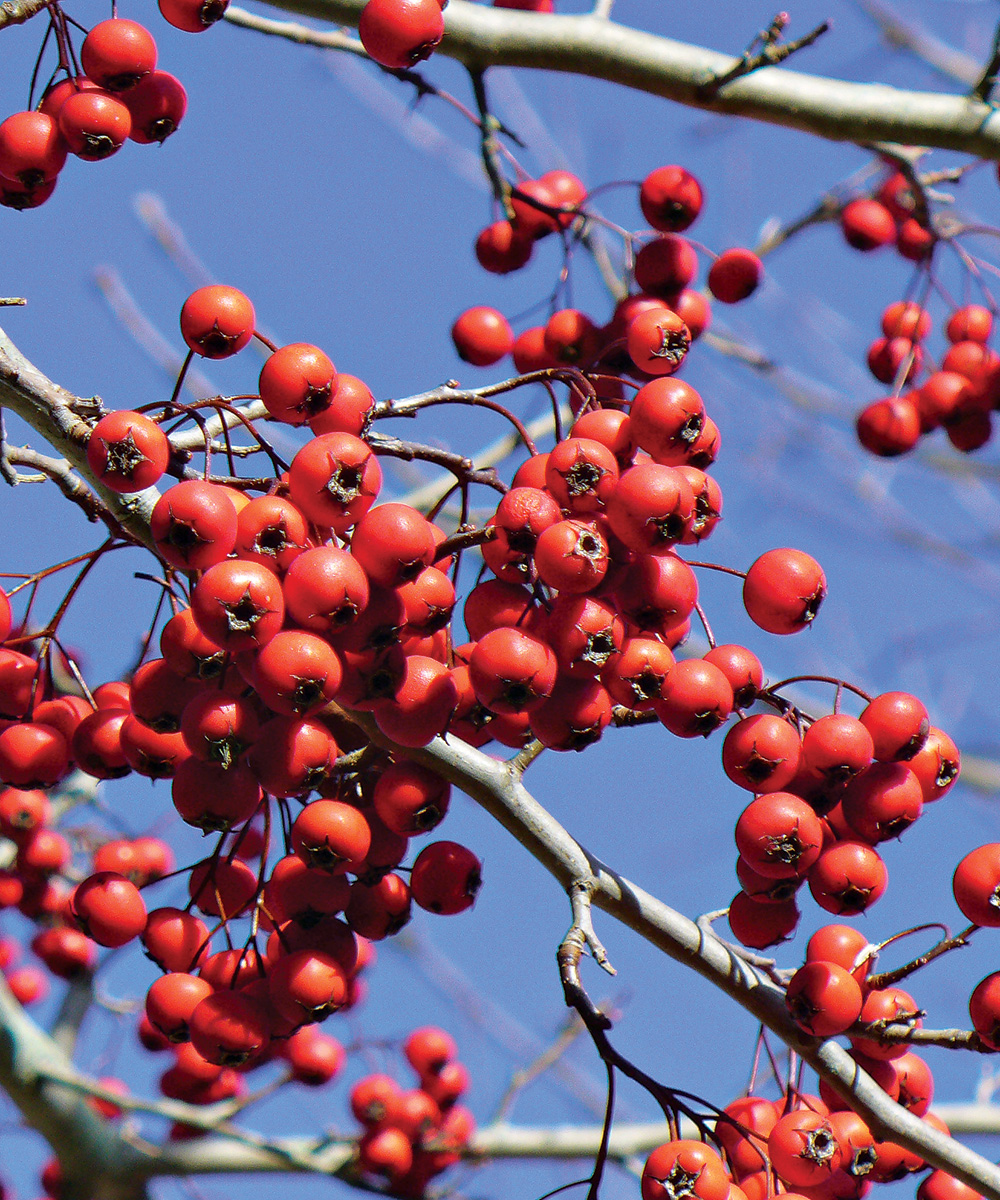 Name: Crataegus viridis 'Winter King'
Zones: 4–7
Size: 25 to 30 feet tall and wide
Conditions: Full sun; well-drained soil
Native range: Southeastern United States, west to Texas and north to Illinois
'Winter King' is a selection that represents the best this species can offer, with ornamental interest throughout the year. The dense, rounded, symmetrical form features dark green leaves and attractive purple-red fall color. Fragrant, profuse, white flower clusters appear in spring. Small red pomes ripen in September and persist well into winter, feeding cedar waxwings, robins, northern mockingbirds, and other birds. The maturing trunks exfoliate with age to reveal orange inner bark; the silvery stems are showy as well, particularly in winter. 'Winter King' is quite disease resistant and tolerates drought, clay soil, and urban pollution.
---
Mark Dwyer is a landscape designer and the owner of Landscape Prescriptions by MD in Janesville, Wisconsin.