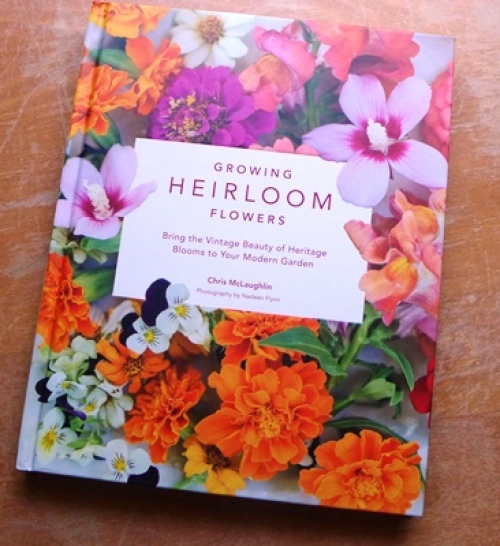 Chris McLaughlin, author of Vertical Vegetable Gardening, has a new book to help gardeners learn how to grow the most fragrant flowers possible. Heirloom flowers not only attract gardeners, they attract the beneficial pollinators that make for more productive vegetable gardens.
Growing Heirloom Flowers: Bring the Vintage Beauty of Heritage Blooms to Your Modern Garden (Cool Springs Press, 2018) is written by an experienced gardener who truly loves old-fashioned flowers. Her book will make you fall in love with them, too.
The book features more than 40 different heirloom flowers to plant in annual and perennial beds, especially those close to the vegetable garden. Family favorite flowers include dahlia, zinnia, foxglove, larkspur, bee balm, lavender and many more. These are the flowers that have irresistible fragrance to attract bees, butterflies and the other pollinators that are so important to healthy vegetable gardens.
Because Chris is an experienced gardening hand, she gives detailed advice on growing each of the heirloom flowers. The full color book is beautifully illustrated with images by Nadeen Flynn.
For each heirloom flower variety, she offers tips, tricks and creative projects, too. Of all the fabulous projects, how to make a summer flower crown may be my favorite. She includes the materials you'll need, the number of focus flowers, filler flowers and greenery to create a crown fit for a wedding or a simple summer tea party.
Besides connecting us to the plants of the past, planting heirloom flowers is important to biological diversity. "Open-pollinated heirloom flowers bring with them a special gift – biological diversity," she writes. "It's important for the health of people and our ecosystems to keep as much natural genetic diversity in every species: plants, animals, people and microorganisms."
She gives a solid gold star to any gardeners "who save their seeds, replant, pass some along to another gardener…" especially when those are heirloom flower seeds.