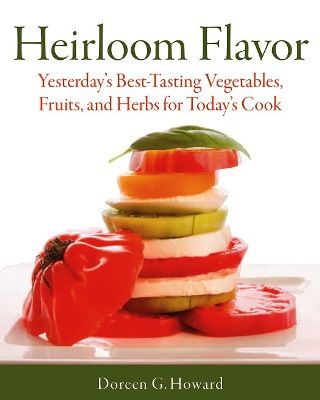 It was about eight years ago when I purchased my first 'Black Krim' heirloom tomato plant at a garden club plant sale. After growing only red tomatoes for many years, I was fascinated by the idea of a black tomato, especially because it was grown from tomato seeds another gardener had saved from the previous year.
Fast forward to the 2013 gardening season and I was equally fascinated to see so many heirloom tomato varieties readily available at the garden centers of discount and big box stores.
Heirlooms have certainly come a long way, baby.
For those gardeners who don't understand the attraction of growing heirlooms, all you need is to do is thumb through Doreen G. Howard's book, Heirloom Flavor: Yesterday's Best-Tasting Vegetables, Fruits and Herbs for Today's Cook (Cool Springs Press, 2013). The mouth-watering photos of 'Five Color Silver' beets or 'Blue Jade' corn may be enough to convince you to add a few heirloom varieties to your garden next season.
"Heirlooms also offer colors, shapes, textures, and perfumes not found in hybrids, which have lost those traits by growers who bred them out in exchange for uniformity of size and a long shelf life," she explains in the chapter called "Savoring the Rich Flavor of the Past."
She sums up the main attraction of heirlooms simply: "Flavor is everything."
Howard says, "Heirloom flavors are layered, aromatic and pronounced and such a part of what food should really taste like."
The book is filled, cover to cover, with heirloom must-have varieties, concise growing tips and a good sprinkling of heirloom history. She adds generous helpings of recipes to help gardeners make the most of their bountiful heirloom harvests.
Howard starts with beans and takes readers on a wonderful tour of bush beans, pole beans, and dry shelling beans. Old favorites, like 'Kentucky Wonder' and 'Blue Lake', share space with unusual varieties like 'Chinese Red Noodle'. These old beans (grown in America since the 1800s) are garnet red in color and grow to 22 inches long.
Besides beans, there are heirloom varieties of beets, Swiss chard, cabbage (and its relatives) carrots, corn and cukes…and much more.
In the chapter on Eggplant, I saw a variety I just have to plant next year: 'Turkish Orange'. These gorgeous orange eggplants, also called 'Red Egg', are the size and shape of a Roma-type tomato and grow to a bright orange-red. 
I also found a few old, but new-to-me varieties of tomatoes I'd like to try. 'Purple Calabash' is a nice-size, pleated fruit that could be the oldest tomato around today. Howard writes that " European herbalists grew it in the 1500s to cure madness and stimulate the libido."
Because Heirloom Flavor is "a book for cooks," Howard shares some of her special heirloom recipes, including this one for Cream of Fresh Tomato soup. It sounds like a delicious way to use heirloom tomatoes from your late summer or early fall garden. (Reprinted with permission from the publisher.)
Cream of Fresh Tomato Soup
Makes 5 to 6 servings
Ingredients
3 tablespoons extra-virgin olive oil
1 ½ cups chopped red onions (2 onions)
2 carrots, unpeeled, chopped
1 tablespoon minced garlic (3 cloves)
4 pounds vine-ripened tomatoes, coarsely chopped (5 large tomatoes)
1 ½ teaspoons sugar
1 tablespoon tomato paste
¼ cup packed chopped fresh basil leaves
3 cups chicken broth
1 tablespoon kosher salt
2 teaspoons freshly ground pepper
¾ cup heavy whipping cream
Julienned fresh basil leaves, for garnish
Croutons
Instructions
Heat the oil in a large, heavy pot over medium-low heat. Add the onions and carrots and sauté for about 10 minutes, until very tender. Add the garlic and cook for 1 minute. Add the tomatoes, sugar, tomato paste, basil, broth, salt, and pepper and stir well. Bring the soup to a boil, lower the heat, and simmer, uncovered, for 30 to 40 minutes, until the tomatoes are very tender.
Add the cream to the soup and process it through a food mill into a bowl, discarding the dry pulp that's left. Reheat the soup over low heat just until hot and serve with the basil leaves and croutons.
(Cool Springs Press provided a complimentary copy of Heirloom Flavor for the purpose of this review.)