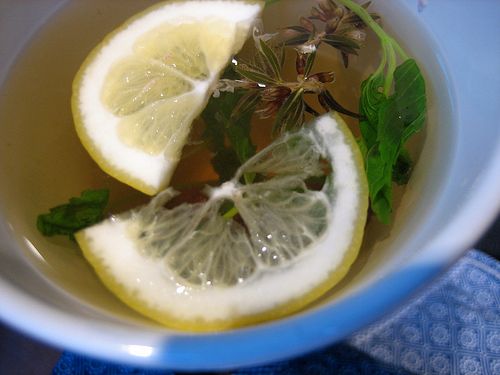 If you're a tea lover with some sunny space to spare, an herbal tea garden might just be the perfect addition to your yard this year. My favorite thing about herbs is that they always look lovely in the garden on top of serving a function — and usually in more ways than one.
Lavender, for example, makes a delicious tea; baking spice; a sweet bouquet; adds scent to potpourri and sachets; attracts beneficial insects to the garden; can help lower blood pressure and heart rate; an anti-inflammatory and much more.
And this is just the tip of the iceberg — herbs are incredibly versatile group of plants. I fell in love with them about twenty-two years ago and have never looked back.
Great Herbs for Tea Gardens
Roman Chamomile — Daisy-type flowers, fernish and extremely aromatic, apple-scented foliage. Use the chamomile flowers in your tea.
Peppermint (Mentha piperita) — Produces lavender or violet blooms in late spring and early summer. If you look around you'll find other minty flavors such as chocolate. *Mints are incredbly invasive. I love them in my garden but I always keep them confined in a container.
Lemon Thyme (Thymus X citriodorus) — Vibrant green leaves with a fresh lemon flavor. Does well in full sun or light shade.
Lemon Balm (Melissa officinalis) — Grow lemon balm in full sun and don't over water. This is one of my favorites to float in my summer iced tea. Like the mints, you may want to contain this bad boy if it loves your area.
Lavender (Lavendula angustifolia)— Lavender is a sun-worshipper and can take some strong sun (it certainly does where I've planted it). Often paired with chamomile or mint, lavender tea is popular for stress and tension relief. Harvest the flower buds just before they open.
Violets (Viola odorata) — Violet tea? Yes, please. Both fresh and dried leaves and flowers for steeping tea. These little ladies prefer a shady spot in the garden (perhaps under-planted with a taller herb).  
Bergamot or Bee Balm (Monarda didyma) — Add orangy flavor with bergamot. Use the leaves and the pink, purple, or red flowers for steeping. It's happy in full sun or light shade. 
Scented Geraniums (Pelargonium) — Delicious fruit, flower, and spice scents are found in the scented geranium's leaves — not the flowers. Look around and you'll find quite the smorgasboard; peppermint, lime, chocolate, chocolate mint, nutmeg, apricot, rose, lemon, pineapple and lemon.
Rosemary (Rosmarinus officinalis) — A powerful antioxidant with a piney flavor, grow rosemary in the full sun or light shade. You'll want the leaves of this herb for steeping.
Alpine Strawberries (Fragaria vesca) — This low-growing plant prefers partial shade and a richer soil than most of the other plants listed here. So perhaps underplant it and maybe topdress with compost once in a while. Surprisingly it's the leaves that are steeped in herbal teas. But that wouldn't stop me from topping it off with the berries.
Once this garden is established, the majority of these herbs are drought-tolerant. If your tea garden is planted so that ther's room for a walkway down the middle, you can plant herbs along side the path that don't mind a little foot traffic such as creeping thyme, or Roman chamomile. Or create a "checkerboard" walkway that trades off between cement pavers and herbs. A little aromatherapy is guaranteed when the leaves are crushed by strolling feet.