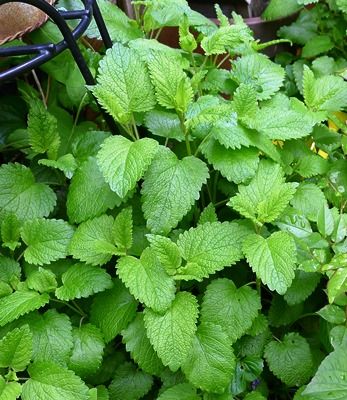 Wouldn't a glass of iced mint tea sound good right about now? How about a lemony herbal tea to sip while watching the vegetable garden grow?
It's easy to stir up something delicious by growing your own herbal tea garden. Herbal teas were once valued for their medicinal benefits, but now most people enjoy herbal teas for their flavor and taste.
The most common herbs to grow for a tea garden include different flavors of mint, lemony herbs like lemon balm and lemon verbena, chamomile, and flavored sage. Other herbs make for good teas as well, such as catnip, dill, bee balm and rosemary.
One of the nicest parts of planting an herbal tea garden is that you don't need a lot of garden space. Some gardeners plant all of their herbs together in one special garden, but plants can be added to the annual flower bed, the perennial garden or planted around the edge of the vegetable garden.
If there's no room for a garden, a few patio containers of herbs will grow enough to enjoy many cups of tea.
To get started:
Select the flavors of tea you'd like to grow and look for combinations that will mix well together.
Lemon balm and lemon verbena both make for a refreshing lemon-flavored tea. 
Mints include peppermint, spearmint, pineapple mint, apple mint and orange mint. 
Pineapple sage makes a fruity tea, but culinary sage makes a savory tea.
Chamomile has flowers that look like small daisies to make an apple-flavored tea.
Bee balm flowers and leaves make for a tea that resembles a China-type tea.
Plant the herbs in a spot that gets sun to partial shade.
Make sure to use a soil that's well-draining to keep plants healthy, and allow the soil to dry slightly between waterings. Fertilize with an organic fertilizer mixed into the soil or an organic liquid fertilizer to use when watering.
When the plants are ready for tea-making, harvest the herbs carefully by cutting with scissors or pinching with fingers. Cut off no more than one-third of the upper part of a plant at a time. You may be able to harvest once or twice a week from each plant, as they continue to grow.
Most herbal teas can be used fresh or dried. Rinse leaves in cool water and pat dry. Use fresh or let the herbs air dry or dry in the microwave or even a conventional oven on the lowest temperature setting. It takes just a few minutes, so don't let herbs burn.
To save the dried leaves for later, remove them from their stems and store in an air-tight container away from direct sunlight.
For brewing tea, use 3 teaspoons of fresh herbs or 1 teaspoon dried herbs to 1 cup boiling water and let steep for 5-10 minutes, strain out leaves and add sweetener (like homegrown stevia), if desired. For iced tea, double the amount of herbs, let steep, strain herbs and add ice and sweetener.
An alternative to boiling water is to fill a jar with water and herbs and set outside in the hot sun for a batch of home-grown, fresh sun tea.