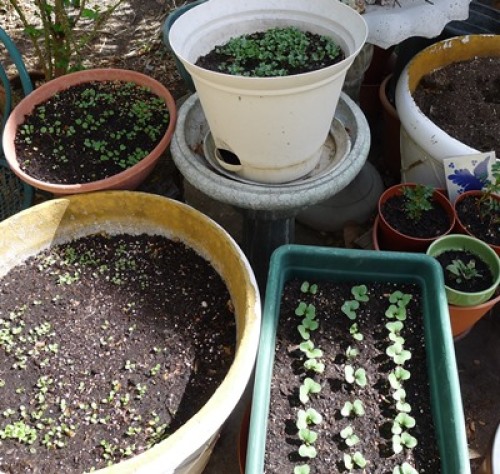 If you think it's too late to plant a spring container garden, think again. There are some fast growing edibles that you can plant now and start harvesting in about 30 days. 
All it takes for me to plant my spring containers is at least one nice weather day in late March or early April. Even in cold weather, I don't mind sprinkling seeds in a few containers so I can be assured of having some leafy greens and early edibles.
This year I kept the early spring container garden to a manageable size with four containers. In addition to these four quick-growing vegetables, there's a big container of chives. These perennials are the first greens to pop up every spring.
All-America Selections sent a good number of 2015 winners to try in my garden this year. For the container garden I planted 'Roxanne' radishes and 'Sandy' lettuce, both national winners for 2015.
'Roxanne' is a hybrid radish, with small round red roots. AAS named this variety a winner because of the uniform radishes, but also because it takes only 27 days from sowing seeds to eating fresh radishes. I planted the seeds in (slightly crooked) rows about 1/2-inch deep and about 2 inches apart. The seeds germinated quickly and have withstood some typical spring-time temperature fluctuations.
'Sandy' lettuce really deserves a different name, but I won't hold that against it. Another AAS national winner for this season, this oak-leaf type lettuce forms loose heads of frilly dark green leaves. This lettuce can also be harvested as loose leaves. I think I'll clip some for their cut-and-come-again habit and leave several heads to form, spaced about 10 inches apart. AAS judges liked 'Sandy' for its disease resistance and because it was slow to bolt in trial gardens.
Also new for 2015 is the heirloom Italian 'Tuscan Baby Leaf' kale from Renee's Garden. If Renee says this kale is "utterly delicious, vitamin rich and fast growing," I believe her. These kale leaves are also cut and come again, so I'll be able to start clipping the baby leaves when they grow to about 4 inches tall, about 25 days from planting. Renee recommends to sow seeds thickly, then snip and use the leaf kale for salads and stir fry meals.
Arugula may be an acquired taste for some folks, but I love the spicy flavor of these bright green deeply cut leaves. The organic heirloom Roquette-Ruccola, from Lake Valley Seed, is another fast growing leafy green that does well in containers. I simply broadcast the seed over the surface of a patio container filled with potting soil and covered lightly with another layer of soil. The sprouts sprung up quickly, and I'm expecting to harvest fresh arugula in about 35 days. If I want a steady supply, I should sow more seeds every few weeks.
What early spring vegetables did you plant this year? Please share your varieties here. 
(All seed packets were provided by the listed companies; opinions are always my own.)