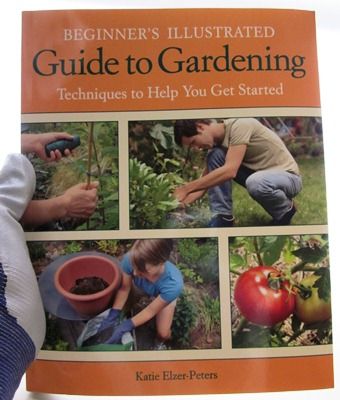 People who have been gardening for years forget what it was like to be a beginning gardener. They forget how many questions a beginner has about what to do, when to do it and how to get started.
But beginning gardeners have a friend in Katie Elzer-Peters.
Her new book is called "Beginner's Illustrated Guide to Gardening: Techniques to Help You Get Started" (Cool Springs Press, 2012, $21.99). She wrote her book to give beginning gardeners the confidence they need to plant and grow beautiful gardens.
This is a complete, easy-to-use guide for growing. The full-color images show exactly how to do dozens of garden-related tasks from navigating a garden center to improving garden soil; from planting a tree to planting a container vegetable garden.
The book is divided into seven parts that include gardening basics, lawn care, trees and shrubs, flowers, vegetables and finishing touches.
I think "Part One: Gardening Information Decoded" will be especially helpful to beginning gardeners. Some of the how-to instructions in this part include "How to Read a Plant Tag" and "How to Read a Fertilizer Label." Those are two important subjects that can often be confusing.
Katie helps beginners learn "the lingo" of gardening, too. By translating the lingo, she clears up the mystery of what a sign says at the garden center and what it means to a gardener. For example, when the sign says, "drought-tolerant" it means "plants that don't need extra water once they've been in the garden for a year."
For each how-to, Katie includes a checklist of what beginners need for that gardening task. She also provides tips for success and additional information titled "Just Grow With It!"
Every gardener will appreciate the secrets she reveals in another special feature called "Instant Green Thumb." In the "How to Care for Vegetables" instructions, she writes, "The secret to successful vegetable gardening is in the flowers. That's right: planting flowers with your vegetables will lure pollinators, deter pests, and encourage visits from beneficial insects."
Even though her book is loaded with solid gardening information, I think the best part is that it sounds like Katie's standing in the garden, ready to lend a hand. And in a way, she is.
(Cool Springs Press provided me with a free review copy of "Beginner's Illustrated Guide to Gardening.")