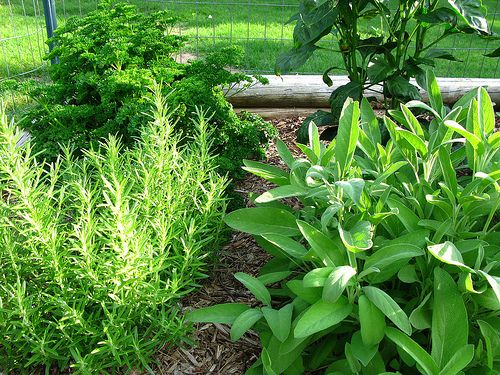 As an adult, the first major garden I planted in my yard was an herb garden. Although I'd been gardening since my early teens, this was the first time I'd had a steady love affair with any group of plants. Today, I grow anything that will sit still long enough for me to plant it, but herbs continue fascinate me.
Herbs are loosely defined as any plant that's been helpful to humans in any way throughout history. You're probably familiar with common herbs such as oregano, basil, and the mints. But there are hundreds (if not thousands) of other plants that may not strike you as herbs at first glance.
For instance, garlic and dandelions are herbs. So is purslane, but most will know it as a common weed. Understanding the definition of an herb opens the door wide for planting theme gardens using the useful plants; and I'm all about the theme in a garden. What a great way to let your garden show of the other passions in your life.
Ideas for Herb Garden Themes
Shakespearian Herb Garden – Are you a writer? Or the reader of historical classics? Try creating a garden by Shakespeare or any other historical era. Herbs could include herbs that Shakespeare spoke of in his works like English primrose (Primula vulgaris), Lavender (Lavendula angustifolia), Spearmint (Mentha spicata), Rue (Ruta graveolens), Sweet Violet (Viola odorata), English Daisy (Bellis perennis), Common Wormwood (Artemesia absinthium), Hyssop (Hyssopus officinalis).
Formal Herb Garden – Think old England. You'll need herbs that behave themselves and don't get too leggy like sages, oreganos, and artemesias. This type of garden needs geometrical shapes and clean lines. Gorgeous.
Biblical Herb Garden – Create this one with herbs mentioned in the Bible. Including Sage (Salvia officinalis), Sorrel (Rumex acetosa), Lady's Mantle (Alchemilla mollis), Chickory (Cichorium intybus), Horseradish (Armoracia rusticana), Saffron Crocus (Crosus sativus), Costmary (Chrysanthemum balsamita), Boxwood (Buxus sempervirens).
Medicinal Herb Garden – This garden is comprised of herbs from all over the world that have been used medicinally throughout the ages. You may be able to come up with some common herbs in this category by yourself such as Aloe Vera (Aloe barbadensis) and Chammomile (Chamaemelum nobile). Some you may not have thought of are Tea Tree (Melaleuca alternifolia), Summer Savory (Satureia hortensis), Dandelion (Taraxacum officinale), Feverfew (Tanacetum parthenium), Saw Palmetto (Sabal serrulata), Passionflower (Passiflora incarnate), and Avocado (Persea Americana).
Of course, there's a Cooks Herb Garden which you can break down further into a subtopic like a Pizza Herb Garden – the possibilities are endless. And don't forget to label your herbs. Before you point a finger at me yelling, "Control freak!" (not that you'd be wrong), hear me out. Labeling your themed garden plants not only invites conversation about your theme (interest), but gives you an opportunity to addict those who visit your garden; and all of us plant geeks want that, right?
Many of them don't have showy flowers like perennials and annuals, so using herbs to create a theme garden is not only a good way to explore other herbs and their uses; it's the perfect way to show your other special interests.