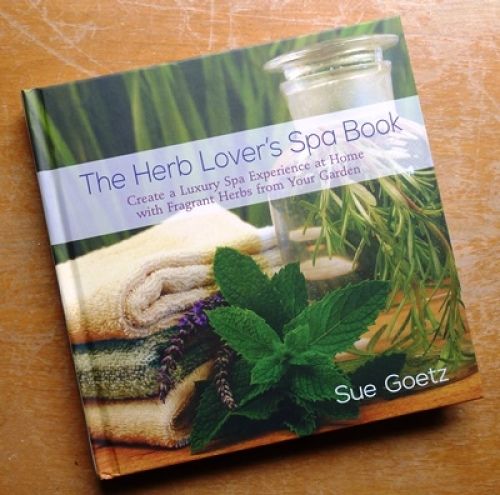 Sue Goetz has the right idea. In her new The Herb Lover's Spa Book (St. Lynn's Press, 2015), she helps other gardeners discover the joy of growing herbs to create a luscious spa experience.
If you want a personal prescription for pampering yourself with easy-to-grow herbs, you'll find it in Sue's book.
This tidy little tome has everything a gardener needs for growing, harvesting and using fresh herbs for an extra-special experience. In fact you may already be growing some of these fragrant and therapeutic herbs, but you haven't explored their full power. 
Perhaps you've been digging and discarding some, like dandelions, without realizing what a highly regarded herb it really is. Maybe you've banished mint from your garden without thinking about its refreshing properties when used in skin lotions, foot soaks or bath blends.
If you're a beginning herb grower, The Herb Lover's Spa Book has everything you need to get started on your soothing journey. One of the best features of the book is the section on Designing and Growing. These pages are filled with helpful hints, lovely designs, and complete plant lists to personalize your herb garden. 
Small-space herb gardeners will especially appreciate Sue's tips for growing herbs in containers. 
If you're an experienced herb gardener, but a spa beginner, you'll enjoy the more than 50 herbal recipes for "lotions, soaks, teas, masks, scrubs, aromatherapy, and more."
Within 11 different themes, Sue shows the steps for creating a steam spa, making a lavender heat pillow, selecting the right herbs for facial steam saunas, mixing herbs for a bath brew, making tea bags, and blending summer drinks.
There isn't a gardener I know who couldn't use a tin of homemade Hand and Nail Butter. This healing concoction includes ingredients like garden-grown lavender and rose geranium essential oils.
The Herb Lover's Spa Book would make a lovely gift for your favorite gardener. Especially if that gardener happens to be you.
(St. Lynn's Press provided a complimentary review copy of The Herb Lover's Spa Book; opinions are always my own.)