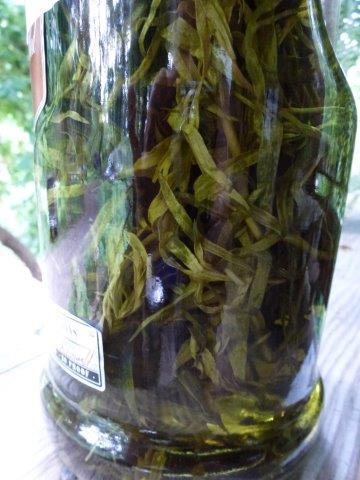 Ingredients:
Serves 6
1 pound dried baby lima beans
1 1/2 to 2 tablespoons chopped tarragon or 1 teaspoon crumbled dried tarragon
About 1 to 2 tablespoons lemon juice
3 to 4 tablespoons olive oil
3 to 5 garlic cloves, minced
Salt and freshly ground pepper
2 medium-sized ripe tomatoes
I have preserved tarragon on hand from last season, so I am able to use it to brighten winter dishes. If you haven't done it before, be sure to preserve some tarragon next growing season. Meanwhile, try this easy and tasty white bean dish-use preserved, dried or frozen tarragon.
Preserving tarragon
By far the best way to preserve tarragon is in vinegar; the flavor is true and long-lasting (until the next season's growth), though of course the texture and color are not the same as the fresh herb. Fill quart jars loosely with cuttings and pour in white wine vinegar to cover them. Close the jars and store in the pantry. Refrigerate the jars as you open them, and use the same amount of the preserved herb as the fresh. The vinegar can be used as well to make incredible vinaigrettes and sauces.
To prepare Lima Beans with Tarragon:
This is a very European treatment of beans, made in the style of Fagioli All' Uccelletto, which are white beans simply cooked with olive oil, garlic, tomato, and sage leaves. This version features tarragon rather than sage, which the French often combine with beans. Although these beans are usually served hot, I like them at room temperature in the summertime, when the tarragon and tomatoes are just-picked. Any white bean may be used-and canned beans can be used in a pinch-although the stewed herb and garlic flavor will not be as pronounced.
Soak the beans overnight. Pour off the soaking water and add enough water to cover beans by 2 inches. Cook the beans covered over medium heat until they are tender.
  
Add the tarragon, lemon juice, olive oil, garlic, and salt and pepper to taste. Remove from the heat and allow the beans to come to cool room temperature. The recipe may be prepared ahead to this point. Cover the beans and refrigerate them for storage. When you are ready to serve, seed and dice the tomatoes, and add them to the beans. Serve at room temperature or reheat gently until warm.