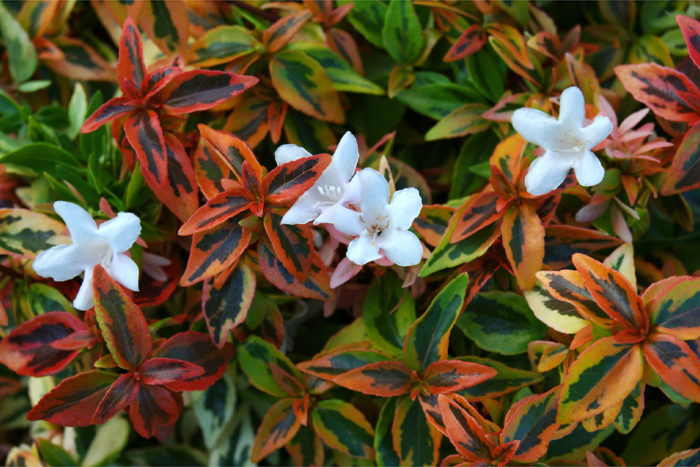 Shrubs are the workhorses of the garden. If you play your cards right, you can design a low-maintenance garden from a handful of perfectly suited flowering shrubs. These stellar plants are tough enough for our hot summers, relentless sunshine, and dry conditions. When well established, all are low-water plants and good choices for a "fire wise" landscape.
'Kaleidoscope' glossy abelia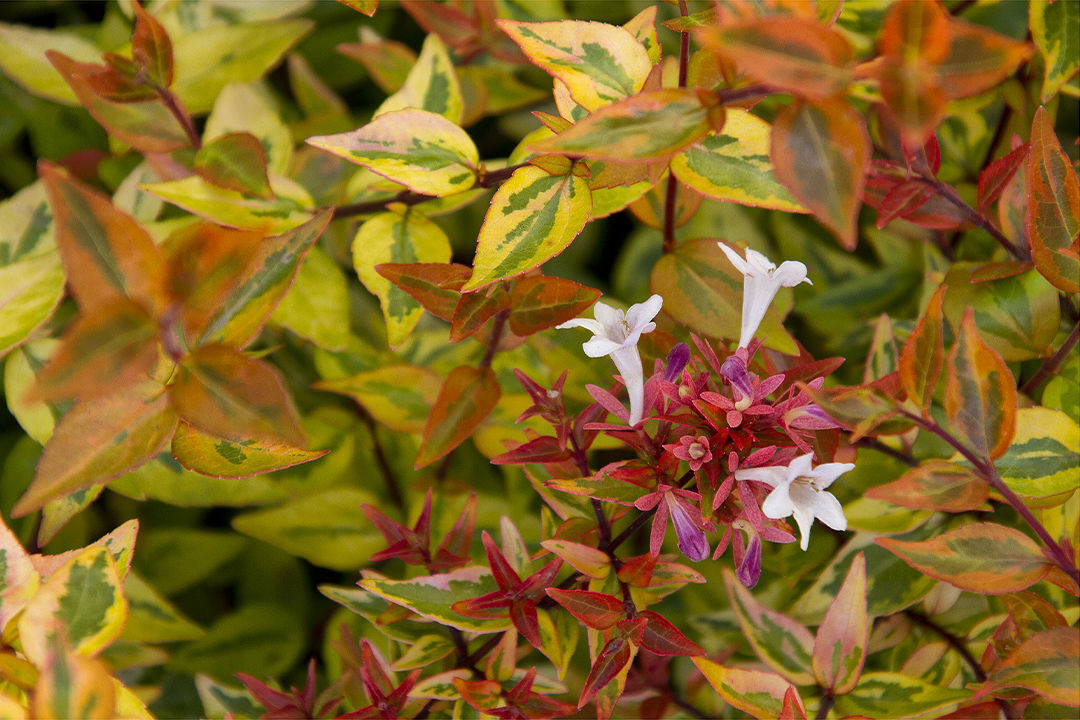 'Kaleidoscope' glossy abelia (Abelia × grandiflora 'Kaleidoscope', Zones 6–9) is a jazzy-colored semi-evergreen that is so much more than green. The leaves of this hardworking shrub are variegated green, yellow, and red, and they change in response to seasonal conditions. The softly fragrant pale pink or white blossoms put on a great show that starts in late summer and goes until the days shorten and freezing temperatures set in. Graceful arching branches make this shrub 3 to 5 feet tall and wide. Abelia loves afternoon shade in our hottest regions.
Snowberry or coral berry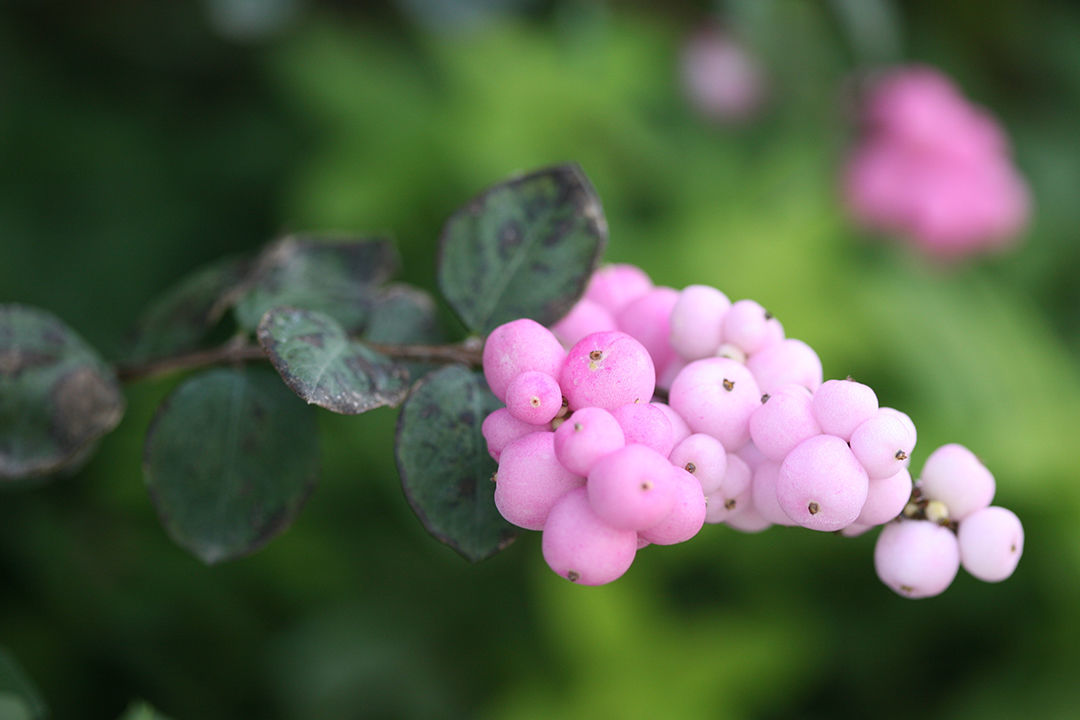 Snowberry or coral berry (Symphoricarpos albus, Zones 3–7) has been a love of mine since I was a kid, and the new iterations are a treat. Proud Berry® (Symphoricarpos 'Sofie', Zones 3–7) is the newest and one of the showiest, with lavender-pink berries. The plant blooms from early to mid-summer, with soft pink to white blossoms that provide sustenance for pollinators. This is a well-behaved shrub, ranging from 3 to 4 feet tall and wide. Did I mention that it is also deer resistant?
'Gro-Low' sumac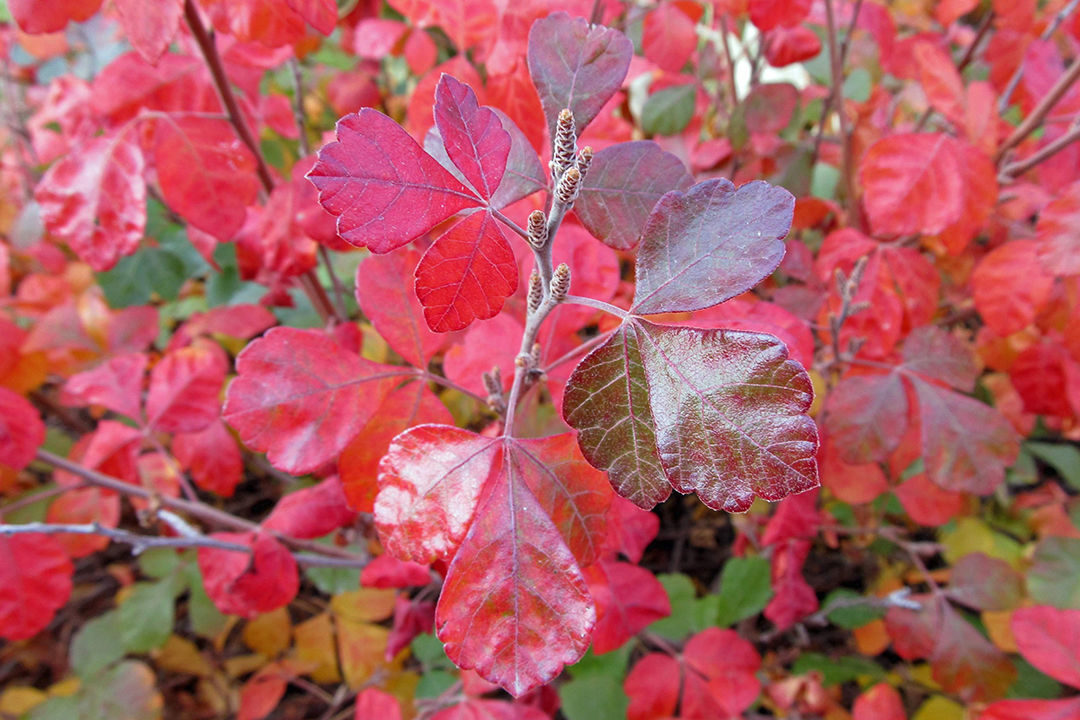 'Gro-Low' sumac (Rhus aromatica 'Gro-Low', Zones 3–9) is another outstanding choice, especially for fall color or preventing erosion. Rich olive green trifolate leaves morph into hot-pink-and-orange autumn foliage. Tough as nails, this shrub provides great habitat for quail and other small creatures, but deer don't seem to like it. Once established, it will need supplemental water every other week, if that. 'Gro-Low' is only 3 feet tall but will expand horizontally 8 to 10 feet in diameter. It loves full sun.
Fern bush or desert sweet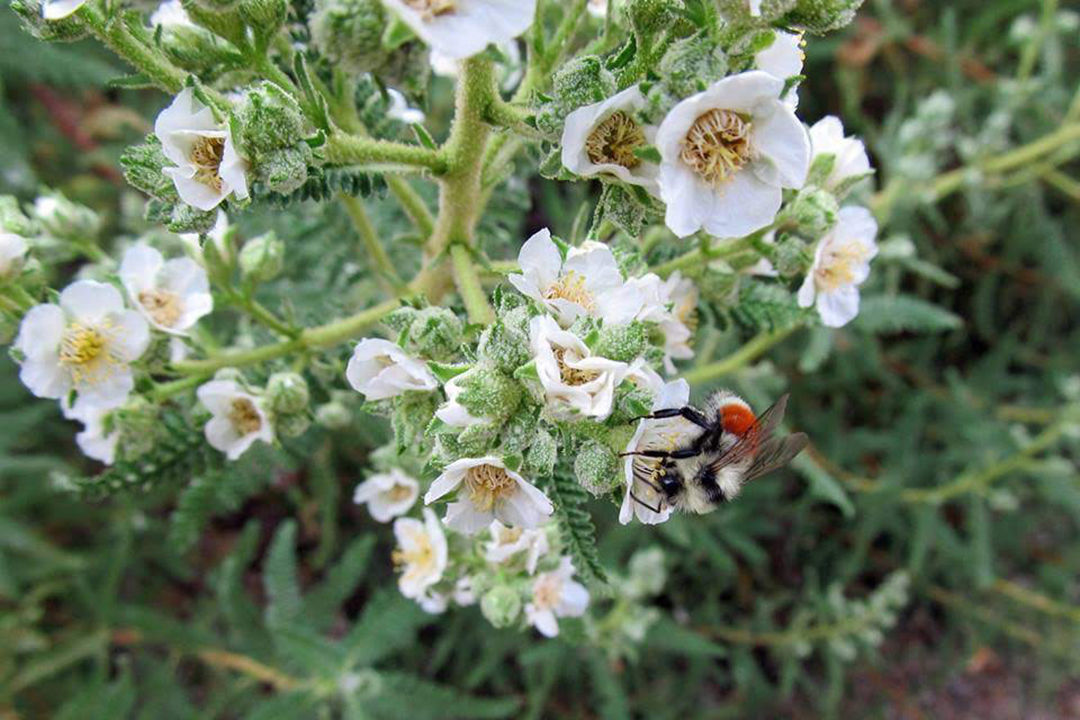 Fern bush, or desert sweet (Chamaebatiaria millefolium, Zones 4–8), has fragrant, fernlike leaves that start out pale silver, maturing to a lovely olive green. Native bees and butterflies swear by it: in the spring, sweetly scented clusters of flowers bloom at the ends of the branches. Native to Colorado and xeric once established, it can grow to 7 feet tall and 6 feet wide. Prune it gently if you must.
Low Scape Mound® aronia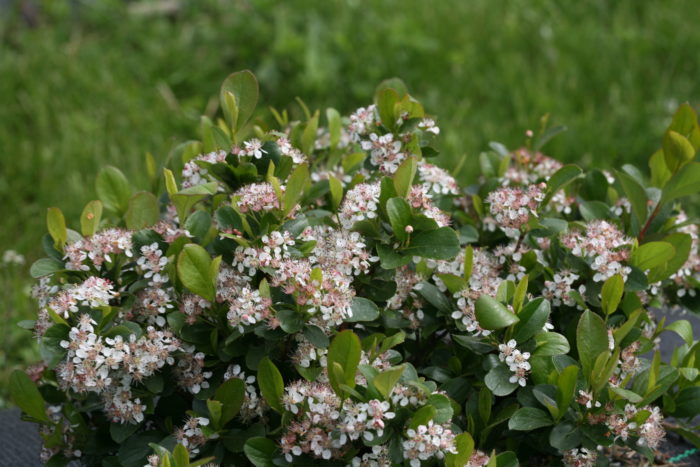 Low Scape Mound® aronia (Aronia melanocarpa 'UCONNAM165', Zones 3–9) is a shorty, growing just 12 to 24 inches tall and spreading 24 inches in all directions. This is a chokeberry, not to be confused with chokecherry (Prunus virginiana, Zones 2–7). In spring its glossy green leaves are complemented by loads of tiny white flowers. Add red autumn foliage and purple-to-black berries, and you have a winner.
—Mary Ann Newcomer is the author of two books: Rocky Mountain Gardener's Handbook and Vegetable Gardening in the Mountain States.