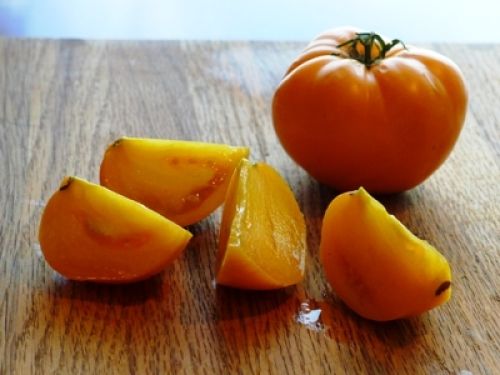 Black, green, purple, red, pink, yellow, white, and striped. I'd grown heirloom tomatoes in just about every color, but this summer was my first time to grow an orange one. I was so happy with Amana Orange, I wanted to find out more about it.
An Internet search led me to two stories for how this brilliant orange tomato got its name. One version stated the tomato was named by someone who worked for the Amana appliance company; another story said it was named for the settlement known as the Amana Colonies in Amana, Iowa.
To uncover this tomato's real history, I talked with the man who named it. As it turns out, the story isn't as much about how the tomato got its name. It's how an ordinary gardener made an extraordinary discovery.
Trading Heirloom Seeds
As an avid gardener and member of the Seed Savers Exchange, Gary Haley enjoyed thumbing through the yearbook and selecting heirloom seeds to trade with other members.
"I'd look for a variety of seeds I wanted to grow and then get a sample of about 25 of those seeds," he says. "Then I'd grow them out, save the seeds and have that variety forever."
During one trade with another member, he received a sample of tomato seeds, planted them, and was surprised at the results. One plant grew orange tomatoes.
"It was so perfect, I thought it had to be a variety that had been around a long time," Gary says. "I searched and searched, but I couldn't find it."
Gary says he grew the orange tomato for three more seasons to make sure it grew true to type. "It was so perfect, I couldn't get over it," he says.
He released the seeds to Seed Savers Exchange in 1984.
"It went wild after that," he says.
Homage to Amana
Gary named his new tomato 'Amana Orange' because he was working as a customer service representative for Amana Refrigeration in the 1980s. In those days, customer service reps traveled around their multi-state territories solving problems for distributors, which could include repairing equipment. Gary lived in Cincinnati at the time, but several times a year he traveled to the Amana facility in Amana, Iowa, where the refrigerators and microwaves were made.
During his visits he had the chance to get acquainted with the folks who lived in the group of settlements called the Amana Colonies. The colonies were founded in 1855 as a self-sufficient religious community.
"I loved my job and I loved the Amana Colonies so much that I named the tomato 'Amana Orange'," Gary explained.
Now gardeners everywhere can find the same tomato on the pages of many seed catalogs and websites. I received my Amana Orange seeds as a free sample to trial in my garden from Lake Valley Seed in Boulder, Colo.
These heirloom Beefsteak-type tomatoes grow on tall indeterminate plants and take about 90 days to mature. The beautiful bright orange fruit is nicely fluted and has a sweet, yet tart taste.
Still Growing Heirlooms
Gary is in his early 70s now and doesn't grow Amana Orange in his garden anymore. His current favorite tomato is a pink heirloom called 'Caspian.' As a lifetime member of the Seed Savers Exchange, he continues to trade seeds and try new varieties every year in his Florida garden.
Without any formal training in horticulture, Gary introduced a wonderful heirloom tomato to the gardening world. Even though Amana Orange will connect him to gardeners for generations to come, he shrugs off his contribution.
"It was just something that happened," he says.