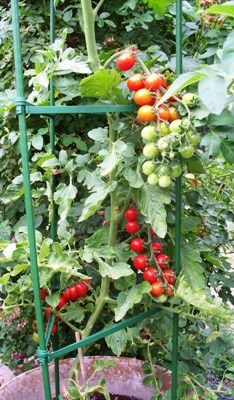 Exploding tomatoes weren't what I had in mind when I planted a new variety of cherry tomato this spring.
I first heard about 'Tomaccio' tomatoes last summer when I read a "tweet" from a gardening colleague about these sweet cherry tomatoes specially bred for drying. She wrote that her tomatoes didn't dry on the vine and chalked it up to living in a humid climate. She mentioned gardeners in the dry West might have better luck.
That's why I jumped at the chance to be part of a special introduction and sampling program offered by C. Raker & Sons, Inc., of Litchfield, Mich. The wholesale plant propagation specialist sent 'Tomaccio' (pronounced toe-mah-chee-oh) samples in the spring with instructions for how to grow them and how to dry them.
The literature explained it took 12 years of breeding work in Israel, using wild Peruvian tomato varieties, to develop this gourmet cherry tomato that could be dried into sweet tomato raisins. I could imagine how drying would intensify the fruit's sweetness and pictured tossing the raisins on salads or eating them for a snack.
I planted two plants—one in a large container and one in the garden—and shared one plant with a colleague who lives in an even hotter and drier area of Colorado. All the plants did well and the vines lived up to their "extremely robust" reputation. The fruit grew on nice long clusters, the tomatoes were beautifully round, they resisted cracking, and the tomatoes were sweet and juicy when eaten off the vine.
However, I was disappointed with what was supposed to be the reason for growing these tomatoes—drying them.
Apparently, the recommendations for drying them are still evolving as the company gains more experience with them.
There were three different sets of drying recommendations that came with the samples:
The plant tag says dry for 3 hours in a 100 degree oven.
The Tomaccio flyer says dry for 2-3 hours in a 200 degree oven.
The press release says to dry for 3 hours in a 200-300 degree oven.
A dehydrator can also be used, but no specific directions were provided.
When my gardening friend tried drying three Tomaccio clusters, following the 2-3 hours in a 200 degree oven, she said the tomatoes were only roasted at the 3 hour mark. When she turned up the oven to 300 degrees, the tomatoes exploded.
When it was my turn to dry several bunches, I used a pin to poke a small hole in the stem end of each tomato to try to avoid the exploding tomato problem. I found the tomatoes took 9 hours and 15 minutes to dry in a 200 degree oven.
Because it's the nearing the end of the growing season, I may try letting a few Tomaccio clusters dry on the vine or I might try drying them in a dehydrator just to see if I can get a good result.
It's too bad Tomaccio didn't live up to its star billing. I was really looking forward to having a nice supply of sweet tomato raisins to use throughout the fall.