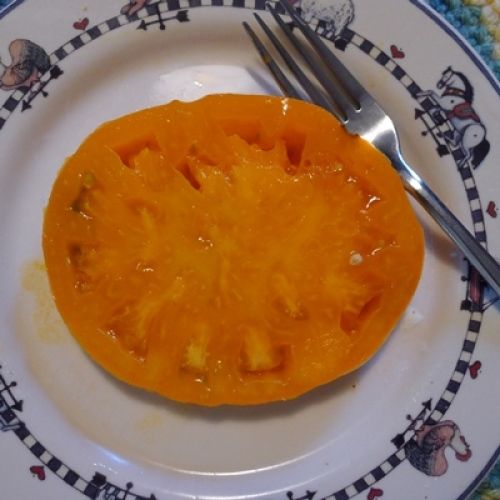 At the end of every season I like to look back and evaluate which plants grew well in the vegetable garden, just in case I'd like to plant them again in the future. I've already evaluated the pepper crop, so now it's time to turn to the top tomatoes for 2016.
The winner in my garden was Amana Orange. I've grown these tomatoes before — and won prizes for them — and they're still a favorite. Amana Orange is an heirloom, beefsteak-type tomato that has the right balance of sweet and tart for me. I also love this tomato's orange color and the fact each one can grow to over 1 pound. A single slice can fill a salad plate.
Black Krim is another must-have heirloom tomato in my vegetable garden. This year's crop of Black Krim tomatoes didn't produce as many as in the past, but I blame the fickle weather. The tomatoes I harvested were still large and tasty. And I saved many of the seeds for next year.
Tiny Tim tomatoes defy expectations based on their name. These red heirlooms are larger than a typical cherry tomato and they have good flavor, too. The "tiny" in their name must refer to the size of the plant because it grows to only a foot tall, but produces a steady crop of tomatoes through the season.
Green Grape is another heirloom that I enjoyed because it was so different. Much larger than a typical grape, these green tomatoes looked lovely in a hanging basket. I knew they were ready to pick when they started changing color from bright green to a green with an amber hue. I liked slicing these to top salads because they added another color to the mix.
Costoluto Genovese is an Italian heirloom tomato with a bright taste and unusual shape. This tomato has fluted edges that make it a lovely slicer. It also makes a nice cooked tomato to use for a slightly tart pasta sauce.
Two pint-sized tomatoes were extremely prolific when grown in containers. Sweetie and Candyland grew on tall plants and always had plenty of tomatoes for picking. These bite-sized tomatoes each had good tomato taste, although a little on the sweet side. I may stick with only one currant-sized tomato in the future. It was difficult to keep up with picking them at the height of the season.
Do you have a favorite tomato to add to the list? Please let us know!