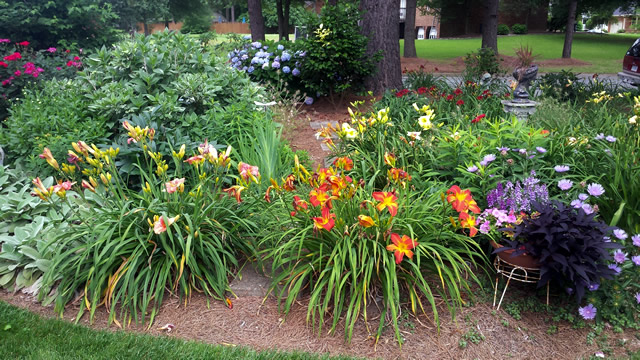 Congratulations to Vikki Barnette for creating such a noteworthy garden.
"As an avid fan of fine Gardening I would like to share with my fellow fine Gardening friends the recent selection of my garden as the most noteworthy for my section of the city of Chesapeake, VA. Below is a quote from the Facebook page of the Chesapeake Environmental Improvement Council as well as photographs taken of my garden on July 9, 2016 when I was presented with the award:
"Join us in congratulating the winners of this year's Chesapeake Notable Yards Contest. Each day this week, starting Monday, we will announce the the most notable yard in each of our city's seven high school districts. These winners, first nominated by their neighbors, were selected based on multiple factors including site appeal and appearance, management of natural resources, and utilization of environmental best practices to make our communities both a beautiful and a healthy place to live.
"Our first Notable Yard winner is from the Hickory district. The front yard is well planted and fits the neighborhood, and as this corner lot home has multiple views from the public right of way, and all views were great. Beautiful mixed perennial flower beds with shrubs, trees, 4 seasons of color and interest, straw bale gardening, compost, structures for people, low water use, organic fertilizers, bird feeding areas, correct pruning, vegetable gardens, and great use of bed layouts to break up the turf, etc. The garden views make you want to visit the homeowners and stroll through their gardens, or just peek in to see what's blooming this time of the year!"
Have a garden you'd like to share? Email 5-10 photos and a brief story about your garden to [email protected]. Please include where you are located!
Have a mobile phone? Tag your photos on Instagram or Twitter with #FineGardening!
You don't have to be a professional garden photographer – check out our garden photography tips!
Do you receive the GPOD by email yet? Sign up here.