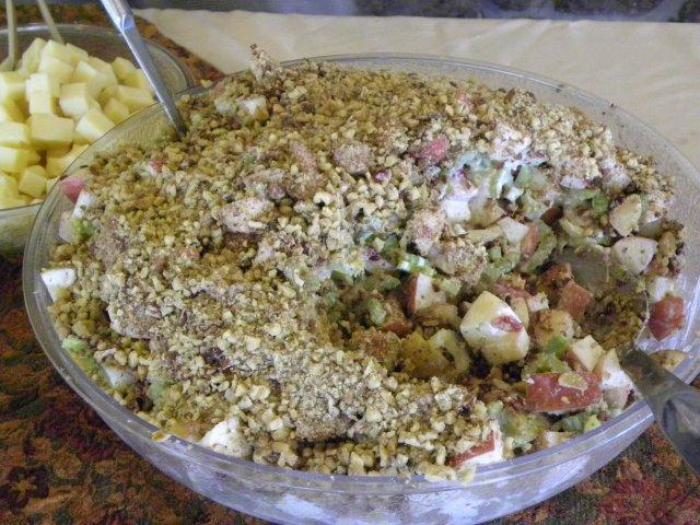 Ingredients:
Serves 6 to 8
4 large stalks celery
3 large apples; such as Gala, Nittany, Honey Crisp or Pink Lady
1/4 cup currants or coarse-chopped dried cranberries or dried cherries
1/2 cup toasted and coarse-chopped pecans and/or walnuts
1/4 cup mayonnaise
1/4 cup Greek yogurt
2 pinches salt, optional
About 2 to 3 teaspoons maple syrup or honey
2 to 3 teaspoons vanilla vinegar or organic apple cider vinegar with scant 1/2 teaspoon pure vanilla extract
This is a very tasty upscale version of an old favorite, which is quick to prepare.  Use whatever apples you have on hand-I often use a combination-just be sure they are crisp, not mushy.  I make a big batch of this, because we like to have leftovers the next day; the recipe can be halved easily.  You can substitute part low-fat or nonfat yogurt for part of the mayonnaise. If you don't have vanilla vinegar (which you should make because it is so good), try Barb Wilson's idea, (chef at the Skillet Restaurant) and use vanilla yogurt-and it was tasty! Put the nuts on before serving–so they don't get soggy–scatter them on top or toss them in.
Scrub the celery, remove the strings, if desired, and cut into 3/8-inch slices.  Scrub the apples, peel them, if desired (I generally buy organic and don't peel them), and cut them into quarters.  Remove the core and seeds, cut each quarter in half lengthwise, and cut each eighth crosswise into 1/4-inch slices.  Toss the celery and apple into a ceramic, glass, or non-reactive mixing bowl.  Add the currants and nuts and toss.
In a small bowl, combine the mayonnaise, salt, syrup or honey, and vanilla vinegar and blend well.  Toss the dressing with the salad to coat it and taste for seasoning, adjust with a little more mayo, syrup or sugar, or vinegar.  It should be tangy with just a hint of sweetness.  Let stand for 10 or 15 minutes before serving.  Or refrigerate until almost ready to serve, and allow the salad to come to cool room temperature before serving.