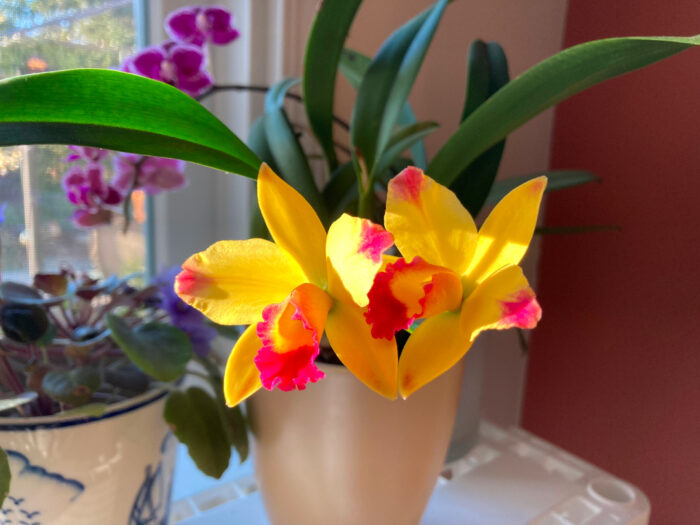 Today's photos are from Nicki Snoblin in Lake Bluff, Illinois.
Since there's not much going on outside right now, I thought I'd share some indoor photos.
To keep away the winter blahs, I like to have as much color and variety as possible in my indoor plants. Cats are #1 in our house (after the humans), so I have to be careful about plant placement to keep both the plants and the cats safe. I have plastic shelving units in front of the few sunny windows in my house; they're not classy, but they do the job.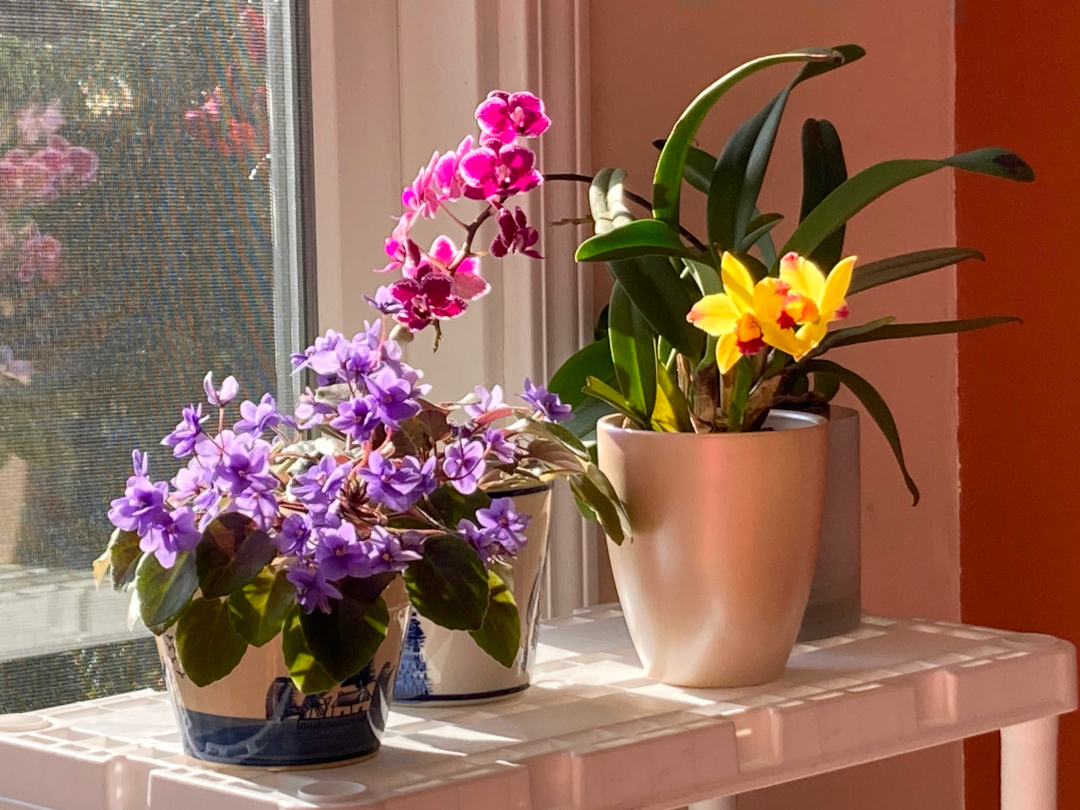 I usually have African violets (Streptocarpus ionanthus) blooming in winter, and the last two years I've been fortunate to have orchids bloom as well.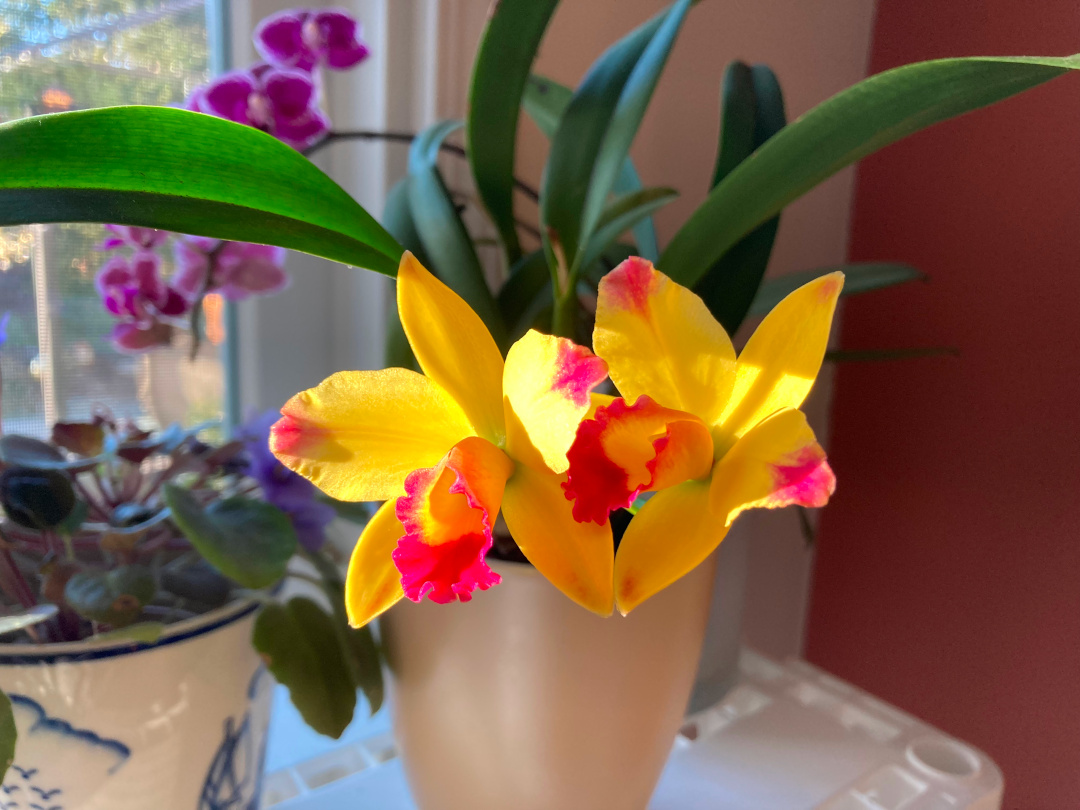 This yellow orchid is Blc. Hsinying Sunbeam '#15'.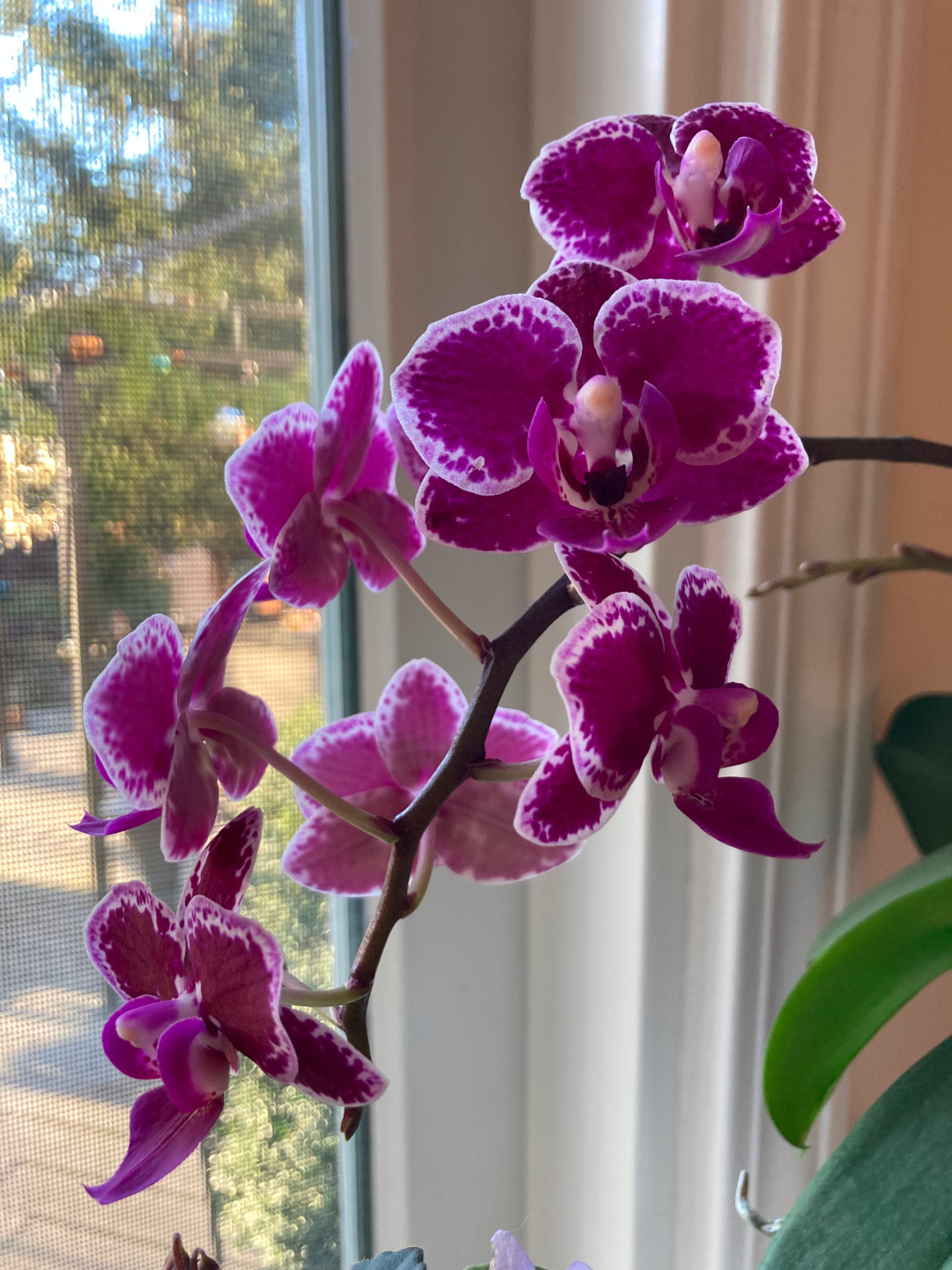 And here is a purple moth orchid (Phalaenopsis hybrid).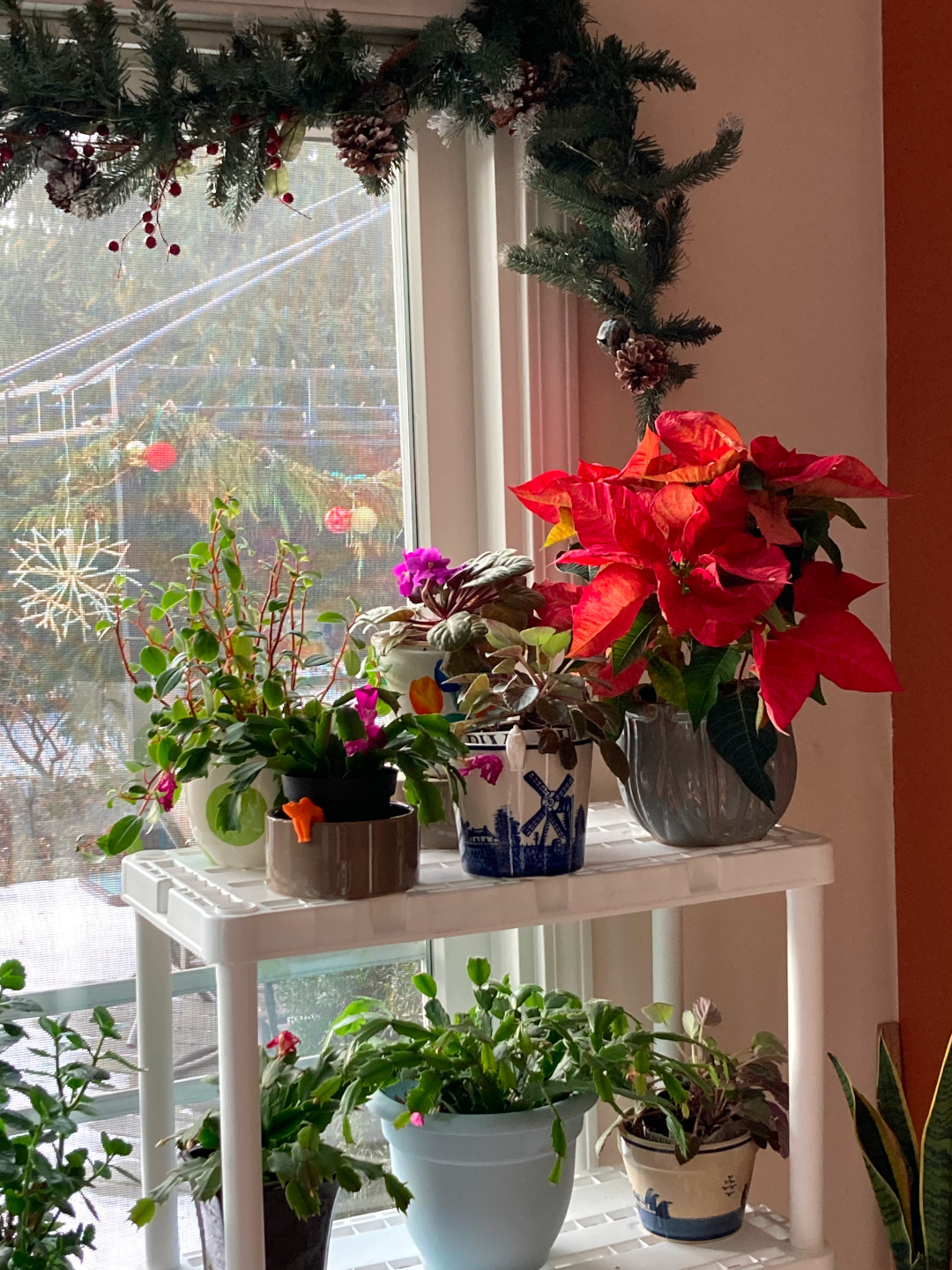 At Christmas this year I had a nice bright poinsettia (Euphorbia pulcherrima) along with a few Christmas cactus (Schlumbergera × buckleyi) in bloom.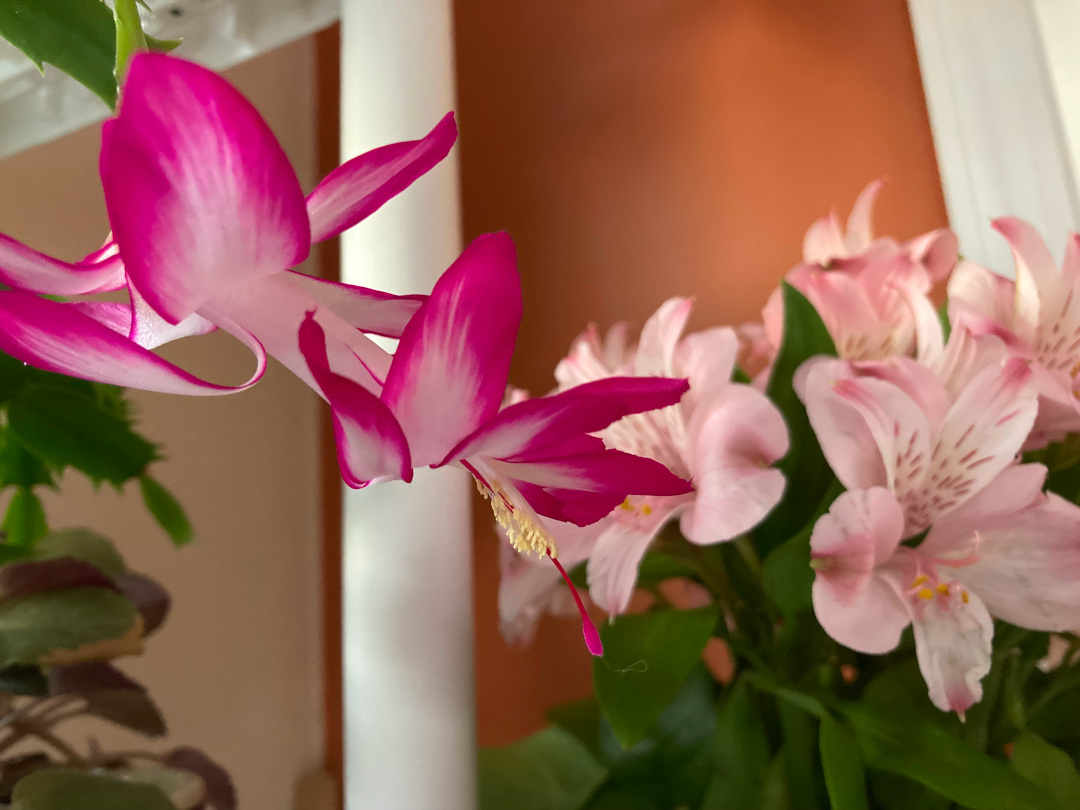 Close-up of the Christmas cactus flower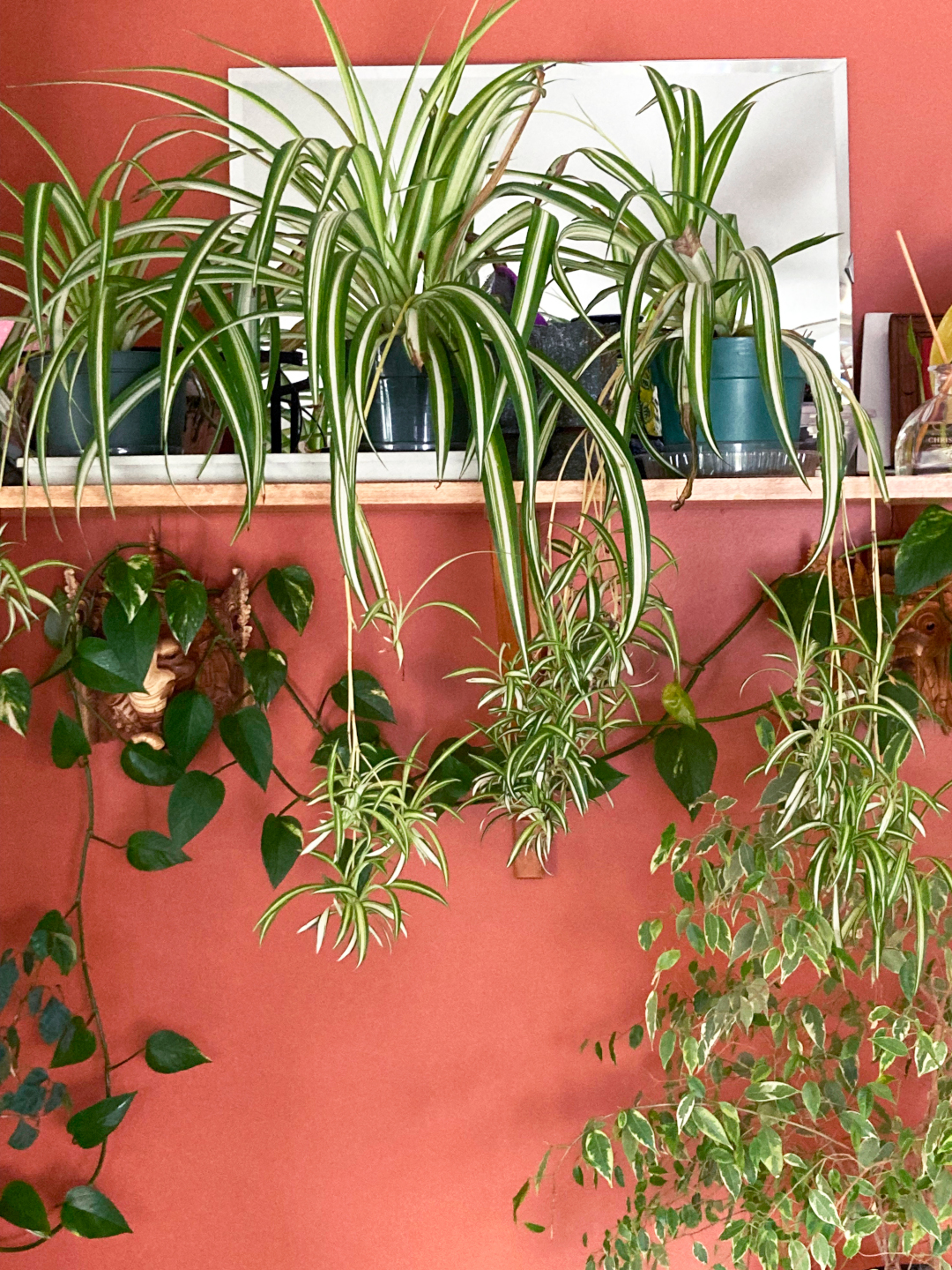 I grew some spider plants (Chlorophytum comosum 'Variegatum', Zones 8–11) in pots outside last summer, and they were doing so well I couldn't bear to get rid of them in fall, so in they came. I found other homes for a few of them, and the remaining ones are on a high shelf. I put a mirror behind them in the hope that the reflected light would keep the backs from dying off. In spring I'll plant the "babies" in my outdoor pots.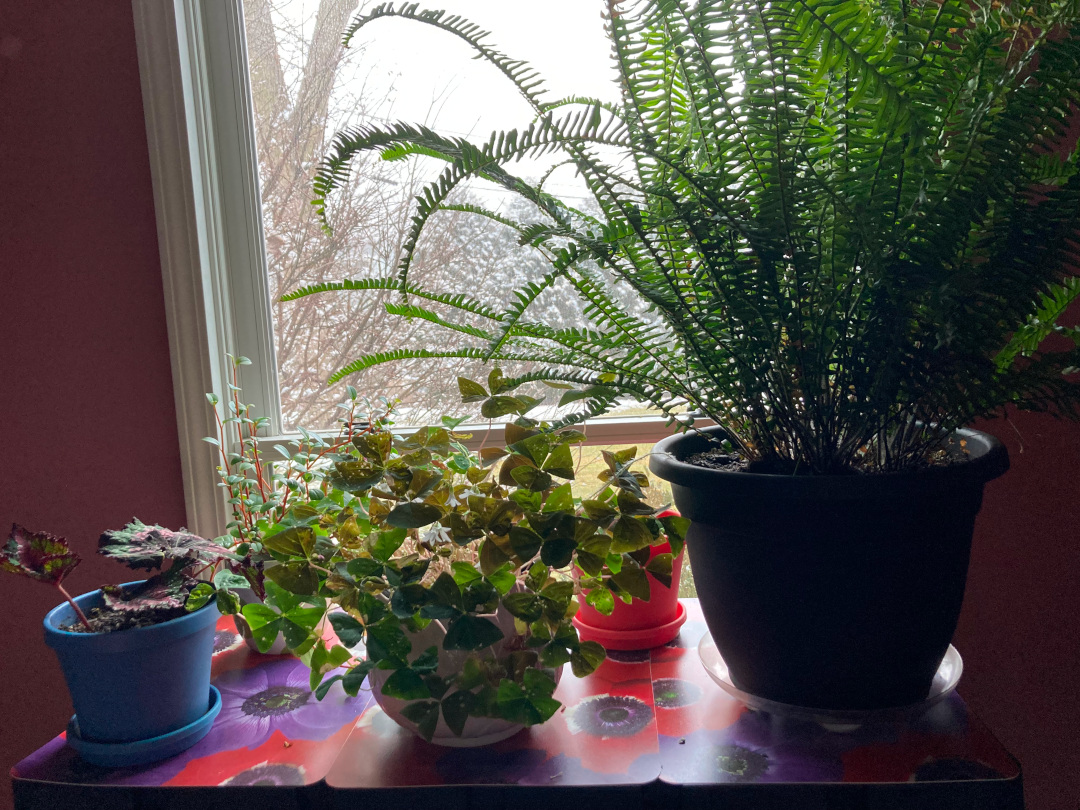 In another window I have a few plants that came indoors for the winter.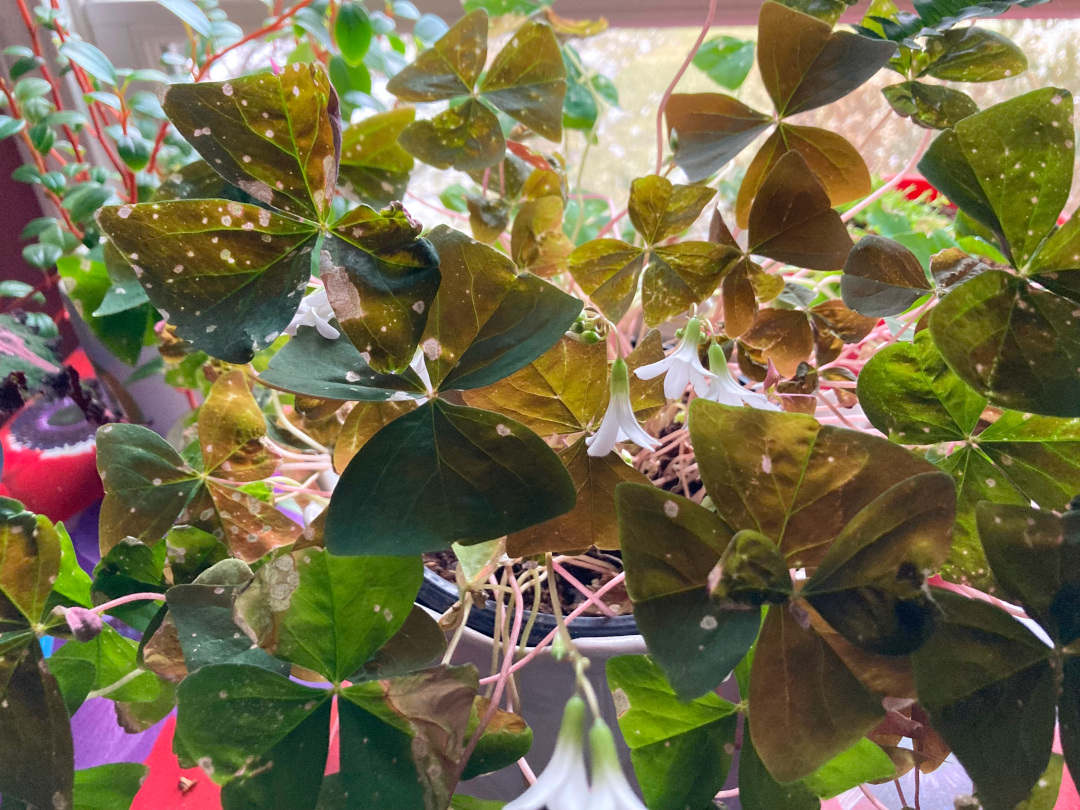 One, an oxalis (Oxalis triangularis, Zones 7–11), flourished during its summer outdoors, but now the leaves have become spotted. Any idea what may be causing that? Interesting fact: I have had this oxalis plant for 50 years, ever since my college botany professor gave me a few corms. Since the plant periodically dies back and then rejuvenates itself, the original corms are probably long gone, but I still count it as the same plant.
Finally, I overwinter several crinum lilies (Crinum asiaticum) and amaryllis (Hippeastrum hybrids) each year. I usually force the amaryllis, but this year I decided to try keeping them at room temperature all winter and will plant them outside in the spring to see if they will bloom. Wish me luck!
Have a garden you'd like to share?
Have photos to share? We'd love to see your garden, a particular collection of plants you love, or a wonderful garden you had the chance to visit!
To submit, send 5-10 photos to [email protected] along with some information about the plants in the pictures and where you took the photos. We'd love to hear where you are located, how long you've been gardening, successes you are proud of, failures you learned from, hopes for the future, favorite plants, or funny stories from your garden.
Have a mobile phone? Tag your photos on Facebook, Instagram or Twitter with #FineGardening!
Do you receive the GPOD by email yet? Sign up here.